Swim Lessons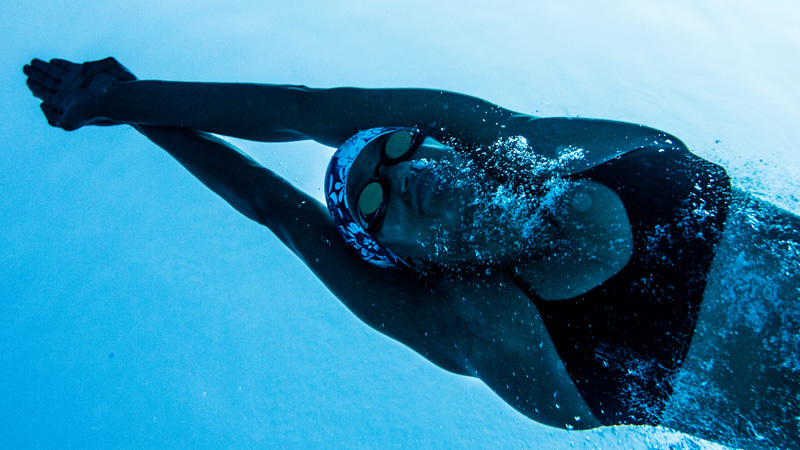 Learn How to Swim at Your Own Pace with Our Experienced Instructors
The Drayson Center offers seasonal and year-round swimming lessons for all skill levels and ages, from infants starting at six months old through adults. Whether your goal is to become comfortable in and around the water or become a fluid swimmer, we are here to make this an enjoyable and rewarding experience for you and your child.
Our experienced instructors are trained as lifeguards and in water safety instruction, giving you the peace of mind and the confidence you need to focus on your swimming. We'll work with your schedule and skill level to meet your swimming goals in our comfortable, friendly environment.
View Swim Lessons by Term
To Register Online 
Private/Semi-Private Swim Lessons
We offer private swim lessons, as well as semi-private lessons for families with multiple children, or groups of friends. Lessons are open to all ages and skill levels, and we will do our best to accommodate your schedule. You can choose to sign your child up for either 30-minute or 60-minute lessons.
Please contact the Membership Office for available hours and to schedule lessons.
| | | | |
| --- | --- | --- | --- |
| Timed Lessons | 30-minute | 60-minute | Buy five, 1-hour lessons (or ten 30-min.) and SAVE |
| 1 class/1 person | $35 | $60 | $245 |
| 1 class/2 persons | $40 | $70 | $270 |
| 1 class/3 persons | $45 | $80 | $300  |
Infant Learn to Swim 
Infant Learn to Swim is a drowning prevention program for infants and young children. This nationally recognized program is taught by our instructor who has become nationally certified through an extensive, long-term training program. The classes focus on educating parents and children about aquatic survival and safety issues. These one-on-one lessons are five days per week for four to six weeks, and each lesson is ten minutes.
To register please contact our instructor:
Cathryn Van Der Linden
Phone: 951-251-5210
Email: cathryn@socalwaterbabies.com
Roll Back To Float program (Ages 6-12 months)
Teaches your child to rotate from a face down position in the water to a back float.
Swim-Float-Swim program (Ages 1-6)
Teaches your child to swim face-down, roll onto his/her back to rest and breathe, then rotate back, allowing them to swim to safety.
Member
Non-member
$99/week
$109/week
For more information on the Infant Learn to Swim program, please visit So Cal WaterBabies.
Summer swim sessions begin the first Monday after LLU graduation. For each class we offer four sessions that run back-to-back. Each session runs Monday through Thursday for two weeks.
Dates and times for summer swim lessons become available during the Spring. Contact the Membership Office or check the Aquatics Recreation Guide for more details on dates and times.
Adult Swim Lessons
It's never too late to learn how to swim! Our instructors are happy to help you meet your swimming goals. Whether your goal is to become comfortable in and around the water or become a skilled swimmer, we are here to make this an enjoyable and rewarding experience. Each class is 45-minutes long.
The American Red Cross Learn-to-Swim Program is designed for the age and skill level of your child. Your child will be evaluated and placed in the level most appropriate for his or her ability. Each swim class is 40-minutes.
In these lessons, children are taught the fundamentals of swimming in a structured format through water exploration, fun and games. Bobbing, bubble-blowing, floating on the front and back, kicking, arm strokes and water safety are developed through a progressive approach. Each swim class is 25-minutes.
Baby and Me Program (Ages 6 months-4 years)
The American Red Cross Parent/Child Aquatics Program focuses on water exploration and provides a safe and fun learning environment through games, songs and interactive play. Classes are structured around the skill level of each little swimmer. Join us for a great bonding experience with your child and don't forget your swimsuits! Each class is 30-minutes.
The Drayson Center partners with the Piranha Swim Team to provide swim lessons that are geared toward children who want to receive professional swim training. Pre-Piranha participants have the option to train once, twice or three days per week. New sessions begin every month and each 30-minute class is limited to four swimmers.
The Piranha Swim Team does their best to accommodate your busy schedule, so visit the Drayson Center Membership Office to register today! Registration must be complete at least 24 hours in advance.
Visit the Piranha Swim Team website for more information on lessons, pricing and availability