Aquatics Programs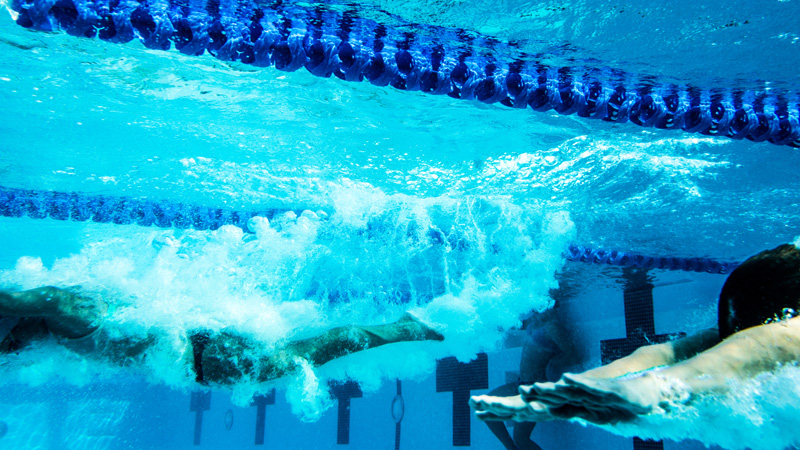 Fun Water Fitness and Aquatic Activities for Children and Adults
At the Drayson Center, we have experienced instructors to help you improve your water fitness and introduce your children to a water activity such as diving. Find the programs and schedule right for you and your family with a variety of classes structured for all skill levels.
To Register Online 
Youth Aquatics Programs
Drayson Center also offers private and group swim lessons. Please view our Swim Lessons page to view other available swim classes.
Diving (Ages 6-15)
In this class, instructors emphasize developing confidence with a head-first entry into the water. Once this is mastered, a hurdle approach is added. Whether your goal is to compete or just enjoy the sport, our course will teach you essential diving skills!
Students must have a basic understanding of swim skills.
Mondays/Wednesdays or Tuesdays/Thursdays: 12:00 p.m. (Summer sessions only)
Piranha Swim Team
The Drayson Center partners with the Piranha Swim Team to provide students with professional swim training.
Piranha Swim Team (Ages up to 17, based on ability)

The Piranha Swim Team is divided into several different competitive swim levels: novice, bronze, silver, and gold. Each child must be tested by the coaches and placed in the appropriate level before any payments are accepted. All Piranha classes are done on a monthly basis, 11 months out of the year.

Visit the Piranha Swim Team website for more information on lessons, pricing and availability.

Pre-Piranha Swim Lessons (Ages 4-17)

The Drayson Center partners with the Piranha Swim Team to provide swim lessons that are geared toward children who want to receive professional swim training. Pre-Piranha participants have the option to train once, twice or three days per week. New sessions begin every month and each 30-minute class is limited to four swimmers.

The Piranha Swim Team does their best to accommodate your busy schedule, so visit the Drayson Center Membership Office to register today! Registration must be complete at least 24 hours in advance.

Visit the Piranha Swim Team website for more information on lessons, pricing and availability.

Piranha Fit (Ages 5-18)

This program promotes a healthy lifestyle through swimming. Swimmers will increase their fitness through endurance swimming and cardio exercise. Each class session is one-hour, twice a week. New Piranha Fit class sessions begin each month.

Evaluations are required for children under the age of ten.

Monday/Wednesday: 6:00 p.m. - 7:00 p.m.

Member/Non-member
 
 
 
$60
 
 
 

Sibling Discounts

Any family with multiple children participating in the Piranha Fit Program is eligible for the sibling discount. We also offer a 25% discount for any children enrolled in the Assisted Lunch Program. Proof of enrollment must be presented to use this discount. Only one discount is allowed per child.

Sibling Discount Pricing
First Child
Second Child
Third Child
Each Additional Child
$60 (regular price)
$45 (25% off)
$36 (40% off)
$30 (50% off)
Adult Aquatics Programs
Master Swim (18 or older)

This aquatic training program is open to all adult swimmers: fitness, tri-athlete, competitive and non-competitive. Structured workouts from our coaches offer valuable training assistance with stroke, technique, and general instruction. New master swim class sessions begin each month.

Tuesdays/Thursdays: 6:00 a.m. - 7:00 a.m.

AM or PM only
AM and PM Combo
 
 $40
$60
 

Monday/Wednesday: 7:30 p.m. - 8:30 p.m.

AM or PM only

AM and PM Combo

 

$40

$60