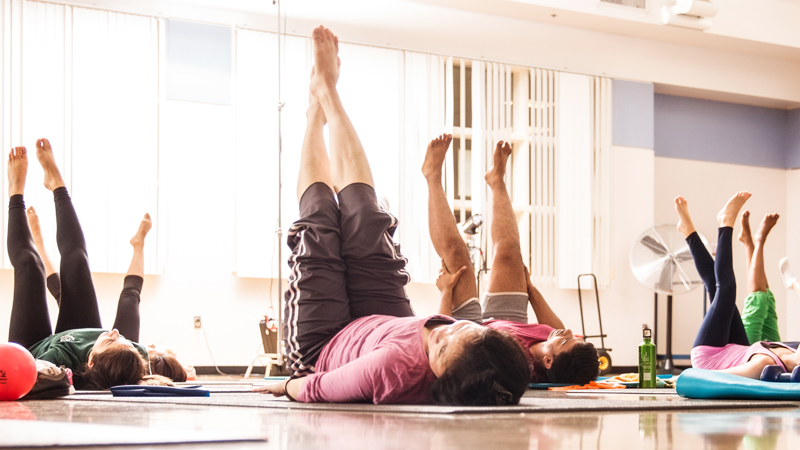 Train and Get Fit with Group-X Classes at the Drayson Center
Group-X classes are a fun and challenging alternative to regular weight training and cardio exercise. We have classes for every skill level. Come meet new people, while improving your health, in a fun and friendly environment. All group exercise classes are included with your Drayson Center membership. Please note that all classes and times are subject to change.
Group-X Classes
BAATs
Buns! Abs! Arms! Thighs! A fast paced, high energy class which targets buns, abs, arms, thighs and cardiovascular endurance. This is an advanced level class not recommended for those new to Group Fitness Classes.
Tuesday
6:00 - 7:00 p.m.
Studio A
Balance and Stability
Designed to help you become stronger and improve balance. It can be adapted depending on the skill of individual participants.
Monday
8:00 - 9:00 a.m.   Studio A
Barre
A fun fusion of Pilates, dance and strength training. No dance experience required.
Thursday
12 - 12:45 p.m.
Studio A
Thursday
6:00 - 7:00 p.m.
Studio A
Basic Interval
Combines aerobic floor work with free weight training: makes a great workout for all of the muscles.
Tuesday/Thursday/Friday
7:30 - 8:30 a.m.
Studio A
Body Works
Low impact class that uses hand weights and a step to define and strengthen the body. This class can be modified for all levels.
Wednesday
5:30 - 6:30 p.m.
Studio A
BollyX
Fitness class that combines dynamic choreography with the hottest music from around the world. It's cardio workout cycles between higher and lower intensity sequences to get you moving, sweating and smiling.
Sunday
6:00 - 7:00 p.m.
Studio A
Chair Aerobics
Designed for participation while sitting. Light weights and Thera bands are used for resistance training to increase strength. Some balance movements are done while standing with options for seated participants.
Monday/Tuesday/Thursday
10:30 - 11:30 a.m.
Studio A
Chair Yoga
Sit, stretch and strengthen your way to a happier, healthier you. Perfect for those with limited range of motion or those who find traditional yoga postures too challenging.
Monday
12:00 - 1:00 p.m.
Studio A
Deep Stretch (Yin) Yoga
Suitable for all levels of participants; focuses on a slower set of poses and deep, long, stretches for increased flexibility.
Monday/Wednesday
7:30 - 8:30 p.m.
Studio A
Fit-Core
Uses the principles of Pilates, yoga, and resistance training to provide a total body workout.
Monday
6:30 - 7:30 p.m.
Studio A
Fusion Cycle
This popular class combines all the best elements of our regular spin class, but also incorporating exercises using dumbells.
Tuesday
12:00 - 1:00 p.m.
Studio B
Mat Pilates
Become stronger and more flexible without bulking up. Pilates concentrates on using fewer, but more controlled movements, to uniformly develop the body, focusing primarily on the core.
Wednesday
6:30 - 7:30 p.m.
Studio A
Sunday
5:00 - 6:00 p.m.
Studio A
 Gentle Yoga
An intermediate style class which incorporates traditional yoga poses and stretches to restore the body's well-being.

Tuesday/Thursday

Wednesday 

9:00 - 10:00 a.m.

12:00 - 1:00 p.m.

Studio A
Step and Sculpt
Intermediate intensity step aerobics and sculpting is for those wishing to tone and reshape the body.
Monday
5:30 - 6:30 p.m.
Studio A
Vinyasa Flow
Vinyasa Flow combines strength, balance and endurance for a complete body workout. It combines body movements with breath transition between sustained traditional Yoga postures.
Tuesday/Thursday
8:00 - 9:00 p.m.
Studio A
Water Aerobics
A low impact, moderate intensity workout in our heated pool that gives you a unique way to exercise while having fun.
Monday/Wednesday/Friday
10:15 - 11:15 a.m.
Pool
Tuesday/Thursday
9:00 - 10:00 a.m.
Pool
Tuesday/Thursday
1:00 - 2:00 p.m.
Pool
Yoga
Yoga-style Stretch incorporates toning, stretching and posture-strengthening techniques borrowed from Yoga, Pilates and dance conditioning.
Wednesday
12 - 1:00 p.m.
Studio A
Zumba
Zumba features interval training sessions where fast and slow rhythms and resistance training are combined to tone and sculpt your body.
Thursday 
5:30 - 6:00 p.m.
Studio A
Tuesday/Thursday 
7:00 - 8:00 p.m.
Studio A
Spin Classes
These stationary bike classes are the perfect way to start your everyday routine. These classes are offered on a first come, first serve basis.
 Spin

Monday/Wednesday/Friday   

Tuesday/Thursday  

   6:00 - 7:00 a.m.

    7:00 - 8:00 a.m.

   Studio B
    Free to all Members
Monday/Wednesday/Thursday
   12:00 - 1:00 p.m.
   Studio B
    Free to all Members
Wednesday
   6:00 - 7:00 p.m.
   Studio B
    Free to all Members
Water Aerobics
A low-impact, moderate intensity workout in our heated pool that gives you a unique way to exercise while having fun.
Monday/Wednesday/Friday
10:15 - 11:15 a.m.
Pool
Tuesday/Thursday
9:00 - 10:00 a.m.
Pool
Thursday/Thursday
1:00 - 2:00 p.m.
Pool
Moms on the Move (May-September)

Offered by LLUCH's Birth and Beyond Education Center, this is a low impact aerobics class designed for women in all stages of pregnancy and early postpartum. Class is held in the shallow end of the lap pool (3-4 ft deep) so no swimming experience is required.
Both Drayson Center members and non-members must register before class at Moms on the Move website.

Fee: $8 per class (no discount for Drayson Center members)

Wednesday
6:30 - 7:30 p.m.
Pool