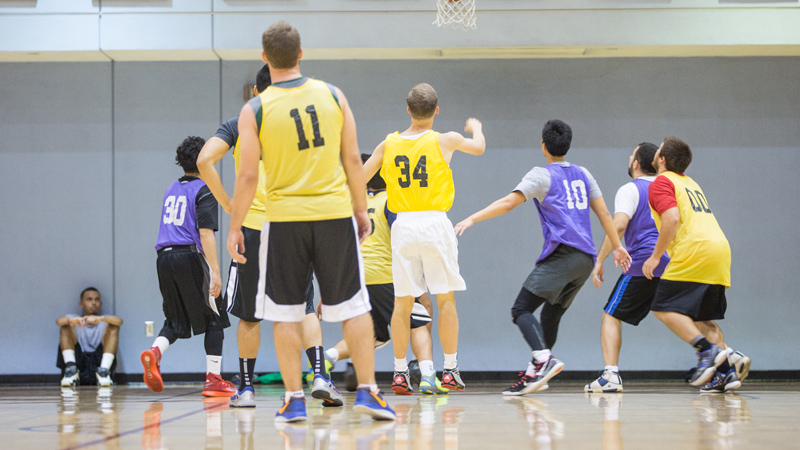 Reserve Tennis and Racquetball Courts and Equipment for Your Next Game
All 10 Drayson Center tennis and racquetball courts are available for members to reserve in advance through our Intramurals department. Members can reserve a court for use any time during operating hours. We also offer a variety of sports and recreational equipment for members to check out and use in our facilities. These include basketballs, racquets, badminton equipment, horseshoes and much more! Reservations are accepted on a first come, first serve basis.
Reserving Courts and Equipment
Reservations are made by visiting the Intramurals department or by calling 909-558-4975 and selecting "court reservation" from the phone menu.
All reservations are made on a first come, first serve basis and held for 15 minutes after the scheduled start time.
If the court is not in use by 15 minutes after the hour, the reservation no longer stands and the court becomes available for anyone to use.
Reservations Policy
We allow each member to reserve one court per phone call, per day and all reservations are made on the hour. Racquetball courts can be reserved for one hour per person, per day. Tennis courts can be reserved for two hours per person, per day.
Members can reserve the racquetball and tennis court as early as 6:00 a.m. the day before your desired reservation, no sooner. For Sunday reservations, you may reserve courts beginning at 6:00 a.m. on Friday morning.
We ask that you respect the rules and do not reserve courts for other members.
Lockers
The Drayson Center has several options available for you to store your belongings while you are working out. We have day-use lockers available throughout the facility that you are welcome to use at any time while you are in the Drayson Center. Lockers are located in the men's and women's locker rooms, in the weight and cardio rooms, and outside of the basketball courts.
If you would like to use these lockers, we recommend that you bring your own lock to secure your belongings. All lockers are available on a day-to-day basis, however you may not leave anything in them overnight. The Drayson Center is not responsible for lost or stolen items.
Locker Rentals
If you would like to store your belongings at the Drayson Center for more than one day at a time, we have rental lockers available for your convenience. You may rent a locker for 3 months, 6 months or 1 year. If you decide to purchase a locker rental for 1 year, you will receive an extra month for free! To rent a locker please visit the Membership Office.
Locker Rental Fees
 
3 months
6 months
12 months
Regular Lockers
$30
$60
$100
Z Lockers
(Women's locker room)
$36
$72
$125