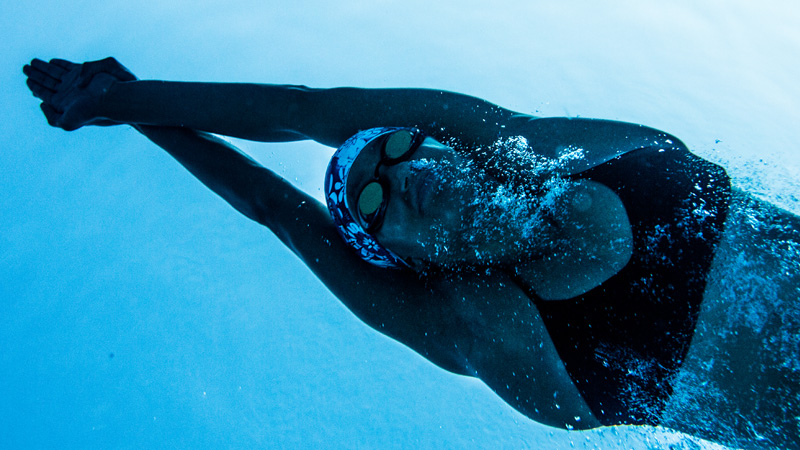 Learn How to Swim at Your Own Pace with Our Experienced Instructors
The Drayson Center offers seasonal and year-round swimming lessons for all skill levels and ages, from infants starting at six months old through adults. Whether your goal is to become comfortable in and around the water or become a fluid swimmer, we are here to make this an enjoyable and rewarding experience for you and your child.
Our experienced instructors are trained as lifeguards and in water safety instruction, giving you the peace of mind and the confidence you need to focus on your swimming. We'll work with your schedule and skill level to meet your swimming goals in our comfortable, friendly environment.
View Swim Lessons by Term
Register Online Aquatics Brochure
Year-Round Lessons
Learn-to-Swim Program
Our Learn-to-Swim program is unique compared to other learn to swim programs. The program is designed for children over 6 months up to adults. Students progress through the levels at their own pace, mastering the skills in the one level before then advancing to the next. 
Summer swim sessions begin June 18, 2018. For each class we offer four sessions that run back-to-back. Each session runs Monday through Thursday for two weeks.
Dates and times for summer swim lessons become available during the Spring. Contact the Membership Office or check the Aquatics Recreation Guide for more details on dates and times.
Adult Swim Lessons
The Red Cross offers adult swim lessons through our innovative, learn-at-your-own-pace Learn-to-Swim program. Developed for older teens and adults, our program gives adult swimmers at every level the opportunity to improve their skills in a safe environment – and under the guidance of a trained instructor. Each class is 45-minutes long. Kids Learn to Swim Preschool (Ages 3-4)
Introduction to Water Skills: Students will learn how to feel comfortable in the water and safely enjoy it. Each swim class is 25-minutes.
Kids Learn to Swim Program (Ages 4-17)
The Red Cross has developed swimming lessons for kids and adults that allow everyone the opportunity to learn in a safe environment, at their own pace. Learn-to-Swim classes are taught by certified, knowledgeable and caring instructors who can help swimmers at every level feel comfortable in the water and progress to the next level. Your child will be evaluated and placed in the level most appropriate for his or her ability. Each swim class is 40-minutes. Baby and Me Program (Ages 6 months-4 years)
The American Red Cross Parent/Child Aquatics Program focuses on water exploration and provides a safe and fun learning environment through games, songs and interactive play. Each class is 30-minutes.