By lkidder - July 26, 2017
By Larry Kidder | Yulduz Kuchkarova came to the United States from Uzbekistan for the sole purpose of training with swim coach Martin Gregoire to compete in the Olympics. She is now set to return to Uzbekistan to obtain a work visa and hopes to come back to Loma Linda in the near future to join Coach Gregoire's staff for the Piranha Swim Club.
In 2011, swim coach Martin Gregoire approached Donald Sease, MBA, director of Loma Linda University Drayson Center, with a simple request: he wanted to train six elite swimmers at the Drayson Center pool to possibly compete in the Olympic Games.
One of the six—Yulduz Kuchkarova—was only 17 when she received the invitation from Coach Gregoire to travel from Uzbekistan to Loma Linda, California, to hone her swimming skills. She knew very little English, as Gregoire realized when he first met her in person at nearby Ontario International Airport.
"She said 'hello,' then seemed lost after that," Gregoire laughs. "But it didn't take her long to learn English."
He's right. Kuchkarova now sounds like any typical young American coed. This spring, she graduated with her bachelor's degree in psychology from the University of Kansas, which she earned as part of a swimming scholarship. Before school, she was able to compete in the 2012 Olympic Games, held in London, and represent her home country of Uzbekistan.
"In Uzbekistan, it was largely impossible to both go to school and swim," Kuchkarova explains. "I had to choose one or the other. Martin told me that I could probably earn a swimming scholarship in the United States that would allow me to do both."
Since 2011, Gregoire has started a full-fledged swim team, with between 250 and 300 members in any given month. The Piranha Swim Team trains all levels of swimmers and prepares young people to compete, with some as young as 12 years old.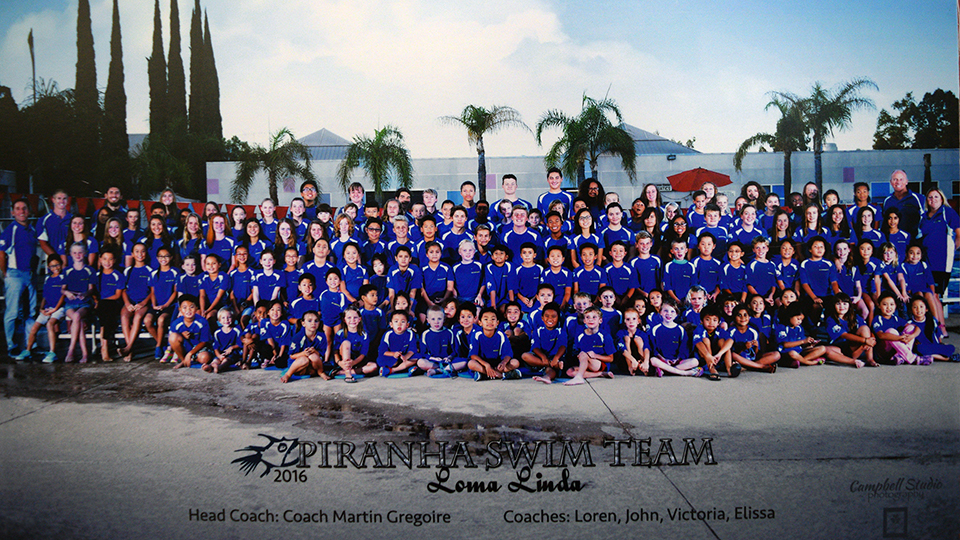 Above: Group photo of one of the Piranha Swim Club teams in recent history
"Southern California is the center of the universe for swimming," Greguoire attests, "with its ideal weather for training. World-class pools in many other parts of the U.S. are indoors because of weather, making them much more expensive to build and maintain."
The Piranha club is ideal for Seventh-day Adventist young people because training and competitions do not fall within the Sabbath hours.
"Competitive swimming opens doors for college scholarships," Gregoire explains. "Universities may offer 20 or more full scholarships for young swimmers to joing their teams."
Half a dozen former students of Coach Gregoire are currently enjoying full scholarships at major universities around the country. Three recent Piranha high school graduates will start college this coming school year on full scholarship.
Kuchkarova is back in Loma Linda for a few months. She plans to return to Uzbekistan in the near future while she applies for a U.S. work visa. "I want to come back to Loma Linda to help coach the Piranhas," she shares.
Coach Gregoire enjoys his relationship with Drayson Center. However, he does have one request. "Drayson Center needs to build a 50-meter pool to take the university to a world-class level in the swimming world," he points out. "That would allow for major training camps and meets to be held on the campus."
Gregoire adds, "Swimming fits very well within the emphasis for wholeness at Loma Linda University Health."