By lkidder - March 10, 2020
By Larry Kidder | It's up to our Drayson Center staff to keep the facility free of viral and bacterial threats. Based on the ongoing recommendations from infection control and public health experts on campus, Drayson Center is already well prepared. Now we're stepping up our efforts even more.
When it comes to the coronavirus and other bugs floating around during flu season, we can never be too careful.
In light of growing concerns, Drayson staff members are stepping up their efforts to keep surfaces virus-free. Frequently touched surfaces by many different individuals are the main focus. They include:
Door handles, latches, and railings of any kind;
Faucets, countertops, and other surfaces in the bathrooms;
Locker room surfaces;
Drinking fountains and handles;
Mats used throughout the facility, including those for Yoga-style classes;
Weight and cardio equipment grips, handles, adjustors, cushions, and seats.
If you are experiencing any cold- or flu-like symptoms, we look forward to welcoming you back when you're feeling better and are completely symptom-free.
One thing people notice—and comment about—when they visit Drayson Center is its cleanliness. That doesn't happen by accident. The health and wellness of our members are top priorities.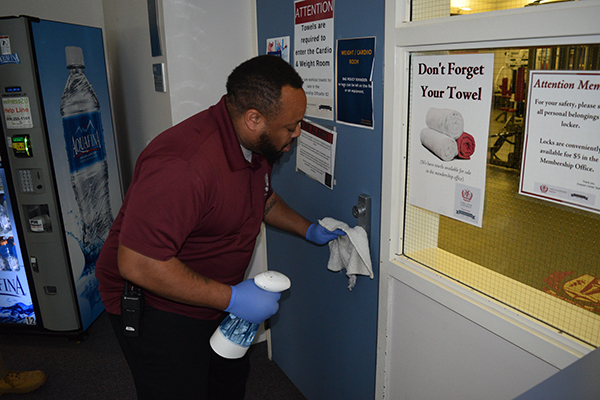 Door handles are frequently wiped down throughout the day.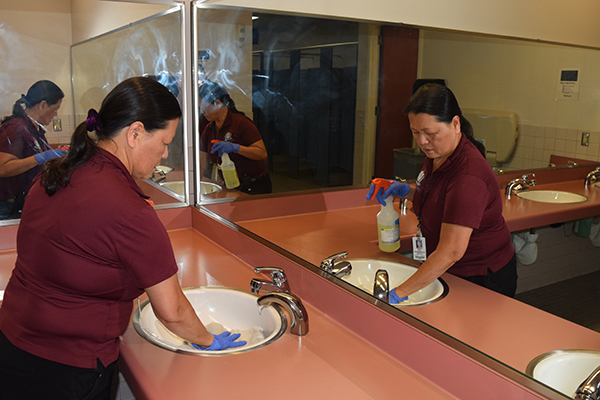 Surfaces in the bathrooms receive frequent attention as well.