June 26, 2018 — By
lkidder
By Larry Kidder | Lifeguards practice securing a "victim" to a backboard and pulling him to safety. Scroll down for more photos.
Any lifeguard who wants to work at Drayson Center had better be ready for rigorous education and training. The annual week of lifeguard in-service training takes place just prior to Summer Swim, Drayson Center's popular swim program for kids of all ages and abilities. This year's in-service week took place June 12 to 15.
"We added training in the Simulation Lab in Centennial Complex to our week this year," says Michael Rister, aquatics and fitness manager. "Our goal is to make Drayson Center the safest place to swim—or workout, or play sports."
Each summer, the lifeguard and aquatics team grows to meet the challenges of a robust swim program. All new staff, as well as veteran staff, take part in the training, which includes working with the Loma Linda Fire Department, lifeguarding skills, dry land training, cardiopulmonary resuscitation (CPR), and water safety instruction (WSI).
"Our aquatics staff are ready to take immediate action when faced with an emergency," Rister explains. "When paramedics arrive, we shift to an assistive role."
Over the past years, a surprising number of individuals have collapsed while working out or playing sports at Drayson Center. In addition to the aquatics staff, there are usually trained health care professionals nearby—since Loma Linda University is a health sciences institution. Lives have been saved by the quick actions taken.
"We also train in other areas of first aid," Rister continues. "Drayson Center is one of the safest places to be."
This summer, hundreds of kids and their families will be under the watchful eye of Drayson Center lifeguards. Their careful attention and readiness will help keep all Drayson Center members and guests having fun—safely.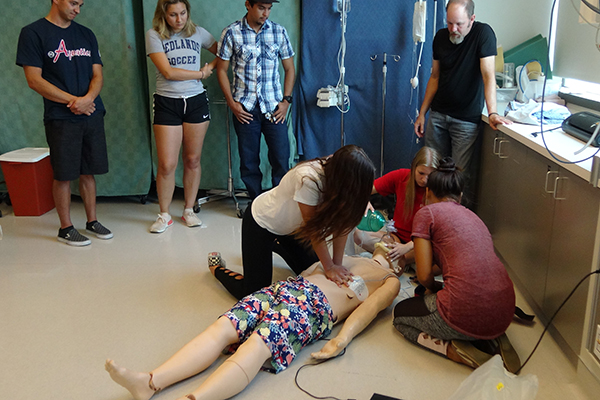 For the first time, lifeguards practiced their CPR skills in the Simulation Lab, located in LLU's Centennial Complex.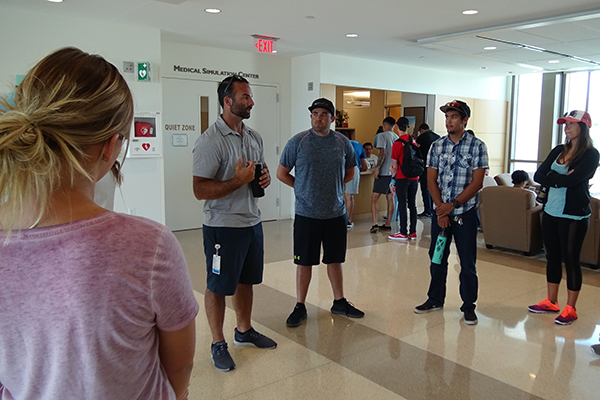 Michael Rister, aquatics and fitness manager (second from left), prepares the lifeguards for their experience in the Simulation Lab.