By lkidder - February 27, 2020
By Larry Kidder | The actual photo of a coronavirus above illustrates why it is known as the "corona" or "crown" virus. If you sliced the virus in half, it would resemble a crown. (Source: CDC website)
The coronavirus is panicking the world at this very moment. The Dow Jones average plummeted more than 3,000 points in the past several days over fears of a worldwide pandemic. In the U.S., opposition politicians looking for votes and news agencies hoping for ratings have fanned the flames of panic.
For perspective, the common flus circulating this winter have already killed tens of thousands within the U.S., while the coronavirus causing the current panic has resulted in a handful of deaths. The panic and embarrassment in China have led to the counting of flu cases as the novel coronavirus.
Within this setting, the voices of three sensible and well-informed individuals were heard on the campus of Loma Linda University Health this past Tuesday, February 25, 2020.
Their words will help inform Drayson Center members and staff in an effort to calmly prevent this new virus from catching hold, as well as the dangerous strains of flu that routinely make their rounds this time of year (scroll down for a checklist).
Adrian Cotton, MD, chief of medical operations at Loma Linda University Health, was first to speak, basing most of his comments on information from the Centers for Disease Control (CDC), headquartered in Atlanta, Georgia (visit www.cdc.gov/coronavirus/2019). He was followed by Cameron Kaiser, MD, health officer for the Riverside County Department of Public Health, and Erin Gustafson, MD, MPH, acting health officer for San Bernardino County Department of Public Health. Dr. Kaiser recently led out at March Airforce Reserve Base in Moreno Valley, where a plane-load of U.S. evacuees from Wuhan City, China, were quarantined.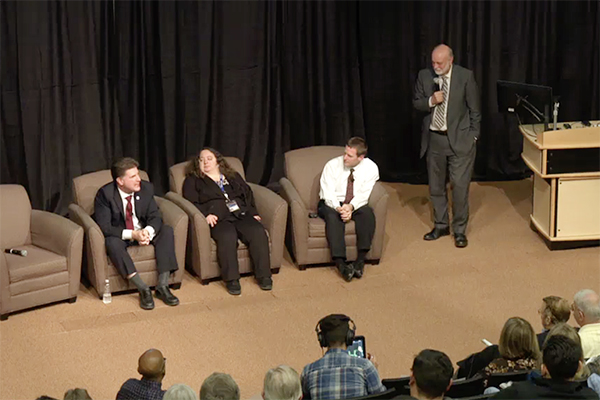 Participants in the February 25 presentation on the coronavirus include (from left) Cameron Kaiser, MD; Erin Gustafson, MD, MPH; Adrian Cotton, MD; and Richard Hart, MD, DrPH, president of Loma Linda University Health, who served as moderator. Here they answer questions from participants via Facebook Live, Internet streaming, and those in the audience.
Following are some of the facts they shared during their presentations and a panel on Tuesday.
The coronavirus is not new. Many of the viruses we encounter each year are coronaviruses. Occasionally, certain strains are able to cross over from animals to humans, which is the case with SARS-CoV-2, the official name of this new virus. When it infects a human being, it becomes COVID-19, an acronym for coronavirus disease 2019.
How are SARS-CoV-2 and other coronaviruses, as well as the flu, spread? While the World Health Organization (WHO) and the CDC are still learning about this particular strain, coronaviruses and flus are typically shared when infected individuals (not necessarily symptomatic), sneeze or cough uncovered into their hands, or touch their eyes, nose, or mouth, and then contact an uninfected individual. Currently, it is believed that the virus spreads in the same manner as other coronaviruses and influenza viruses.
According to Dr. Cotton, the most likely scenario for catching SARS-CoV-2 would be for someone with COVID-19 to sneeze or cough into their hand, or rub their nose, then touch a doorknob, followed by an uninfected individual touching the same doorknob, then rubbing their eyes, nose, or touching their mouth. In addition, there must be significant numbers of the virus present to survive the immune response.
The process of spreading coronaviruses can be interrupted anywhere along the way. At Drayson Center, we frequently wipe down doorknobs and other surfaces where viruses could be lurking—particularly our exercise machines and equipment that are routinely touched by members. In addition, members can assist us by wiping down equipment following their use with the provided equipment wipes, as well as following the protocols below. Hand sanitizer dispensers are also located throughout the building.
The most important weapon against spreading the various flu viruses is frequent and thorough hand-washing (20-plus seconds with soap). Become aware of touching your eyes, nose, and mouth without washing your hands. That situation is most likely to lead to infection.
Like other viruses, SARS-CoV-2 cannot survive for long without entering a host. The CDC estimates that the virus cannot live more than a few minutes exposed to the air. Exposure to the sun's ultraviolet rays shortens its survival even further.
The very old, very young, and those with weak immune systems are most vulnerable to all viruses, as well as those with preexisting respiratory conditions such as COPD or asthma. Individuals who have been in close contact with recent travelers to China are at a higher risk (close contact is defined as within six feet or less). If they develop flu-like symptoms, they will be asked about recent travel to China or close contact with other recent travelers to China, and possibly quarantined for 14 days.
Following are some points of advice:
Wash your hands frequently.
If you haven't already done so, get your flu shot!
Stay hydrated; it's one more defense against getting sick.
Hand sanitizers should be at least 60 percent alcohol in order to be effective.
Beware of doorknobs and other objects touched by many people. If available, use a paper towel or glove for door handles, and when possible, push open doors using your body.
Frequently wipe down surfaces that many people touch.
Avoid touching your eyes, nose, or mouth. If you must, wash your hands thoroughly before doing so.
Use a verbal hello, simple wave, or head nod to greet people. Refrain from hand-shaking, hugging, or any kind of physical contact.
Sneeze or cough into a tissue and immediately throw it away.
Use your elbow instead of your hand if no tissue is available, with the understanding that the virus may be able to survive in your clothing.
If you come down with mild flu-like symptoms of any kind, please stay home. Most cases will likely be fairly mild.
Seek emergency treatment if your flu-like symptoms become severe. Call before you come in so they can prepare.
Shortness of breath may preceed other more typical flu-like symptoms.
You will be asked about recent travel to or contact with a recent traveler to known areas of concentrated cases, such as China, Italy, Iran, and elsewhere as the outreak progresses.
If SARS-CoV-2 makes it to the Inland Empire, stock provisions at your home for a potential 14-day quarantine.
Notice that mask-wearing is not included. Those wearing masks are benefiting others more than themselves by helping to contain their own infections—though the benefit is minimal because masks should be completely flush to the facial contours to be fully effective. However, a mask could help to deter wearers from touching their eyes, noses, or mouths—the primary points of entry for flu-like viruses, but we currently do not recommend the wearing of a mask to decrease risk of exposure.
All three presenters this past Tuesday shared a common response: Don't overreact and be prepared. Take the same precautions recommended every flu season.
For additional information, visit the LLUH webpage on the Coronavirus.