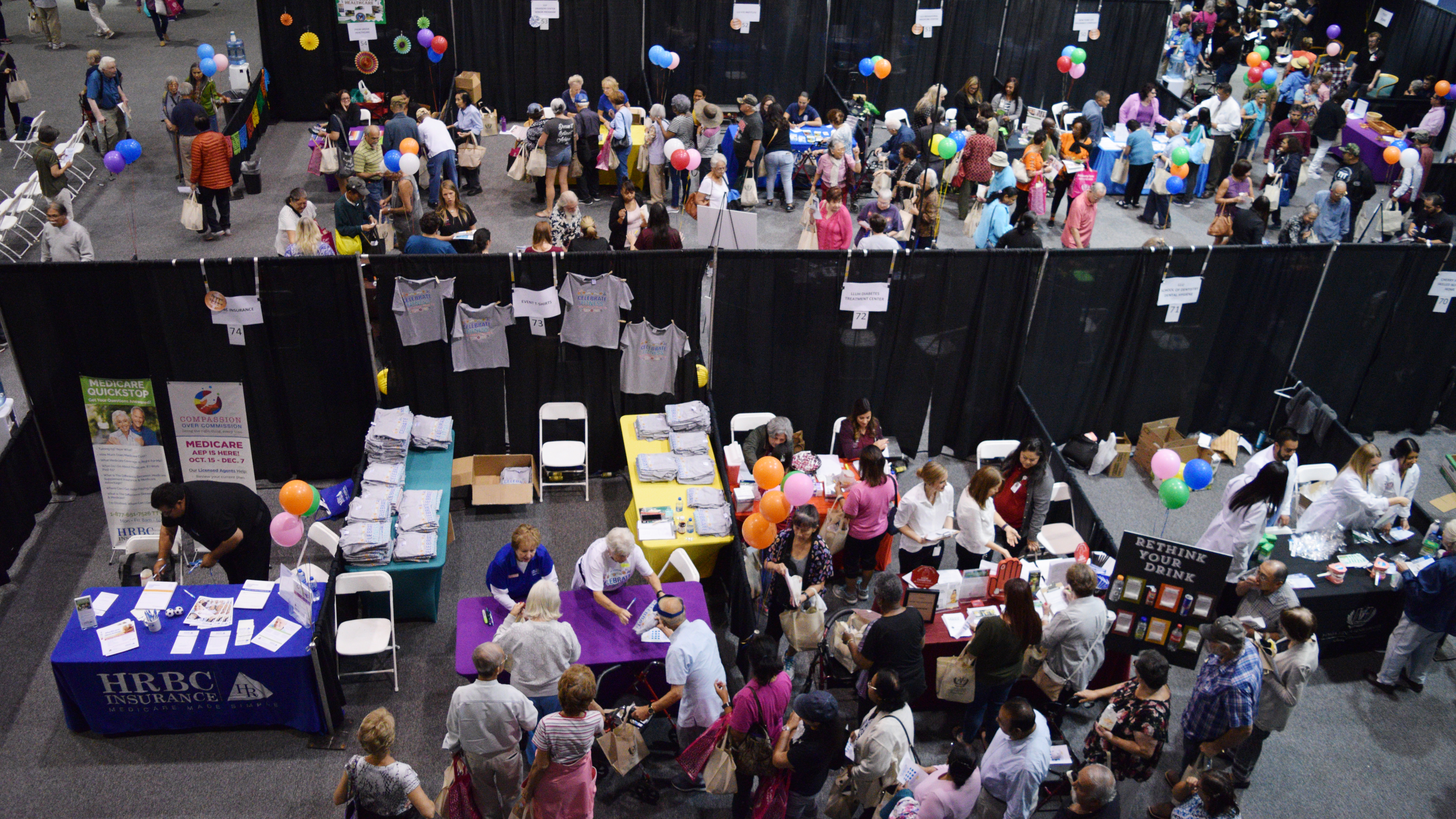 By lkidder - November 5, 2019
By Larry Kidder | Several thousands of people visited Loma Linda University Drayson Center over the October 25 weekend. The 17th annual Senior Health Fair, shown above, drew more than 1,000 visitors to Drayson Center's Opsahl Gymnasium. The Lifestyle Health Fair took place just across the hall in Collins Auditorium. Scroll down for more photos.
Several annual health fairs brought thousands of visitors to Drayson Center on Friday, October 25, and Sunday, October 27. The 17 annual Senior Health Fair and concurrent Lifestyle Health Fair featured nearly 100 exhibitors and drew approximately 1,000 seniors from surrounding communities. Screenings, demonstrations, services, products, and a host of activities were experienced by area seniors.
On Sunday, October 29, the Family Health Fair followed, including a 5K run/walk through the streets of Loma Linda as well as a number of exhibits. More than 1,000 attended that event, sponsored by Loma Linda University Health.
Drayson Center's Senior Wellness Program hosted the Senior Health Fair, which was largely organized by Bess Getman, events manager and senior coordinator, along with her Senior Wellness Planning Committee and staff. William Wright, EdD, who assists her with senior planning and activities, also played a major role in planning for the annual fair.
Founded in 2006, the Senior Wellness Program at Drayson Center is one of the largest such programs in the country, with more than 1,300 members. During the hours of 7:00 a.m. and 3:00 p.m. weekdays, as well as all day Sundays, area seniors have full use of the recreational facility. Senior-focused fitness classes and social events round out the program, providing an active community for area seniors.
The health and vitality of Drayson Center seniors has been the subject of a number of features by world-renowned media outlets, including CNN and the BBC. The world seems to be interested in how seniors in Loma Linda—one of the Blue Zones identified years back by Dan Beuttner—live significantly longer than the general population. Activity, community, spirituality, and attention to health—both in fitness and nutrition—seem to be key to their longevity.
For more information about Senior Wellness Program activities and membership, visit the Senior Wellness Page on this website. For more photos, scroll down.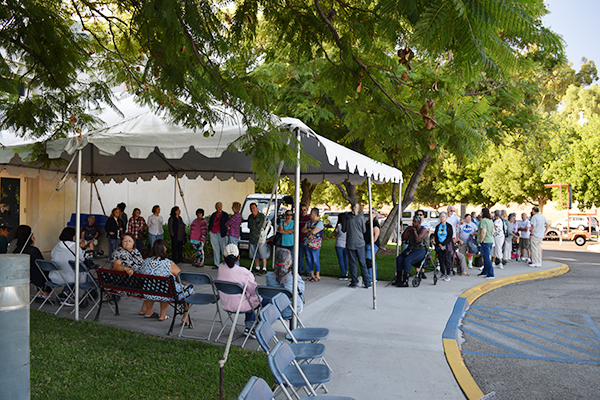 Seniors lined up outside the door, waiting for the official 9:00 a.m. opening.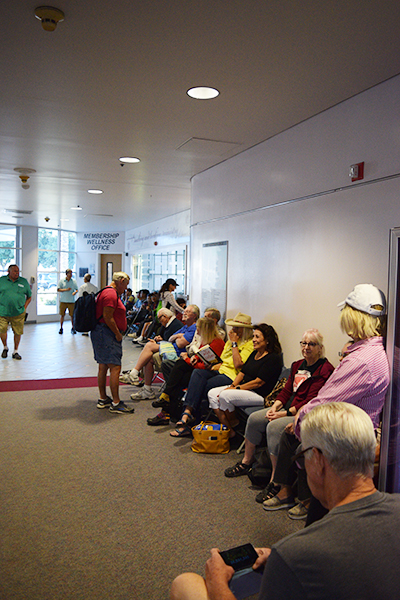 Fair-day-only specials on memberships led to—you guessed it—another line. At least there were chairs for most of the seniors.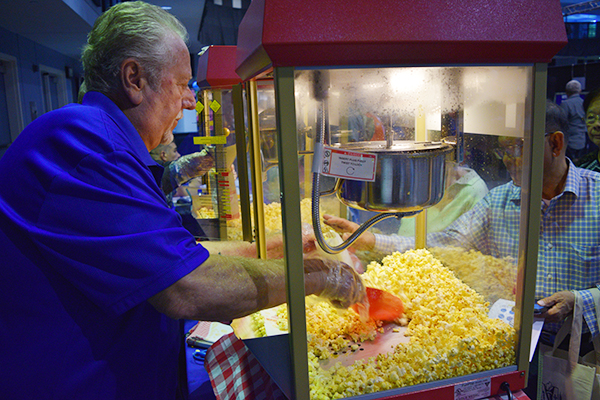 The smell of fresh popcorn wafted through the gym, drawing takers like a magnet. Ron Martin, a member of the Senior Wellness Committee, was tasked with keeping the popcorn popping.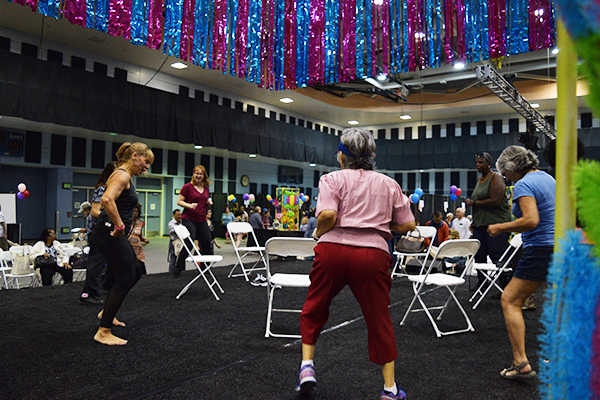 Lisa (left), one of Drayson Center's aerobics instructors, leads a group of seniors through a workout on center stage.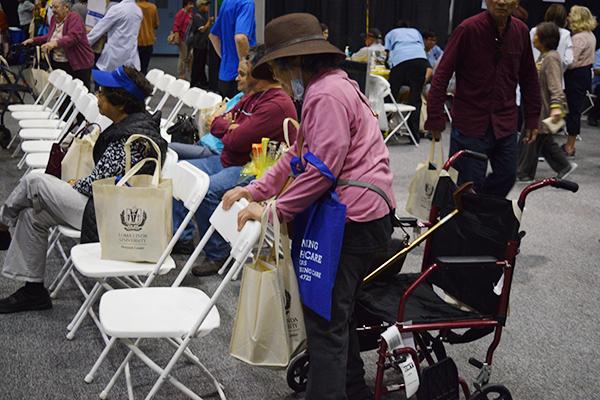 This fair attendee couldn't make it onto the stage, so she used a chair to steady herself and took part in the workout.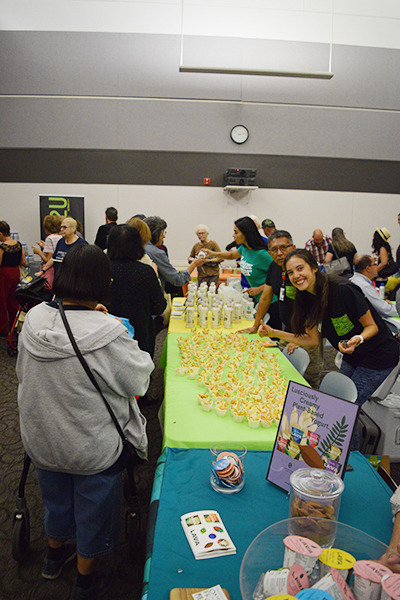 The Lifestyle Health Fair in Collins Auditorium provided attendees with plenty of healthy snacks and giveaways.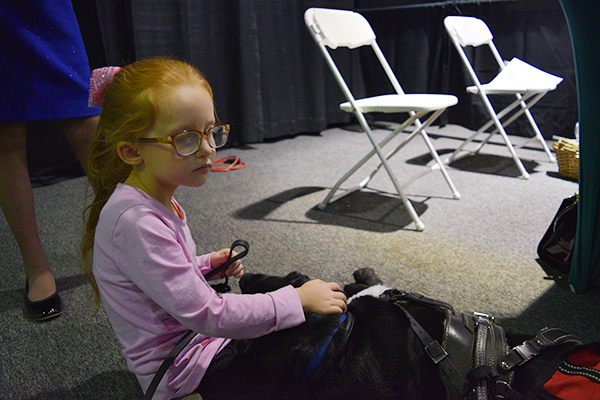 A young volunteer was tasked with providing a soft lap for her grandmother's guide dog.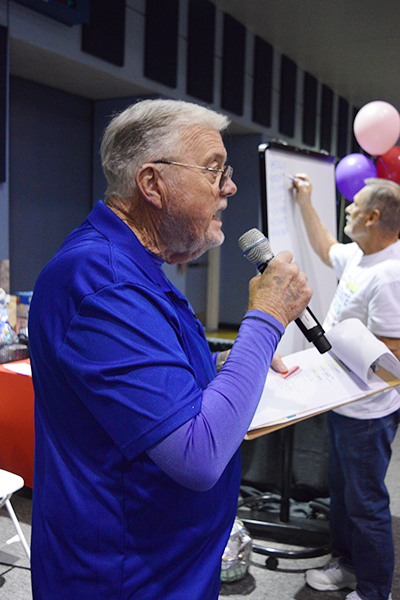 Terry Ingram, a member of the Senior Wellness Committee, kept fair attendees well informed throughout the day, including the many drawings for various prizes provided by exhibitors.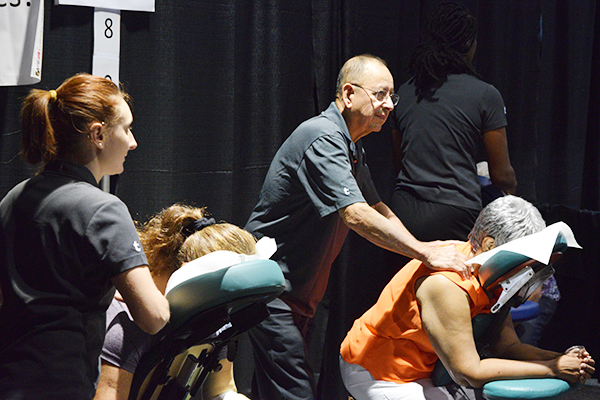 Apparently attending a fair can be quite stressful. These individuals enjoyed a massage at the hands of The Treatment Centre therapists, Drayson Center's contracted inhouse medical massage service. The Treatment Centre also provides facials to clients.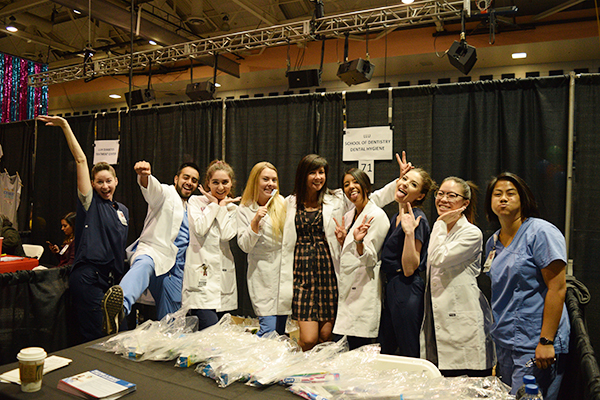 Dental hygiene students clowned for the camera at their booth. In addition to the giveaways above, the School of Dentistry brought its mobile dental van, which was parked outside the entrance.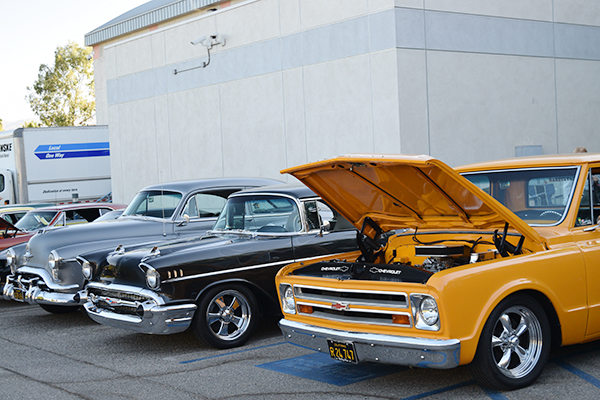 A number of classic cars stood at the ready, parked just outside the fair entrance, and were visited by fair attendees throughout the day.