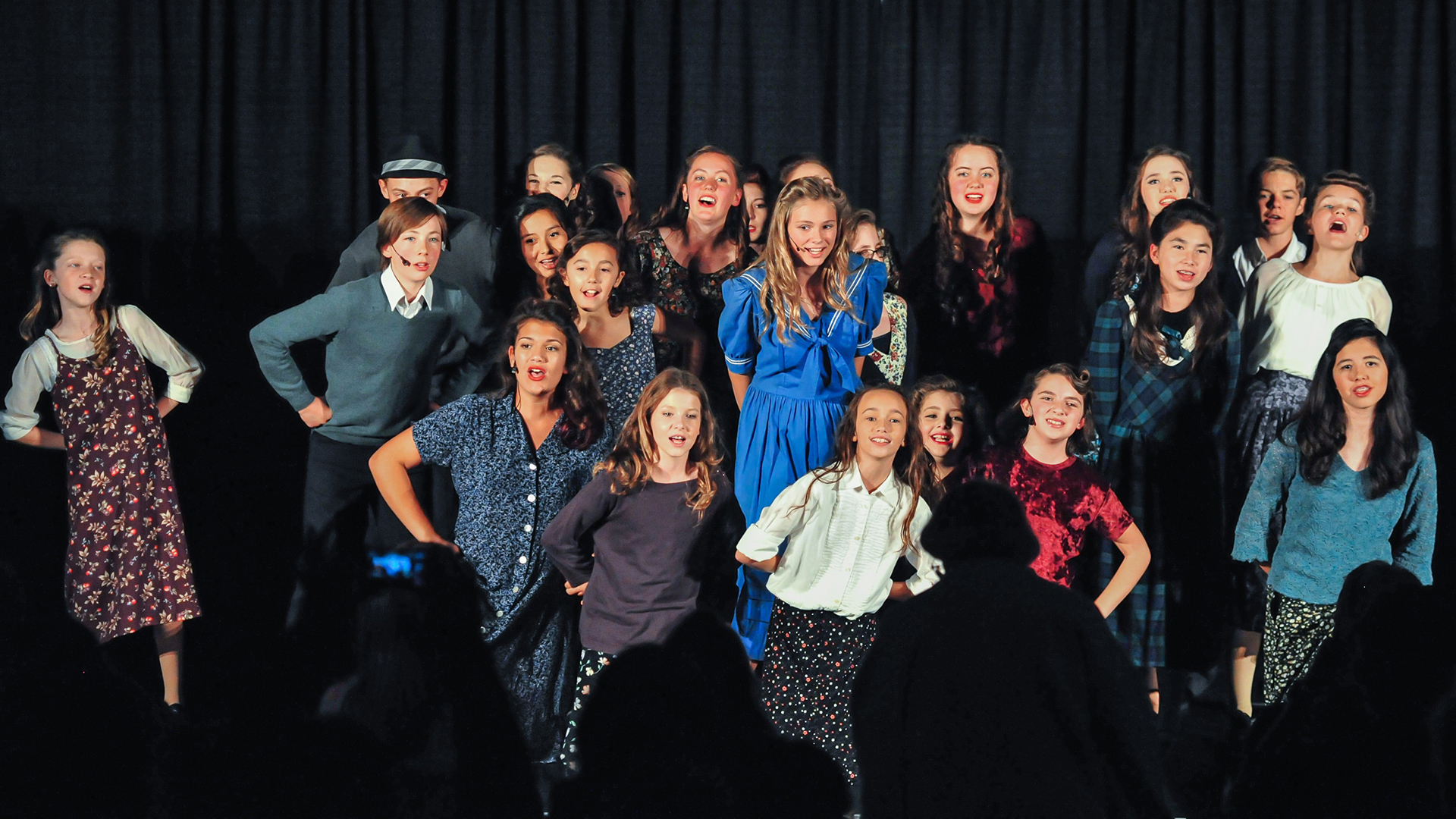 By lkidder - November 16, 2017
By Larry Kidder | The Team Broadway cast from a previous performance sings 1940s hits "under the lights" at Drayson.
Audience members were treated to 17 hit songs from the 1940s and earlier during "An Evening of Entertainment: Oldies but Goodies: Music from the 1940s and Before!" performed by a cast of 32 young people in full costume and "under the lights." Performances took place on Monday and Tuesday, October 23 and 24, in Collins Auditorium at Loma Linda University Drayson Center.
Team Broadway, a part of the Leisure Classes offered at Drayson Center, takes young people on a 12-week journey to learn songs and choreography to some of Broadway's best-known hits. The young people are divided into Team Broadway Senior and Team Broadway Junior. A headline program at the end features a combined performance by both age groups, in full costume and make-up, and on stage.
Team Broadway Senior cast members included Rebecca Argentine, William Argentine, Jude Boles, Micah Boles, Aiden Brown, Audrey Brown, Ines Cross, Hanna Jorgenson, Piper Joven, Jacob Kellogg, Jasmine Kellogg, Jeanna-Marie Lotz, Isabell-Hope Magistrado Rodriguez, Mireya-Selene Magistrado Rodriguez, Lauren Mainez, Gabe Milligan, Shaina Milligan, Jasmine Moses, Taylor Musulman, Grace Riley, Katie Thorp, and Katie Zou.
Team Broadway Junior cast members included Naomi Avram, Lucy McLaughlin, Madison Reynolds, Chevelle L. Roldan, Giselle Umali, Isabella Umali, Isabelle Vaughn, Gabriela Wainz, Rachel Yarbrough, and Sara-Noel Yarbrough.
Team Broadway is one of a number of Leisure Classes organized by Drayson Center for the surrounding communities. For a list and descriptions of Leisure Classes, visit "Classes & Schedules" on this website and select "Children's Programs."