By lkidder - June 25, 2018
By Larry Kidder | Edwin Jones, intramural manager at Drayson Center, surveys some of the damage caused by normal use and extra events. The Superfield will receive its much-needed summer break July 9 to September 8. Scroll down for more photos.
For 10 months each season, Drayson Center's Superfield bravely stands up to continual use—from intramurals to adult and youth soccer leagues, and other numerous programs and activities.
For the second year, the Superfield became the center for Homecoming 2018 this past spring, with a giant tent and other supporting temporary structures erected on the field. For Super Graduation Sunday 2018, the Superfield became a giant parking lot, with regular shuttles driving to and fro for the convenience of family and friends of the graduates.
So it only seems fitting that the Superfield receive a summer rest, with lots of water and sunshine. The annual rest will take place July 9 through September 8, with the field reopening on Sunday, September 9.
In addition to water and sunshine, the field will be aerated, organic sand added, weed control administered, seed planted, and curbing repaired.
"It will look like nothing is happening for much of the time," explains Edwin Jones, Drayson Center's intramural manager. "But a great deal is happening—from oxygen reaching the grassroots, weeds being discouraged, and the grass having time to take root."
A third of this summer's cost will specifically address the wear and tear of Homecoming and graduation parking, which has led to excessive compaction from large tents, cars, and roving shuttles.
"When it comes to keeping the Superfield ready to benefit Loma Linda University Health," says Don Sease, MBA, director, "we intend to be faithful stewards for the task."
The artificial turf field will continue to be available for soccer and other sports. Contact Edwin Jones or events manager Bess Getman to inquire.
In the meantime, let the field rest. It only seems fair.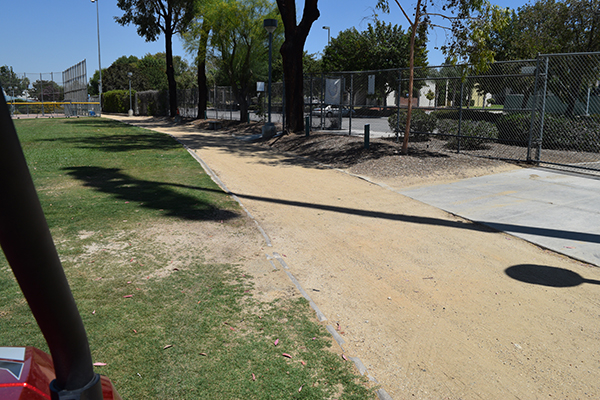 The curb along the walking track will need some attention. Heavy vehicles rolling across it have taken their toll.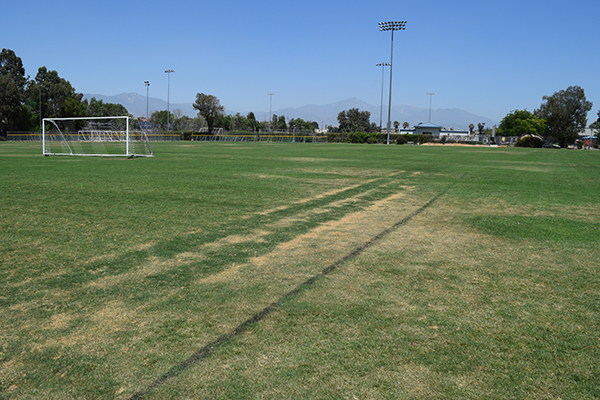 Yes, those are tire tracks from the shuttles that criss-crossed the Superfield on Super Graduation Sunday, June 10, 2018.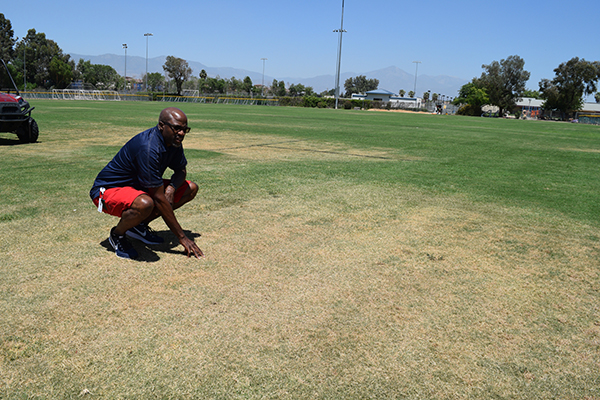 Intramural manager Edwin Jones tests the turf for compaction, which occurred when a giant tent with plywood floors stood there for Homecoming 2018.