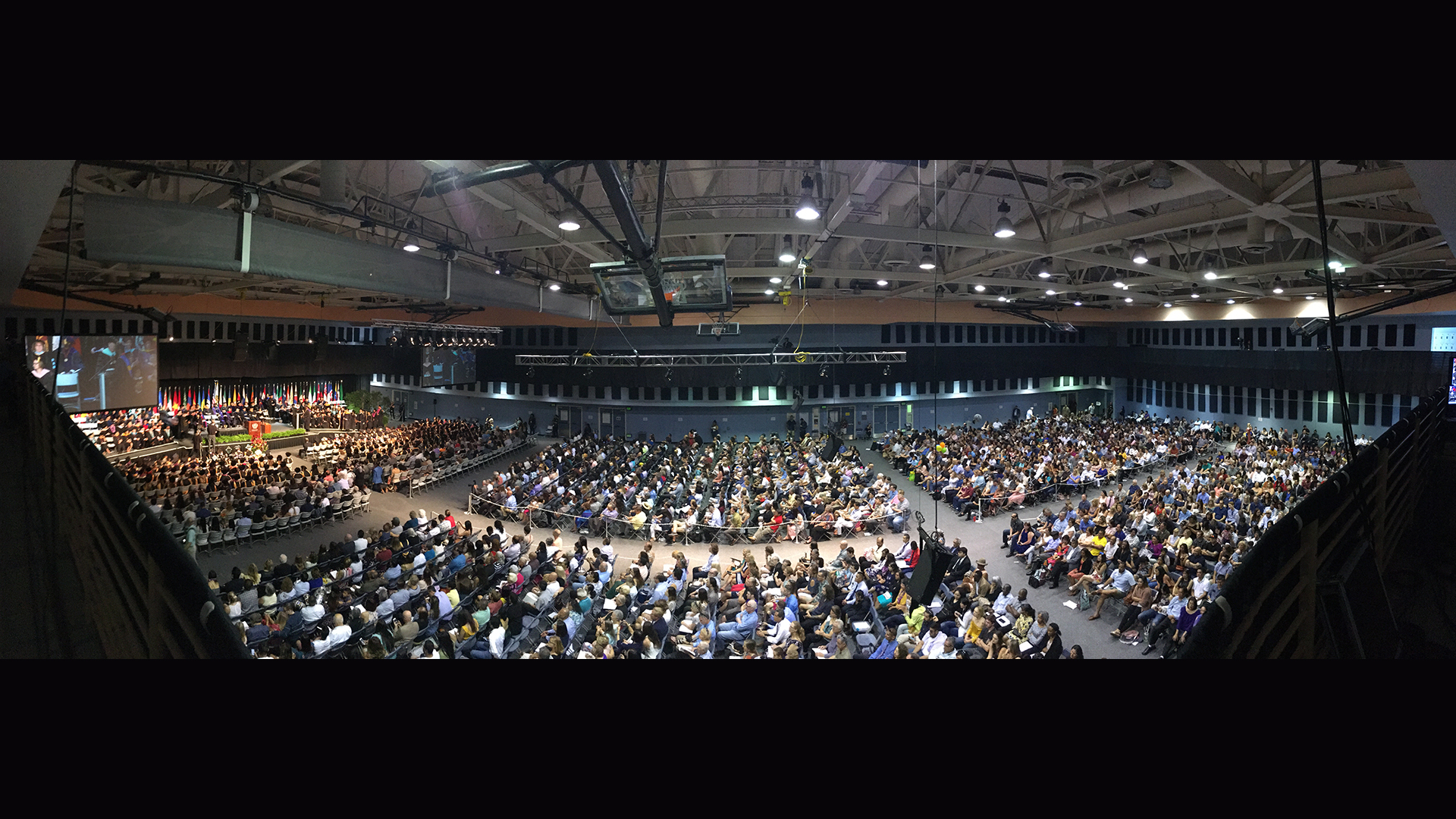 By lkidder - June 11, 2018
By Larry Kidder | This panoramic view of Opsahl Gym during the second of five graduation programs gives a sense of the magnitude of the crowds. Including graduates, stage participants, event and support staff, family members, and friends, more than 11,000 people passed through Drayson Center on Sunday, June 10. Scroll down for an additional photo.
It was all about crowd management on Sunday, June 10, 2018. Five Loma Linda University schools graduated nearly 1,000 students into alumnihood, while more than 10,000 family and friends cheered them on. Approximately 450 faculty and administrators preceded the graduates and filled the stage, with flags from about 50 nations draped behind them.
Drayson Center staff members were up to the challenge, guiding graduates and other participants to their assigned locations, as well as guests to their seats. Ester Boloix-Chapman, administrative assistant to Richard Hart, MD, DrPH, president of Loma Linda University Health, directed all eight commencement ceremonies. Three took place May 27 on the south campus mall in front of Chan Shun and Coleman pavilions.
For the five held at Drayson Center on June 10, she was assisted by Bess Getman, Drayson Center events manager, who handled the logistics leading up to and including the ceremonies themselves.
The School of Allied Health Professions led all schools in attendance, with nearly half the total attendees between two commencement ceremonies (the second ceremony focused on the physical and occupation therapy programs, as well as orthotics and prosthetics).
"It truly takes a village to put on eight commencement ceremonies," says Boloix-Chapman. "We've already started the process of planning for 2019, beginning with evaluating how this year went."
The 2018 commencement ceremonies required months of careful planning by a number of departments. The President's Office oversees the entire graduation process for all eight schools. For Super Sunday Commencement 2018, Drayson Center provided the venue, crowd management, and logistical support.
Campus Security served as a stabilizing presence, minimizing disruptions and supporting the celebrations. Campus Engineering transformed the south campus mall and Opsahl Gym into graduation venues, then quickly returned them to their original states.
Wyatt Video, headed by Bill Wyatt was responsible for everything media-related, including all video and audio broadcasting and recording for eight ceremonies. Rideshare, Parking, and Traffic Services helped channel the traffic in the right directions. For the first time ever, cars parked on Drayson Center's Superfield, increasing the convenience for thousands of graduation visitors.
Fleet and Transportation Services provided shuttles to and from various parking locations, further contributing to the convenience of visitors and guests. LLU Housekeeping provided several staff to help maintain Drayson Center all day long. Campus Catering prepared and served food for celebratory banquets as well as for commencement staff.
"Our goal is to provide a smooth and seamless graduation experience for our students, their family and friends, as well as our administrators and faculty," Getman shares. "We are pleased when everything goes as planned, but act quickly when issues arise."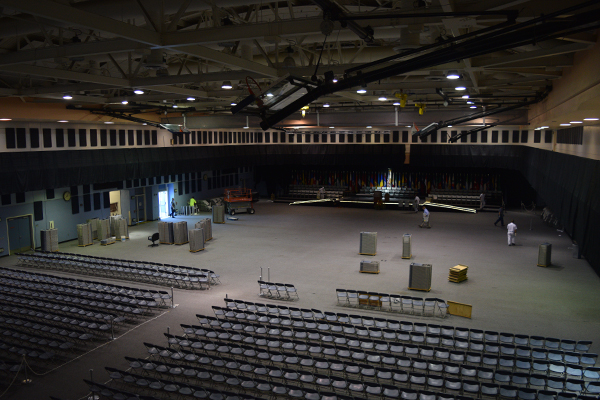 Campus engineering staff return Opsahl Gym to its recreational state, dismantling the stage, carrying out chairs, flags, and other equipment, and rolling up the carpet. In this photo, they still have a ways to go.