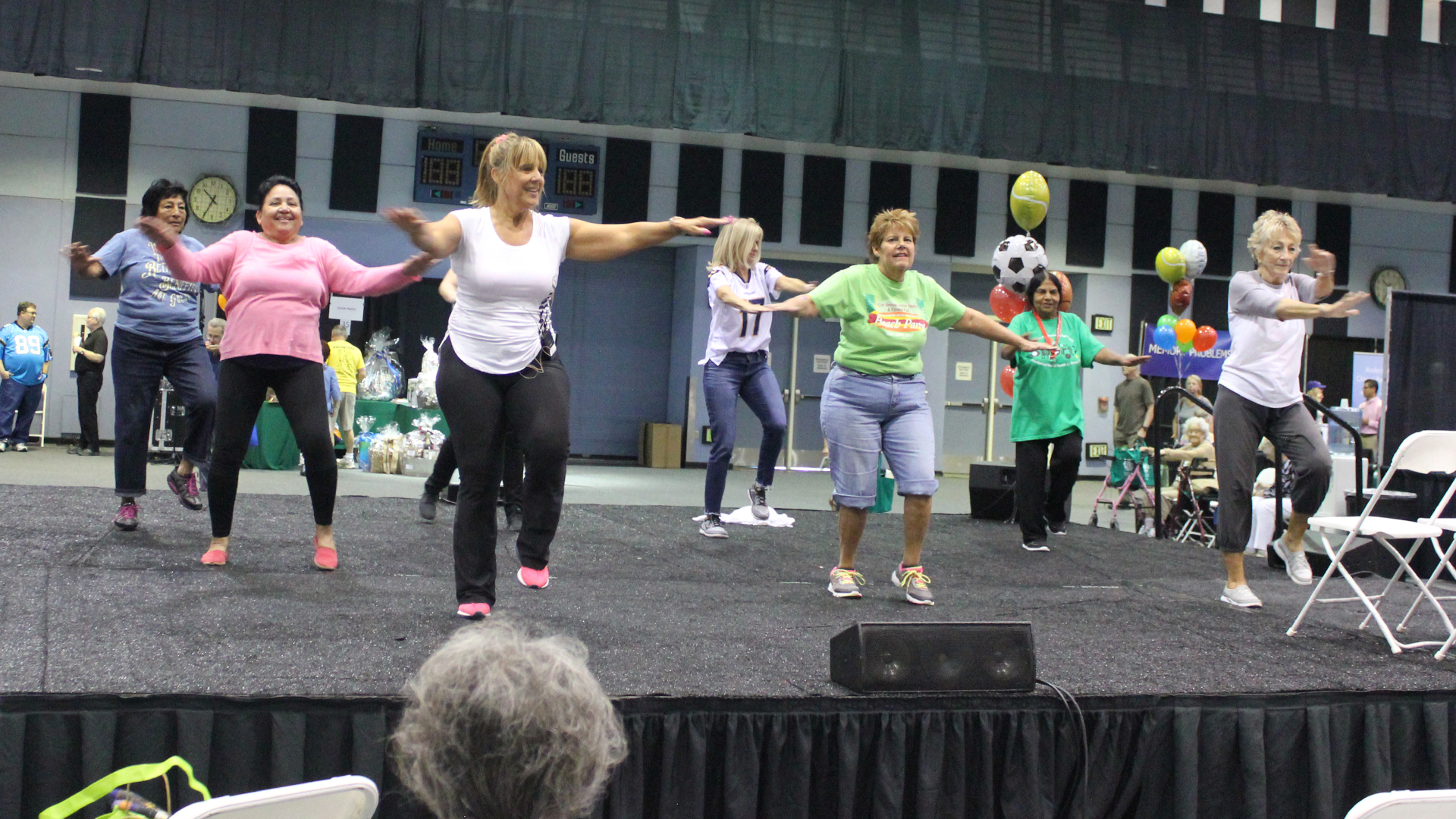 By lkidder - October 30, 2018
By Larry Kidder | In addition to visiting 75-plus booths, more than 1,000 seniors attending the 14th Annual Senior Health & Fitness Fair had the opportunity to take part in a variety of fitness activities. Above, aerobics instructor Lisa Verran leads a group of senior volunteers in some fitness activities. Scroll down for additional photos.
Loma LInda University Drayson Center celebrated 14 years of its Senior Health & Fitness Fair on Friday, October 26, accompanied by more than 1,000 seniors from surrounding communities.
The fair took place in Drayson Center's Opsahl Gymnasium from 9:00 a.m. to 12:30 p.m. More than 75 service organizations—including a number from Loma Linda University Health—offered giveaways, prizes, education, and screenings for attendees. A full schedule of fitness demonstrations engaged seniors in physical activity throughout the morning.
In keeping with the theme, "Follow the Bouncing Ball to the 14th Annual Senior Health & Fitness Fair," exhibitors were encouraged to represent their favorite team or sport through dress, sports gear, and team memorabilia.
Notable services included balance testing by the LLU Department of Physical Therapy, hearing tests by LLUH Surgery-Audiology, dental hygiene by the LLU School of Dentistry, medication disposal by the LLU School of Pharmacy, and vitals by the LLU School of Nursing.
Free massages were given by The Treatment Centre staff, centered in Drayson Center, and attendees who visited at least eight booths and received stamps were entered in drawings for door prizes donated by exhibitors.
"Our demonstrations were particularly successful this year," says Bess Getman, events manager and senior coordinator at Drayson Center. "We also conducted a survey of attendees for the first time this year and received a lot of positive feedback, as well as some excellent suggestions."
The Senior Advisory and Planning Committee, led by Getman, planned and managed the fair. William Wright, EdD, and Brandy Juarez played key roles in pulling off the event. "Our success was the result of hours of planning and work by the committee," Getman emphasizes, "as well as my assistants, Bill and Brandy. My thanks to everyone."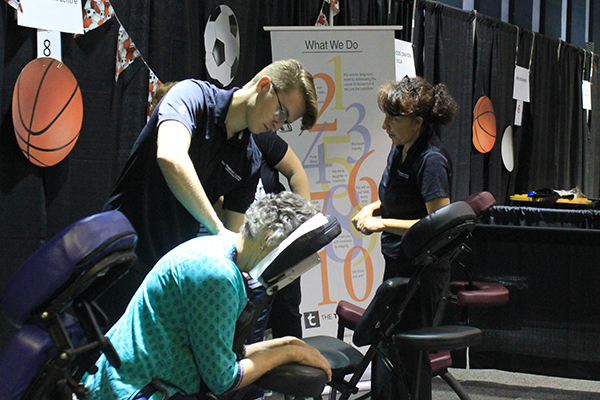 A senior attendee enjoys a free massage, one of a number of free services and screenings offered.
Physical therapists assist a senior attendee with a balance and stability test—an essential tool for increasing safety for seniors.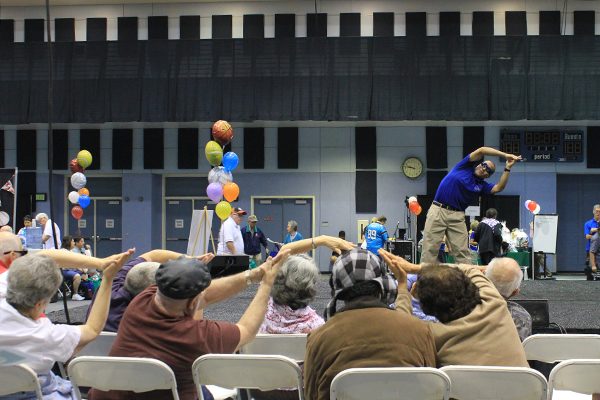 Personal trainer Al Sierra, part of LB Fitness personal training at Drayson Center, demonstrates some stretching techniques.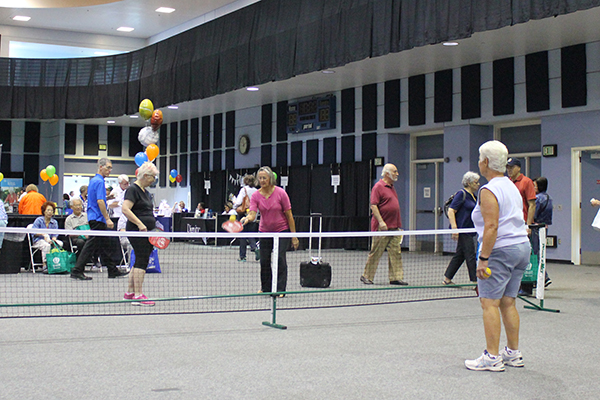 Pickleball, a favorite senior activity at Drayson Center, increases fitness while providing fun and fellowship.
An exhibitor connects with a fair attendee.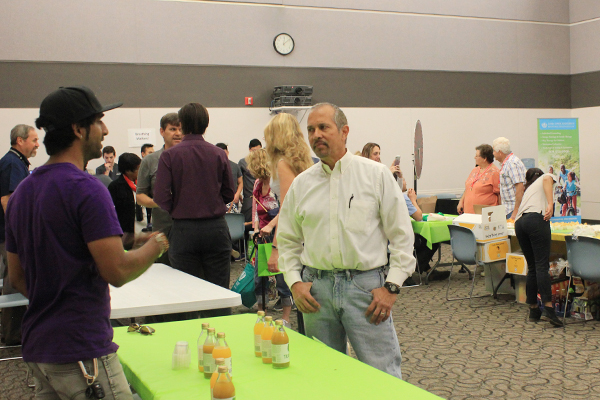 Just across the hall from Opsahl Gym, the LLU Lifestyle Health Fair ran simultaneously, sponsored by the LLU School of Public Health Office of Preventative Care.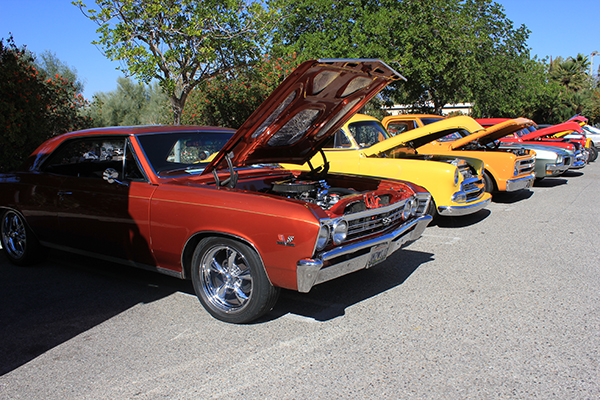 Hot rod classic cars were on display just outside Opsahl Gym in the parking lot. The School of Dentistry's mobile dental van was also parked outside.