By lkidder - October 2, 2023
By Larry Kidder | On Sunday, September 24, the Fall Picklebrawl Tournament took place at Loma Linda University Drayson Center. Following the tournament, participants gathered for a group photo. Drayson Center has converted two tennis courts into eight permanent pickleball courts. For more photos, scroll down.
The fall Picklebrawl Tournament was held Sunday, September 24, 2023, at LLU Drayson Center. Fortunately, there were no brawls—just a day of good competition and camaraderie. Participants came from local communities as well as the greater Los Angeles area.
The tournament featured matches for players at 4.0 and 4.5 skill levels. For the 4.0 category, 22 individuals took part in doubles round-robin play. For the more advanced 4.5 skill category, 18 individuals competed in doubles round robin. Winners at the 4.0 level included: first place—Austin Lu and Channing Chan; second place—Ernie Medina, Jr. and Richard Blackey; and third place—Josh Trimble and Martin Rodiles. Winners at the 4.5 level included: first place—Bryan Shapiro and Elliot Oliver; second place—Michael Yoo and John Jung; and third place—Jimmy Cho and Neil Sison.
For the first time in pickleball tournaments at Drayson Center, cash prizes were given to the winning teams in both categories: 4.5 level—first place $350, second place $250, and third place $150; 4.0 level—first place $320, second place $220, and third place $120.
All participants also received a gift bag of giveaways from tournament sponsors: Jigsaw Health, Pickle Juice Sport, Lock Laces, CanDo Keto Crisps, and Pickleball Chalet.
Watch for announcements for more pickleball tournaments and activities.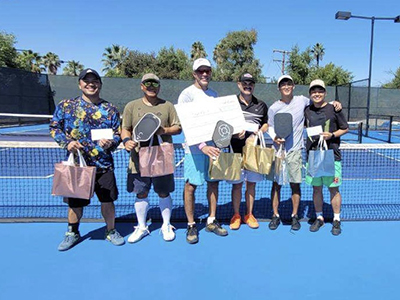 The 4.5 teams pose their winnings.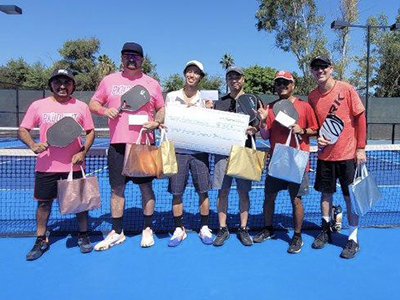 The 4.0 teams pose with their winnings.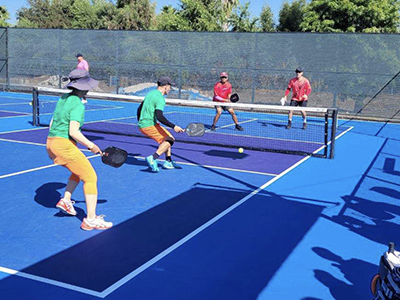 Two members of a green team square off against a red team.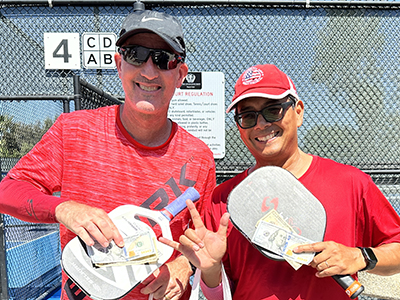 Teammates Richard Blackey (left) and Ernie Medina, Jr. show off their cash winnings for placing second in the 4.0 division.
From left, Kimi Waddell and Dori Hamner catch a little shade during the event. Kimi served as the Picklebrawl Tournament director.