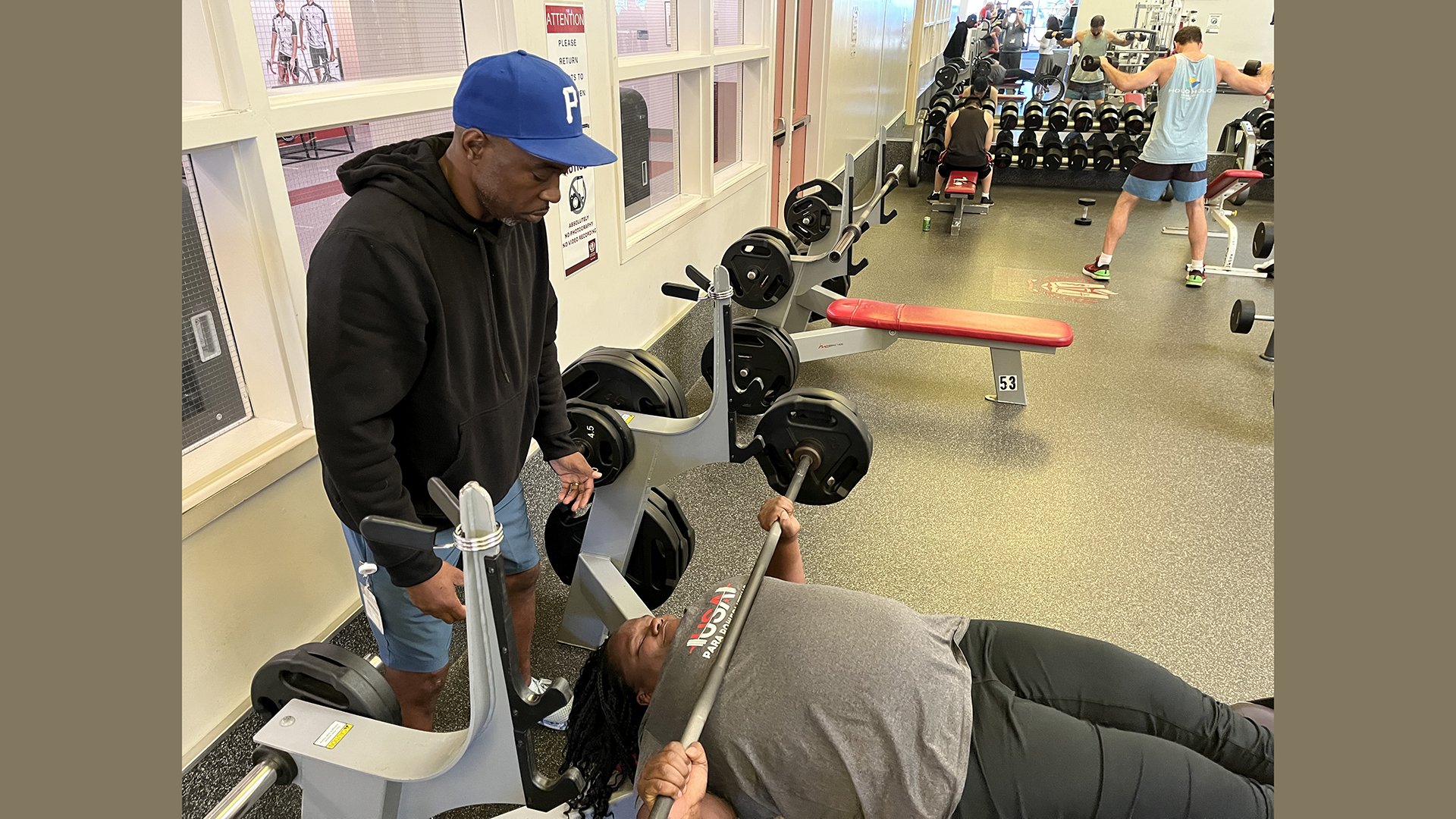 By lkidder - September 25, 2023
By Larry Kidder | Colton resident Ashley Dyce works with personal trainer Jason Parker at Loma Linda University Drayson Center. She is currently in the top 12 para power lifters in the U.S. In order to qualify for the 2024 Paralympic Games in Paris, France, she needs to reach the top eight.
Graphic designer Ashley Dyce, a resident of Colton, California, has high ambitions. Ever since she became aware of the Paralympics in 2012, she has dreamed of one day being on the U.S. team and representing her country.
"When I was a kid, there were no opportunities for sports of any kind for someone like me," she says. "When I heard about the Paralympics, I knew that was what I needed to do someday."
Ashley started toward her dream of becoming a world-class powerlifter in 2016, when Drayson Center head personal trainer Lyn Berlingeri began training her. The two worked together for about two years before Lyn referred her to a local powerlifting coach and gym in Redlands.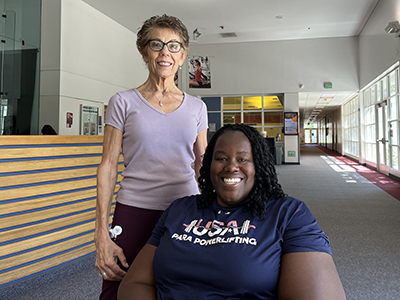 Drayson Center head personal trainer Lyn Berlingeri began training Ashley in 2016.
In 2022, she reached the top 12 in the U.S., but only the top eight make it to the Paralympics every four years. So that's where she intends to be by the 2024 Paralympic Games in Paris, France. National and world rankings are available online (just type in the name "Ashley Dyce").
Training includes working out three days a week, dropping to twice a week prior to a major competition. She is currently training for the Parapan American Games to be held in Santiago, Chile, in November 2023. A typical training schedule includes bench pressing and techniques on Mondays, accessory work on Wednesdays (specific muscle groups and other training activities that support her bench press skills), and a heavy day on Fridays where she seeks to break through her statistics from Monday.
Naturally, Ashley's diet needs to support her workouts. "I rely on wholesome sources of protein and carbohydrates," she explains. "I also avoid processed foods—especially fast food."
As a freelance graphic designer, Ashley is able to maintain her busy workout schedule. She is also involved in ministry at Pentacostal City Mission Church, in nearby Colton, where she serves as media director each Sunday, overseeing the graphics and live-streaming for the church services. The parent church was founded in Kingston, Jamaica, home country of her parents. Its international activities allow her to travel from time to time in her ministry.
For Ashley, competing in the 2024 Paralympic Games in Paris would be a "dream come true." She continues, "I would be honored to represent my country to the rest of the world in a sport that I love." The "four-year quad" (the term athletes use to describe the olympic cycle) includes competing at least once a year in one of the mandatory competitions. For Ashley, Santiago will fulfill that qualification for 2023.
When she makes it into the top eight for the 2024 games, there will be a contingent of enthusiastic supporters here at Drayson Center. Go, Ashley!