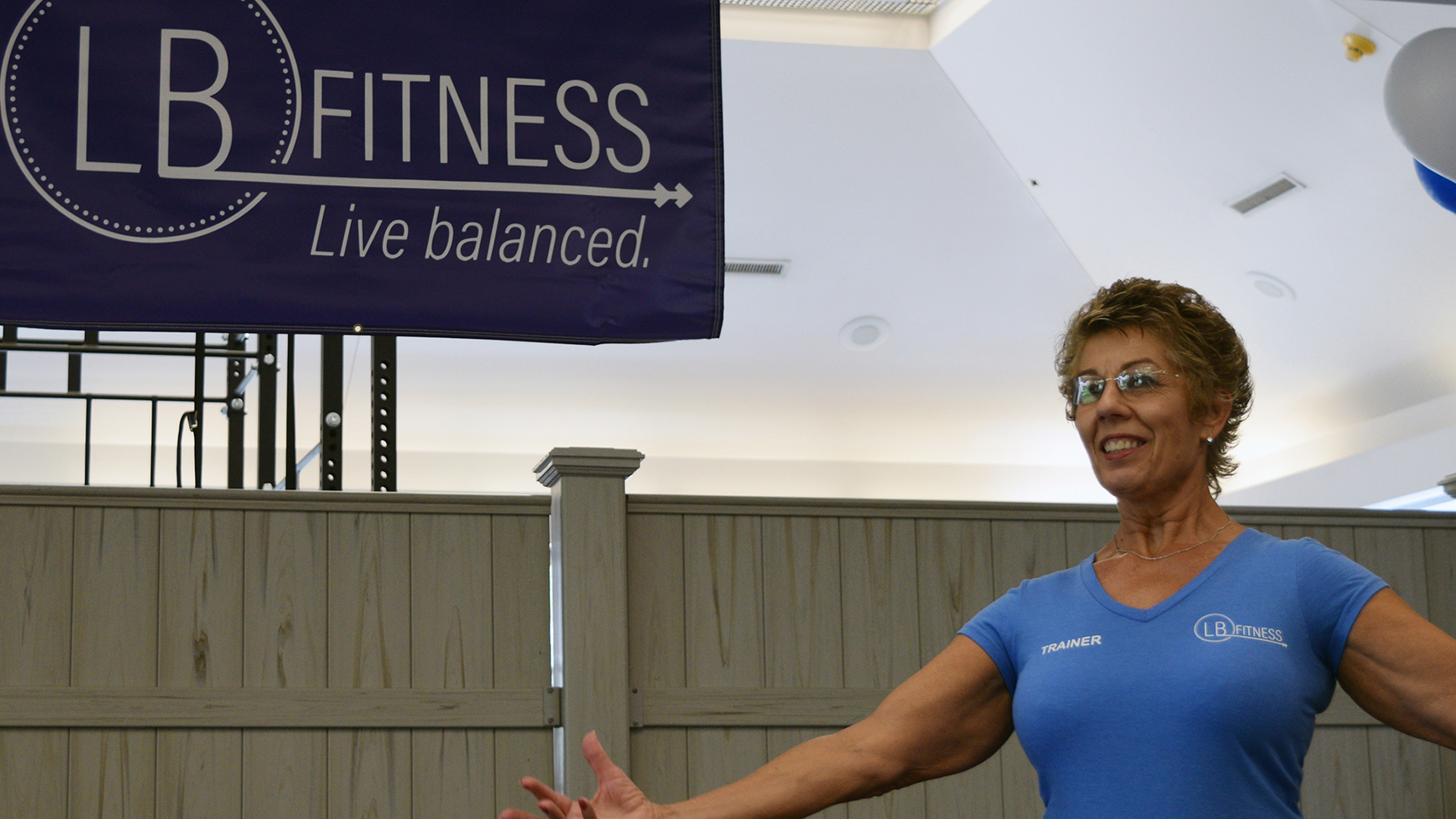 By lkidder - January 16, 2018
By Larry Kidder | Lyn Berlingeri, both NASM- and ASF-certified for personal training, introduces her business—LB Fitness. An open house for the personal training studio was held at Drayson Center on Monday, August 14.
A new kind of personal training is already taking place at Loma Linda University Drayson Center. In contrast to personal training at local fitness centers, clients receive truly individualized service that's far more than a supervised workout.
"My goal is to help every client who walks in," says Lyn Berlingeri, owner of LB Fitness, the company contracting with LLU Drayson for personal training services. "I evaluate what a client needs, then develop a program to help meet those needs and achieve personal goals."
That can include talking to a physician or physical therapist involved in a client's care as needed. "With a client's permission," she continues, "I can contact other health care providers to coordinate my efforts with theirs. The ultimate goal is to help my clients improve their lives through health and fitness."
Berlingeri, who is certified by both the National Academy of Sports Medicine (NASM) and American Sports and Fitness (ASF), ventures into a number of areas that are beyond the scope of some personal trainers. For instance, she believes that nutrition is a top priority for fitness training. She also stresses good form and stretching as two other major priorities.
On Monday, August 14, Berlingeri introduced her personal training studio during an open house from 10:00 a.m. to 1:00 p.m. Refreshments were provided that featured tasty—but healthy—treats. Several drawings for products and services also took place. Drawing winners included: Mala Trott, who won three personal training sessions with LB Fitness; William Wright and Julie Roth, who both won one-hour facials by Facial Expressions (Redlands); Phillip Loeah, who won a 30-minute massage at The Treatment Center (Drayson Center); Edna Ligeralde, who won a gift basket of energy-rich snacks from Nibble & Nosh (Yucaipa); and JeJe Noval, who won a gift basket of honey bee-created products from SunnySideLocal (Redlands).
Berlingeri didn't need to introduce herself, since she's been training clients at Drayson Center more than half a decade.
"Most of my clients work at jobs where they either sit most of the day in front of a computer screen or spend the day on their feet," Berlingeri explains. "Many of their injuries, aches, and pains result from unbalanced movement that strains the wrong muscles or bones."
In addition to correcting balance and movement, Berlingeri works to stretch out muscles and tendons. "For instance, some lower back pain can be remedied by stretching out tight muscles," she points out. "And when exercising—or even just sitting, standing, or walking—the correct form and balance can make all the difference."
Berlingeri also focuses on nutrition. "It's unbelievable the amount of unhealthy food people eat every day," she observes. "Our bodies do not know what to do with processed foods, so they simply store them as fat. By choosing unprocessed foods, as well as whole proteins, fruits, and vegetables, our bodies are able to receive the nutrients and fiber they need to function well."
She sees many of her clients individually, but Berlingeri also works with groups. In the near future, she plans to reintroduce the popular "Boot Camp" (watch drayson.llu.edu for announcements). She also collaborates with the Living Whole Employee Wellness Program, working with several groups associated with the "Say N.O.W." (say no to overweight) program.
"Every person who walks in has different needs—a different story," she shares. "Sometimes they need to talk. I'm happy to spend time listening, and everything is kept confidential."
Berlingeri's primary objective is clear to her: "My number one goal is to help restore my clients to health and balance—body, mind, and spirit."