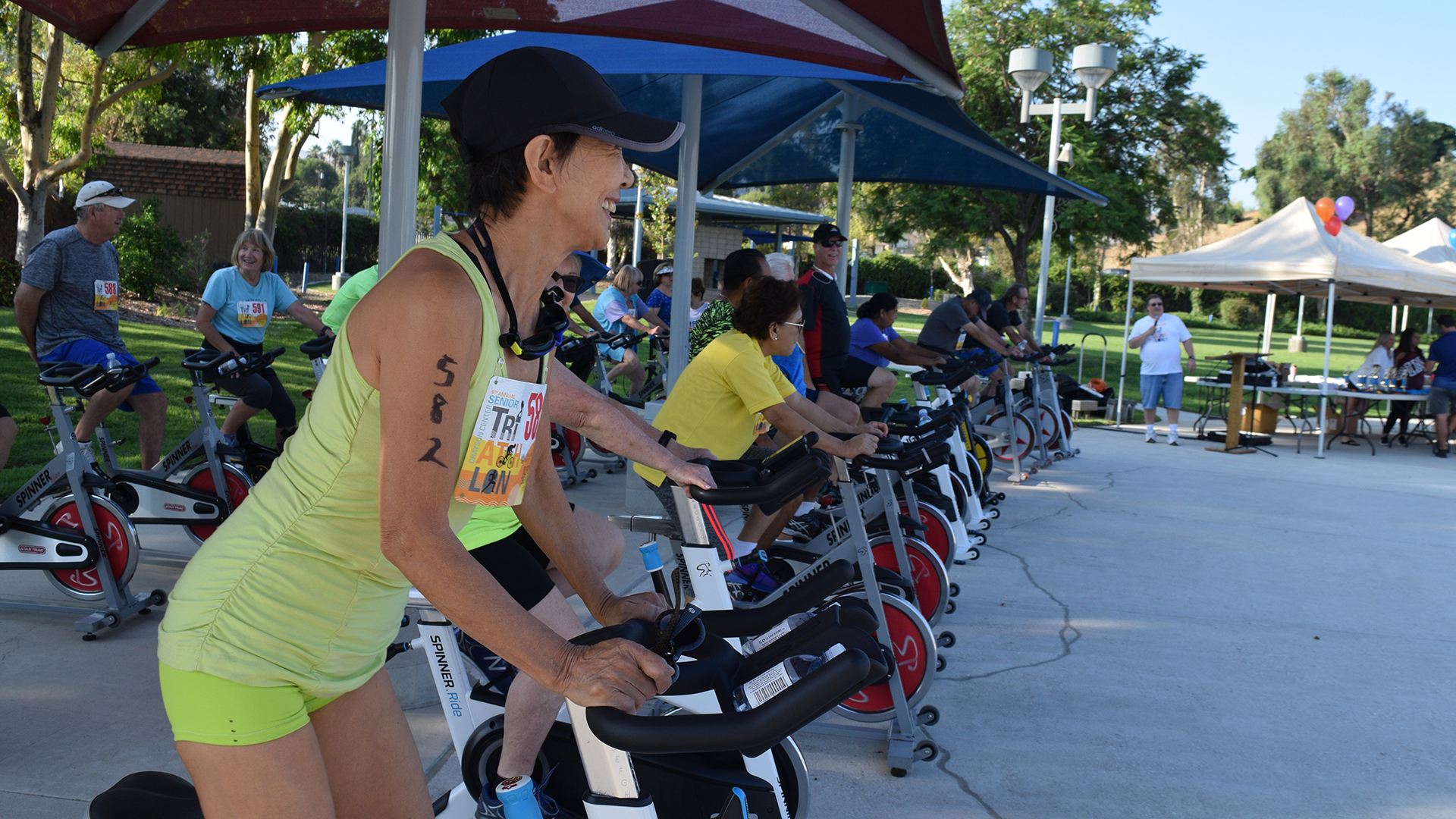 By lkidder - October 2, 2017
By Larry Kidder | Senior Triathlon participants ride stationary bicycles as part of their requirements. For more photos, scroll down.
Nearly 60 seniors, ranging in age from 55 to 95, took part in the ninth annual Senior Triathlon, held on Friday, September 8, 2017. "You are now part of a select few in the U.S. population who have actually taken part in a triathlon," Don Sease, MBA, director of Loma Linda University Drayson Center, reminded them, "and you're doing it as seniors—which is even more remarkable."
The event was jointly sponsored by the Just for Seniors 55+ Club and Drayson Center Senior Wellness Program.
The triathlon required participants to run or walk the track, cycle, and finish with laps in the pool. Best of all, they were able to cheer each other on and visit in between. Tiburicio Anamuro received extra encouragement upon completing the triathlon, having turned 95 in July.
Representatives from Loma Linda Villa were on-hand to provide gift bags and support. In the age 75 and above category, first place honors went to Pacifico Lopez and Sofia Rincon, second place to Russ Miller and Evangeline Endeno, and third place to Leo Harriman and Elvira Moreno-Roa.
In the 65-to-74 category, Tom Saether and Nancy Merch came in first, Terry McNeill and Kim Brand second, and Arthur Ortega and Jennifer Dean third. In the 55-to-64 group, Jon Opsahl and Violet Chicaonda were first across the finish line, followed by Eric Lemus and Cecilia Garcia in second, and Arnel Vasquez and Yarnie Cheng in third.
For the past nine years, the Senior Triathlon has been organized by the Senior Advisory and Planning Committee, under the direction of Bess Getman, events manager and senior coordinator at Drayson Center. "Many thanks go to all senior volunteers and Drayson Center staff who made the event memorable and successful," says Getman.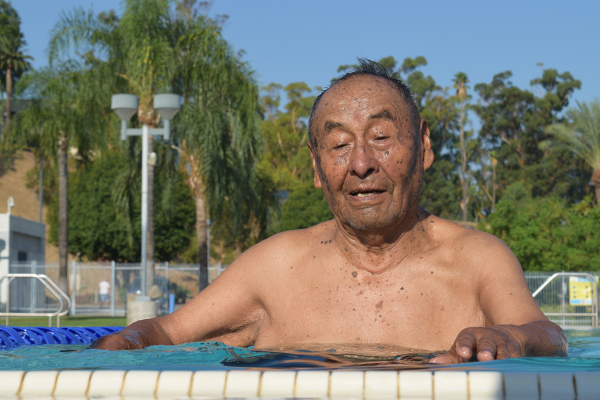 Tiburicio Anamuro smiles as he completes the Senior Triathlon at the age of 95.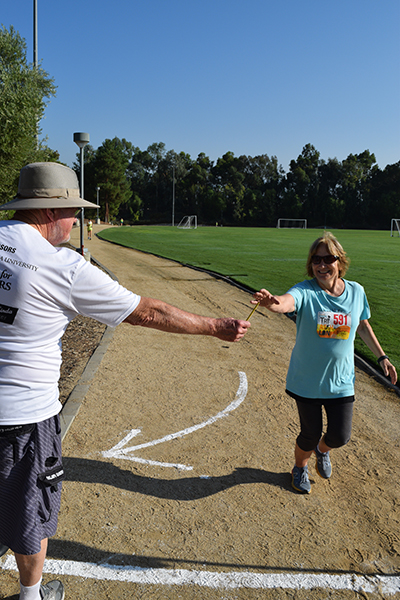 A runner accepts a token that signifies how many laps she has completed.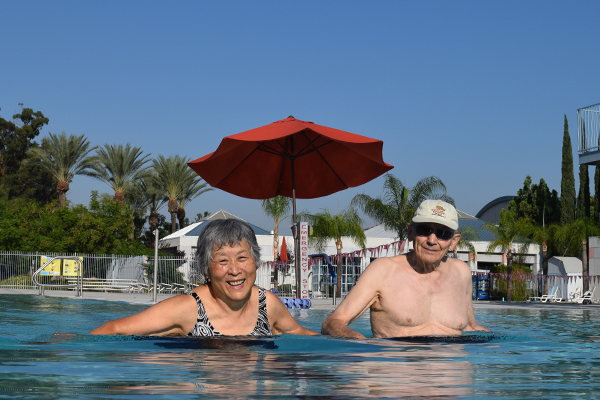 The only thing better than crossing the finish line is crossing it with a friend.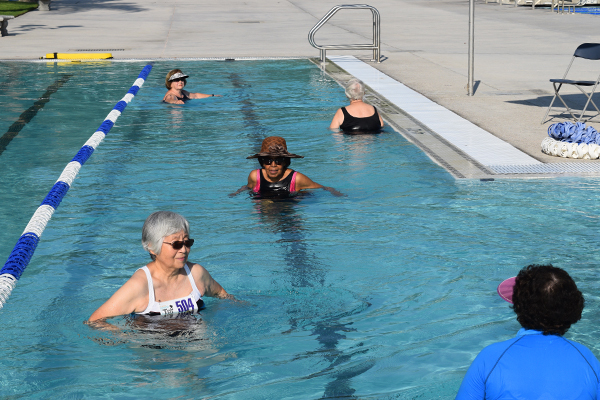 Participants complete their laps in the pool.
Events manager and senior coordinator Bess Getman is all smiles as she watches the careful planning of the Senior Advisory and Planning Committee come to fruition.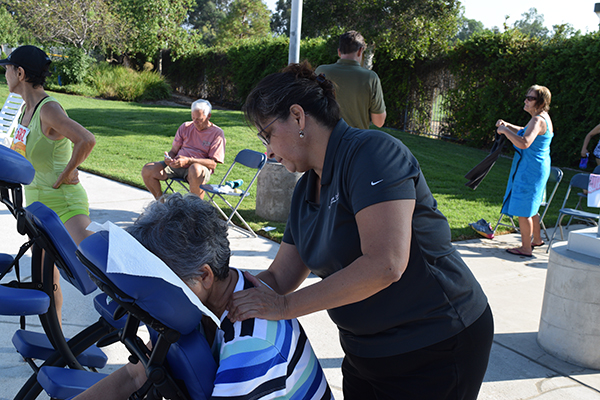 Taking part in a triathlon can be easily remedied by a massage, compliments of The Treatment Centre at Drayson Center.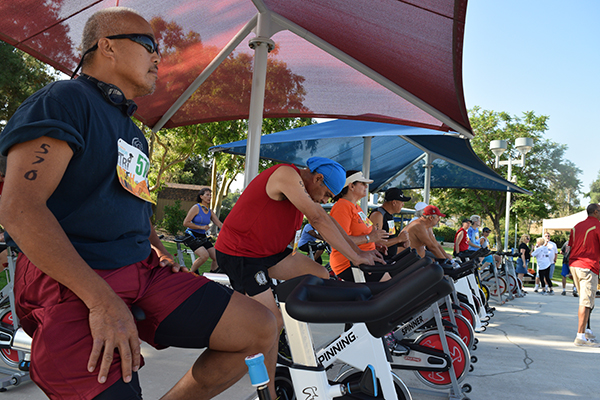 Drayson Center seniors are in great shape, as evidenced by these participants.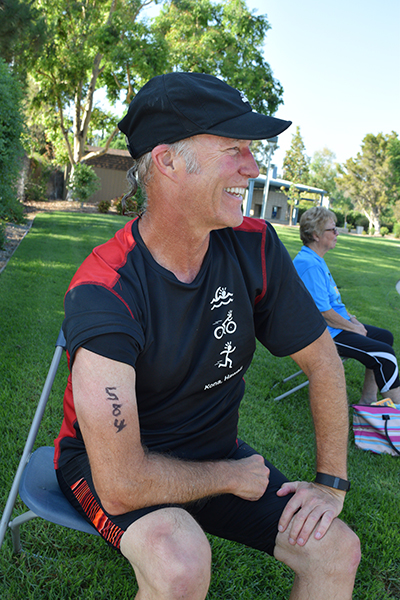 Participant Bob Mitchell wants to be sure everyone knows he is number 584—including his wife.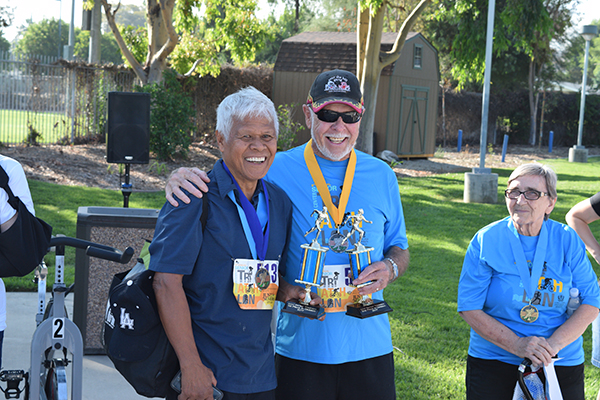 Two trophy winners congratulate each other.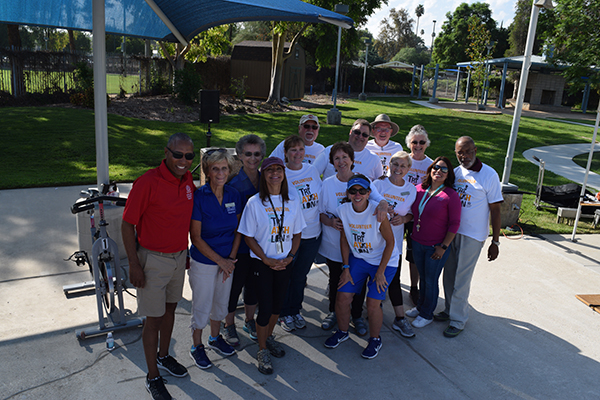 The Drayson Center team basks in the success of the Ninth Annual Senior Triathlon.