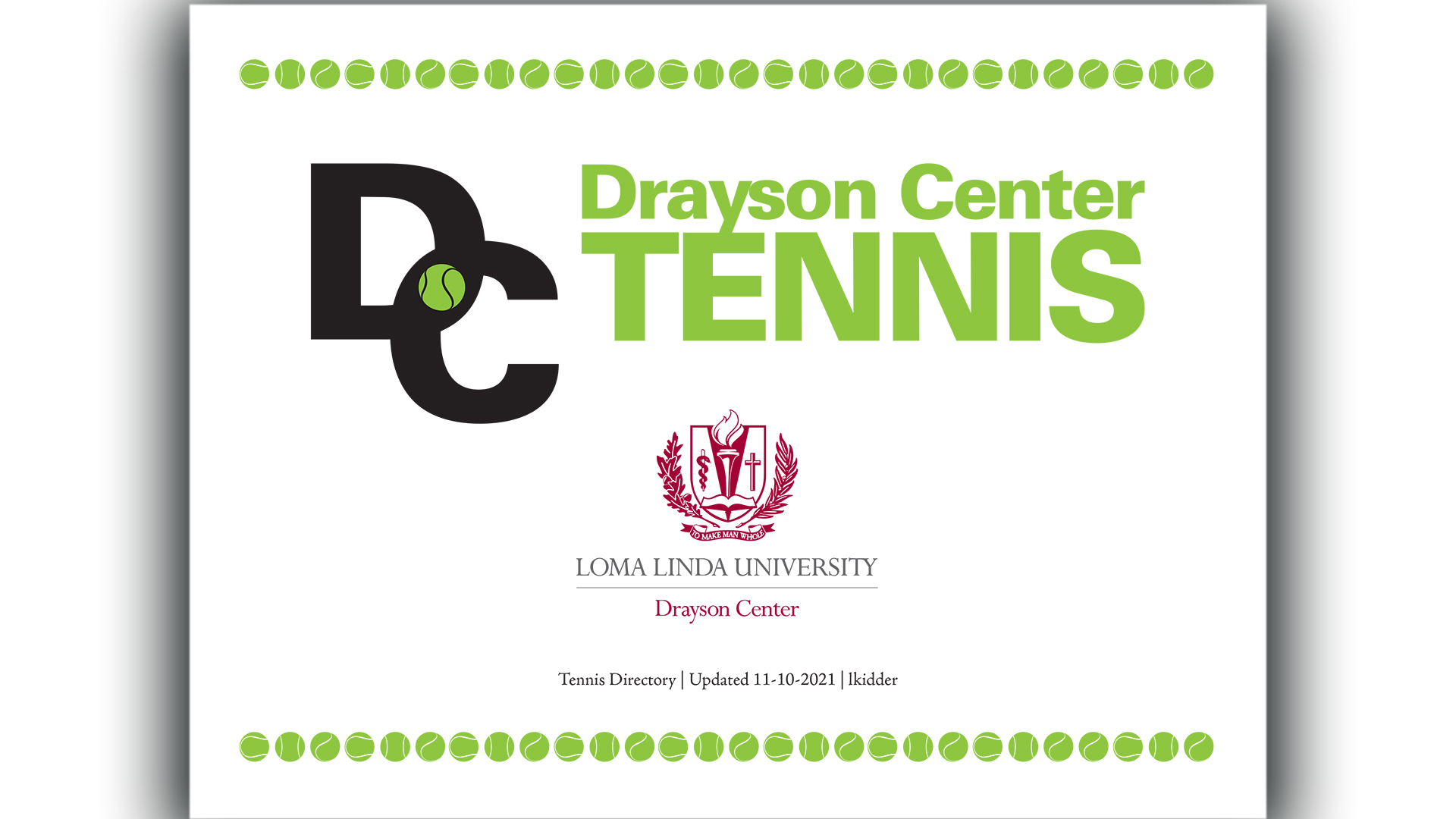 By lkidder - November 10, 2021
By Larry Kidder | The new DC Tennis Directory is out. Nearly 50 tennis enthusiasts have already signed up. If we're missing your name, sign up today. (If you signed up but didn't receive an email, let me know at lkidder@llu.edu.)
Nearly 50 tennis players are now part of Loma Linda University Drayson Center's new DC Tennis Directory.
An email has been sent with the first version of the directory to the emails provided. If you signed up and did not receive an email, please contact Larry Kidder at lkidder@llu.edu and provide your email. This will be the primary way for receiving information regarding upcoming events, helping you to plan ahead for your tennis activities.
Whether you intend to use the directory to connect with other players or you simply want to know what's going on, you will want to be part of the directory so that you will be aware of upcoming organized tennis activities. The courts will be reserved for those events and unavailable to non-participants. And, you must be in the directory to receive one, as well as email announcements.
Potential future activities will include …
Social tennis. With four courts available, our maximum capacity will be 16 players for doubles and 8 players for singles. Round-robin play will rotate players in a pre-organized fashion that will enable as many participants to play with or against each other. This provides an excellent opportunity for players to become acquainted for future events such as team tennis, as well as social tennis outside organized activities. The larger the number of DC Tennis Directory players, the greater our chances for organizing activities targeted to specific skill levels.
Tennis ladders. Individuals sign up at the Service Desk for a small fee and their names are placed on a "ladder"—basically a vertical stand with clips or nails for each name. The ladder will last for a specified length of time, with players required to challenge or be challenged by one player per week. Players may challenge or be challenged by anyone within two positions above or below. If the challenger wins, he/she takes the spot of the player challenged. At the end of a specified period, those in first, second, and third place receive prizes and/or medals.
Team tennis. Teams of a specified size and composition compete in doubles and singles matches, with awards given to the first, second, and third place teams at the end of league play. Playoffs may also be included.
Tournaments. Players compete against each other over a day or two, with the winning individual/team advancing to the next round.
Skills workshops. Tennis players meet with tennis, fitness, and nutrition professionals to hone their skills, tone their bodies, and learn how to eat and hydrate before, during, and following matches. Workshops will likely cover areas such as footwork, baseline, net play, and serving as well as mental preparation and strategies for both singles and doubles.
There are so many possibilities. However, we will begin with social tennis and work our way down the list. We will need lots of enthusiastic participation and support to build a lasting tennis program.