By lkidder - March 29, 2018
By Larry Kidder | Facilities manager Richard Wysong adjusts the control panel for the new heat exchanger. The unit arrived March 18 and should be up and running soon, once the electrical breaker is upgraded.
You may have noticed Loma Linda University Drayson Center staff wearing winter coats and gloves the past few days. Yes, it's been a bit chilly inside Drayson Center, but there's a good reason for it.
No, we're not saving money or forgot to pay the electric bill. Actually, a brand-new heat exchanger arrived at Drayson Center on Sunday, March 18.
"The installation has gone well," reports Richard Wysong, MBA, facilities manager. "However, the electrical draw is a bit more than our current system can handle, so our breaker system needs to be upgraded—which should happen soon."
That explains why it's colder inside Drayson Center than outdoors. Fortunately, our members are likely exerting themselves through exercise or sports, so the cold may actually be welcome. For the rest of us, there are coats, scarves, hot-water bottles, or space heaters.
The new heat exchanger was built by ARI-Armaturen, a company with a presence in Austria, China, Denmark, France, India, Italy, Malaysia, Russia, Singapore, Spain, United Arab Emirates, the United Kingdom, and the United States.
The U.S. factory is located in Houston, Texas. Hurricane Harvey delayed the manufacture and installation of Drayson's heat exchanger, which was originally scheduled to take place in September 2017.
"Our heat exchanger was ready in January, but we chose March to install it because we thought it would be warmer by now," laughs Wysong. "It turns out January had warmer weather than March. Hence the winter wear."
The heat exchanger should be up and running soon, probably about the time the temperature hits the 80s.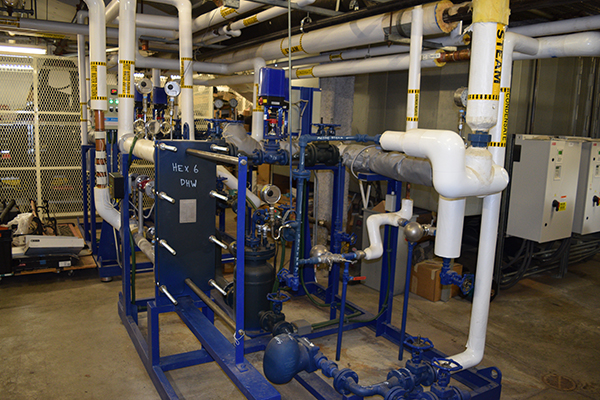 A new water heating system for Drayson Center locker room showers was installed a while ago. The unit above heats the water as needed, instead of storing it in huge water tanks as the previous system did.