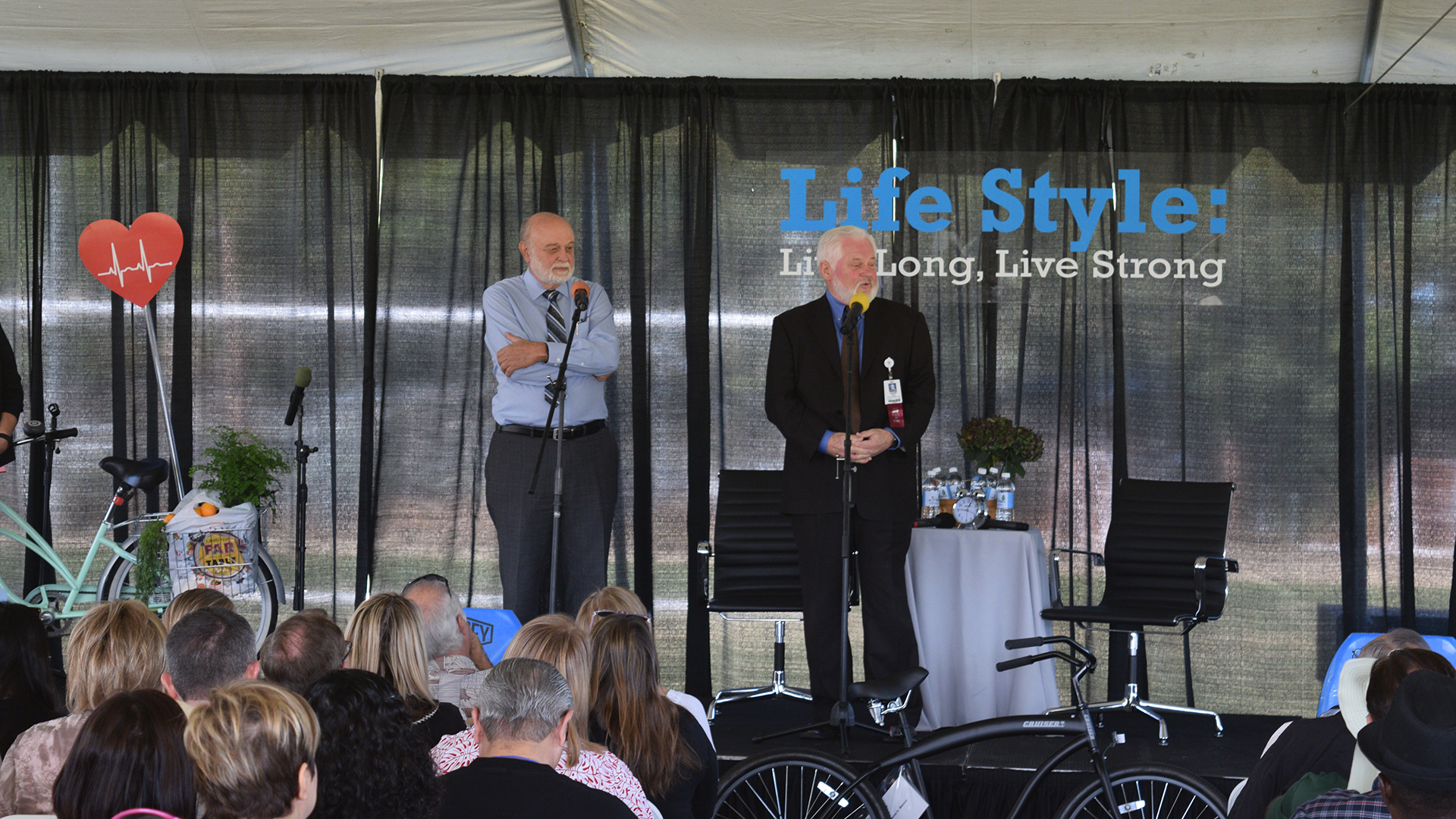 By lkidder - October 16, 2017
By Larry Kidder | Ron Carter, PhD, right, provost of Loma Linda University, welcomes more than 600 teachers and pastors from Southeastern California Conference of Seventh-day Adventists to LLU Drayson Center for Pastor/Teacher Health Day. Looking on is Loma Linda University Health President Richard Hart, MD, DrPH, left. For more photos, scroll down.
Parking was scarce as more than 600 pastors and teachers from Southeastern California Conference (SECC) arrived at Loma Linda University Drayson Center for their annual Pastor/Teacher Health Day on Monday, October 16. The daylong event, presented by SECC and hosted by Drayson Center, was titled, "Life Style: Live Long, Live Strong."
Sandra Roberts, DMin, SECC president, initiated the event a few years ago for SECC pastors. In 2016, the annual health day was expanded to include conference teachers in a combined event to promote active health among SECC employees.
The keynote address to kick off the day featured Mike Tucker, host of Faith for Today, interviewing retired Indianapolis Colts tight end Ben Utecht. Now an internationally known motivational speaker and recording artist, Utecht finally relented to the pressure to show off his Superbowl ring, which he earned along with quarterback Peyton Manning under Coach Tony Dungy.
The son of a Methodist minister, Utecht is a dedicated Christian and shared his experiences working with fellow Christians Manning and Dungy.
As part of the health day, pastors and teachers were required to participate in a variety of events in order to receive enough hole punches in their cards to qualify for end-of-the-day drawings. Activities included a number of organized sports and recreational events, educational seminars, and health screenings. Even a back massage earned a hole punch.
SECC workers, dressed in referee shirts and sporting whistles, punched the holes for participants as they completed their requirements.
Following lunch on the pool deck, the day concluded with the drawings for prizes which overflowed the stage under a tent in Drayson's Superfield. Prizes, provided by a number of event sponsors, ranged from large kayaks and boogie boards, to gift certificates and gift cards. Every employee won something.
"Life Style: Live Long, Live Strong" Pastor/Teacher Health Day represents a close collaborative effort between SECC and Drayson Center. SECC office staff organized the event with Drayson Center's events manager Bess Getman very much part of the planning process from the beginning. The success of the event was a reflection of that close collaboration.
"I believe we accomplished our goals," said a tired but pleased Roberts following the day's events. "We want to inspire our conference workers to live more healthy, active lives. The combination of speakers and activities helped us accomplish that." She continues, "It's been fun. We really appreciate the efforts and hospitality of the Drayson Center team."
The concept of devoting an entire day to healthy activity is an innovation among Adventist church conferences. "To my knowledge, the Pastor/Teacher Health Day is the only event of its kind," says Don Sease, MBA, director of Drayson Center. "It's purpose parallels the philosophy of wholeness that drives Loma Linda University Health."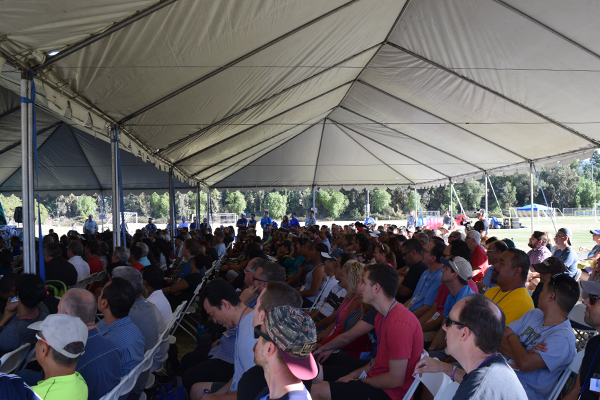 Tents on Drayson's Superfield provided shade for the teachers and pastors to begin and end the health day, as temperatures soared to near 100 degrees Fahrenheit.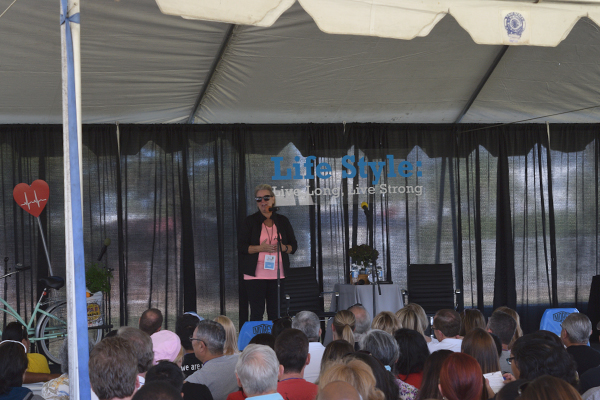 Sandra Roberts, SECC president, welcomes everyone and introduces them to the day's events.
Mike Tucker, right, host of Faith for Today, interviews retired Indianapolis Colts tight end Ben Utecht, who shares experiences from his football days as well as his testimony as a Christian.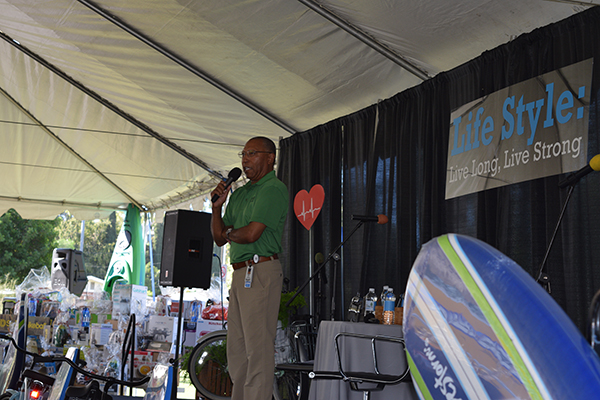 Drayson Center Director Don Sease, MBA, welcomes the SECC pastors and teachers to the Loma Linda University campus.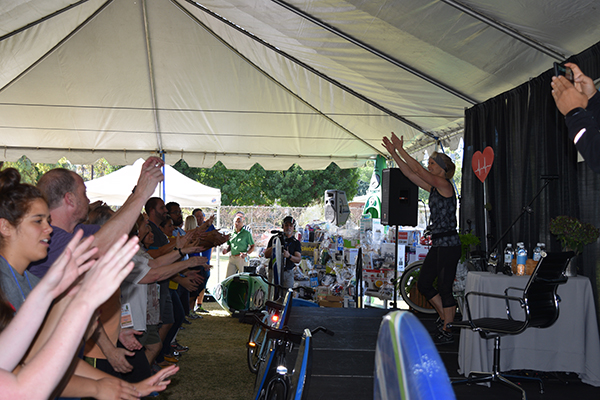 Gail Nelson, head aerobics instructor at Drayson Center, is also librarian at nearby Loma Linda Academy. Here she leads the teachers and pastors in aerobics-style warm-up exercises to prepare them for a day of physical activity.
Ben Utecht now travels internationally as a motivational speaker and singer/recording artist. He is also a major proponent of protecting young people involved in sports from brain injuries due to concussions, speaking to the U.S. Senate in 2014 regarding the need for more study and action. Here he sings for the pastors and teachers during a breakout session.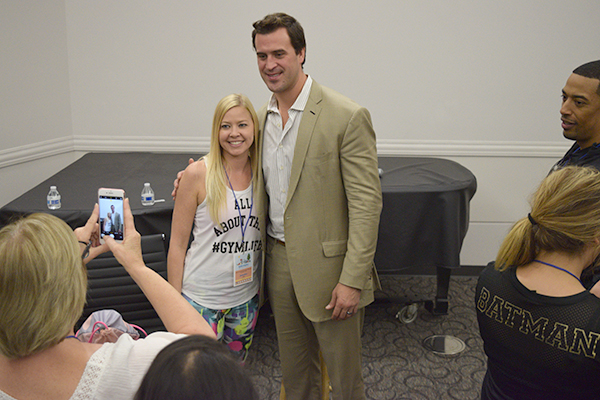 A number of individuals could not pass up the opportunity to take a photo with former NFL player and Superbowl winner Ben Utecht, including Jenny Opp, a teacher at Loma Linda Academy who also works at Drayson Center's membership office in her spare time.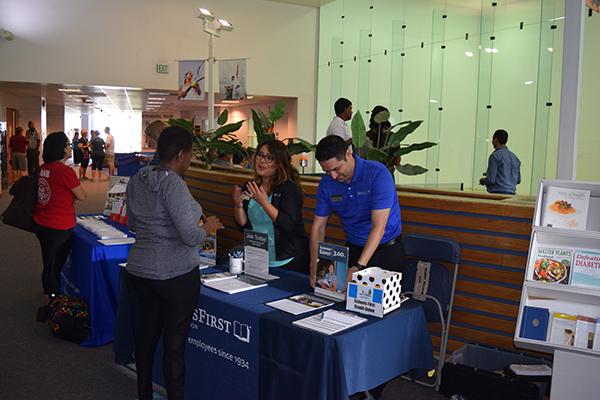 A number of service organizations devoted to church and school employees share information with health day attendees.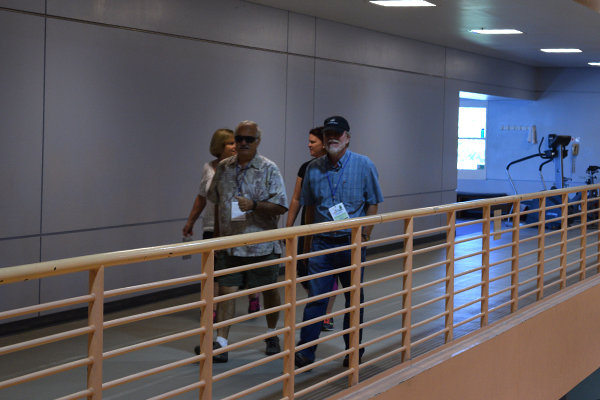 Participants take advantage of Drayson's indoor air-conditioned track, which overlooks Opsahl Gym.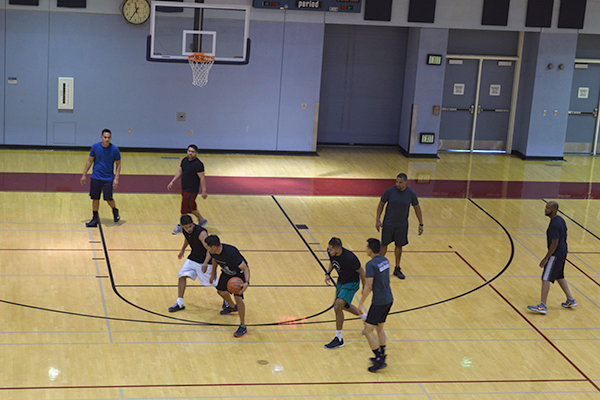 Pickup basketball provides some attendees with both strenuous exercise and camaraderie.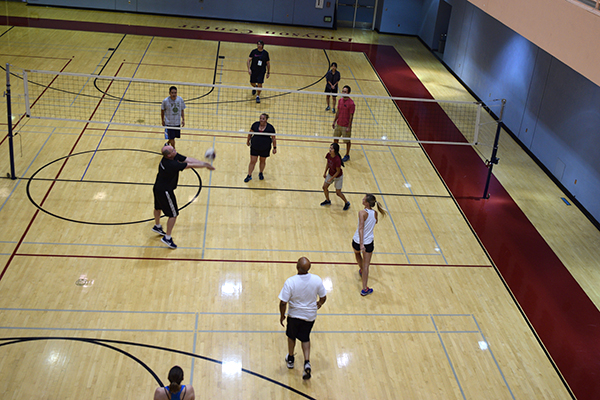 Volleyball piques the interest of others.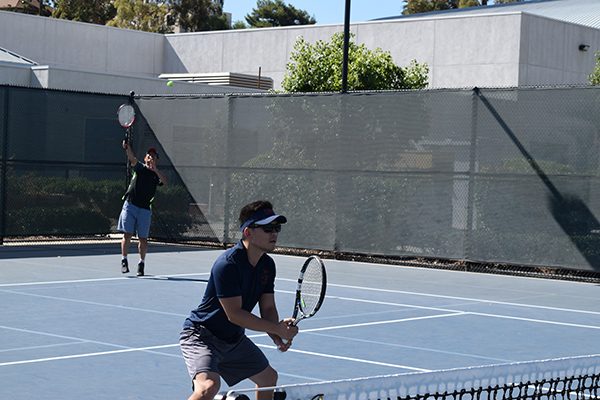 Still others enjoy a set or two on the tennis courts.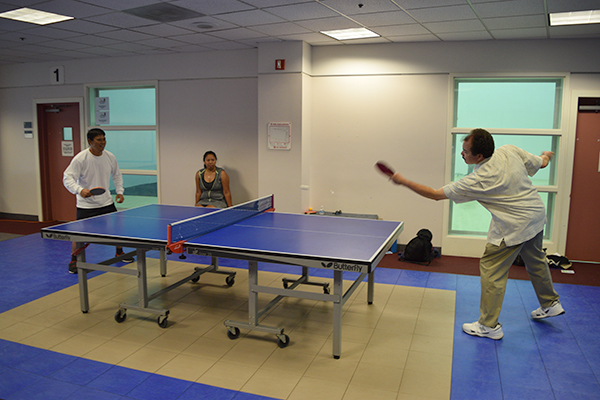 Ping pong in the air conditioning suits these two.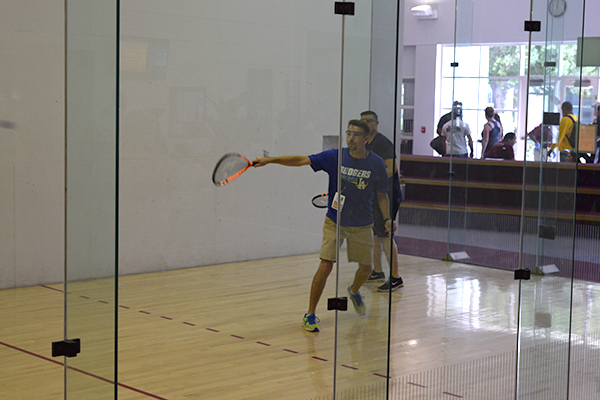 Racquetball in Drayson Center's show court works for these two.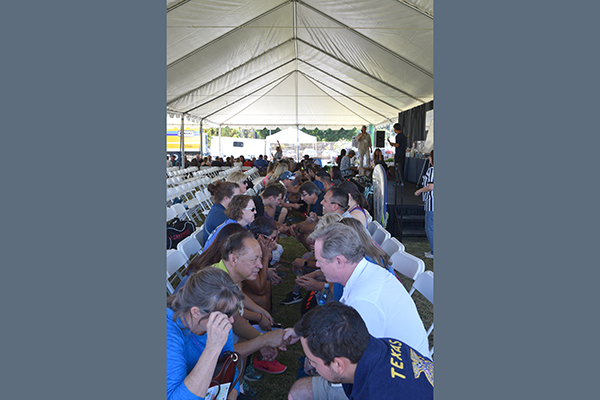 You have just 30 seconds to learn about the person sitting across from you.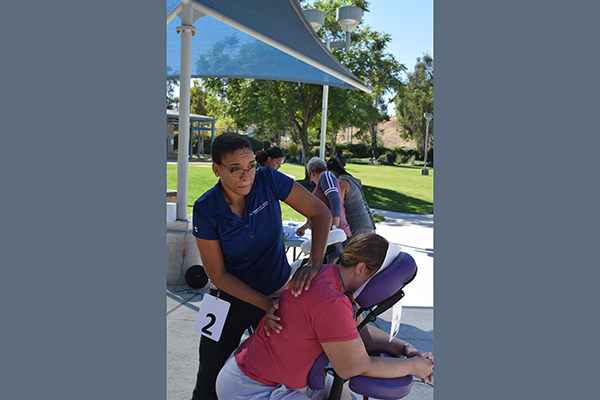 Free massages are among the required activities for the day.
Participants feed their inner athlete.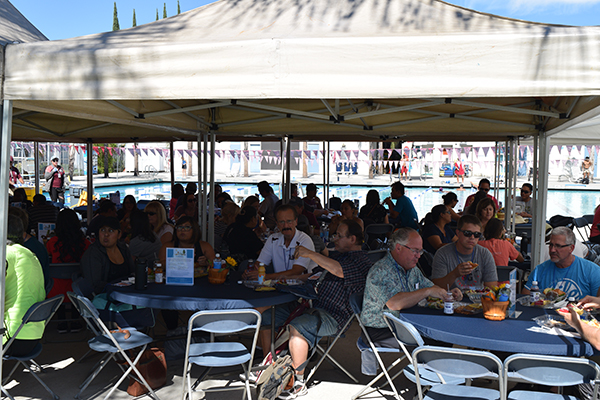 Lunch on the pool deck in the shade replenishes energy for the remaining activities.
Randy Speyer, head of a Christian counseling group in Redlands, talks about "The Thin Red Line: Staying Connected and Protected in Life, Love, and Work."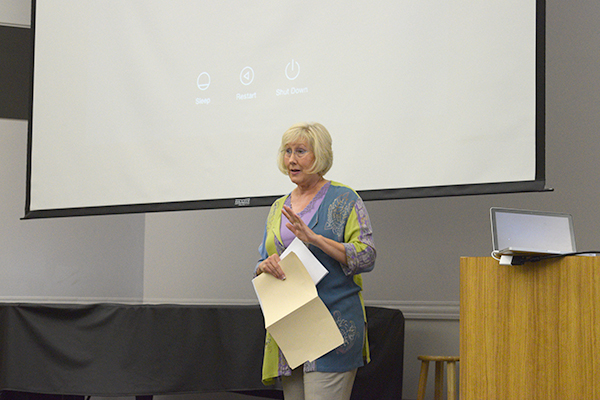 Family therapist Jan Hackleman speaks on "Building Strong Families in the Electronic Age." Thirteen breakout sessions were available during the day.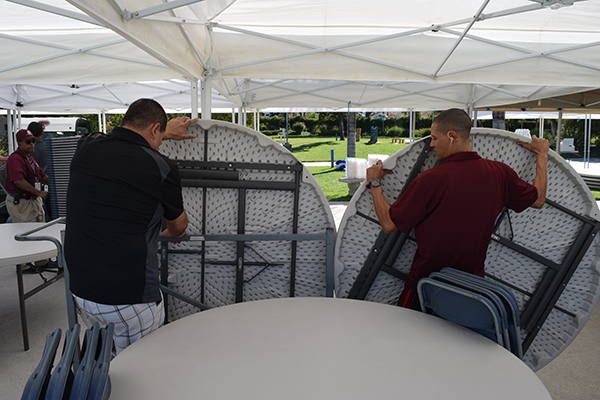 Drayson Center staff begin returning the facility to its original state following lunch.
It would be safe to say this individual likes the prize she won.