By lkidder - September 22, 2023
By Larry Kidder | Each month, the Senior Wellness Program at Drayson Center invites an expert to speak on a topic relating to the health and wellness of our senior members. On Wednesday, September 20, the topic was "Breathing Well."
A member of the cardiopulmonary sciences department in the Loma Linda University School of Allied Health Professions was on hand Wednesday, September 20, 2023, to speak about aspects of breathing that impact everyone—particularly those living in populated areas like the Inland Empire.
Paul Casillas, MSRC, RCP, assistant professor of cardiopulmonary sciences, spoke to nearly 50 senior members and guests on the topic, "Breathing Well: A Simple and Practical Guide to Improving and Maintaining Respiratory Health."
Paul Casillas, MSRC, RCP, speaks on various aspects of breathing as well as how air quality impacts health.
Casillas emphasized the respiratory risks of living in the crowded Inland Empire, with its pollution challenges—particularly air quality. While the air quality has improved over the years from the days when newcomers were unaware there were mountains, residents continue to feel the effects of heavy traffic including automobiles, trucks, airplanes, and trains, that pass through the region each day and pollute the air. During fire season, smoke particulates add to the wide array of potential irritants.
The air quality index (AQI) is an excellent indicator of the outside air quality on a given day. The South Coast Air Quality Management District (AQMD) tracks air quality in the Los Angeles metro area, including Loma Linda. To discover the air quality in your ZIP code at this moment, visit www.airnow.gov and type in your ZIP code.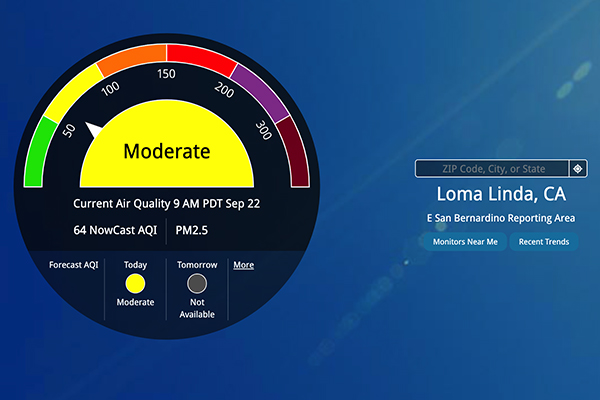 At the moment this article was being written, the AQI for Loma Linda was "moderate," which means "if you are unusually sensitive to particle pollution, consider reducing your activity level or shorten the amount of time you are active outdoors."
He also spoke on air quality in the home as well as how those sensitive to particulates of any kind are likely to be affected. Breathable particles found in homes typically include dust and pollutants from the outside air, waste from dust mites and other "critters" (yuck!), aromas—both intended and otherwise, and household products. Particles less than 10 µm (microns) are breathable and impact the lungs.
Bacteria and viruses are also particulate in nature. In a study of SARS-CoV-2 in 2020, the size of COVID particles carried in droplets were estimated between .25 and 1 µm. In order to fully protect individuals from COVID, masks or filters that remove particles smaller than .25 µm would be required.
Casillas shared an inexpensive do-it-yourself (DIY) air filter that anyone can create and use in their homes. Known as the Corsi-Rosenthal Box, this device is said to remove particulates in a room in a matter of minutes. The size of particulates removed is based on the quality of store-bought filters used. Filter quality is measured by using minimum efficiency reporting values (MERV) system. For the your Corsi-Rosenthal Box, Casillas recommends filters rated at MERV-13. You can buy any filters that fit your box fan.
Essentially, the Corsi-Rosenthal Box consists of 3-4 filters, a box fan, and duct tape. The filters are taped together to form a box, with the fan blowing out as one of the walls. Running the box for 15-20 minutes will clear an average room of the particulates greater in size than the filter pores.
Cost estimates for buying the components for a Corsi-Rosenthal Box (based on Amazon.com) are: $40 for a 20-inch box fan; $45 for a four-pack of 20x20 MERV-13 filters; and $5 for a roll of duct tape. Compare your DIY $90 total cost to a room air purifier that could easily be priced at $150 or higher and require replacement filters at $50-plus per filter change.
Your home-made air filter will also clean your air better and more efficiently, while saving you electrical costs as well. Just bring it into an average-size room and run it once a day for 15-30 minutes.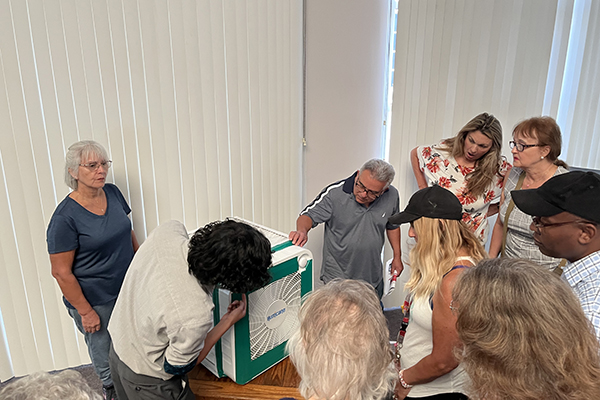 Audience members crowd around a DIY Corsi-Rosenthal Box that Casillas brought with him.