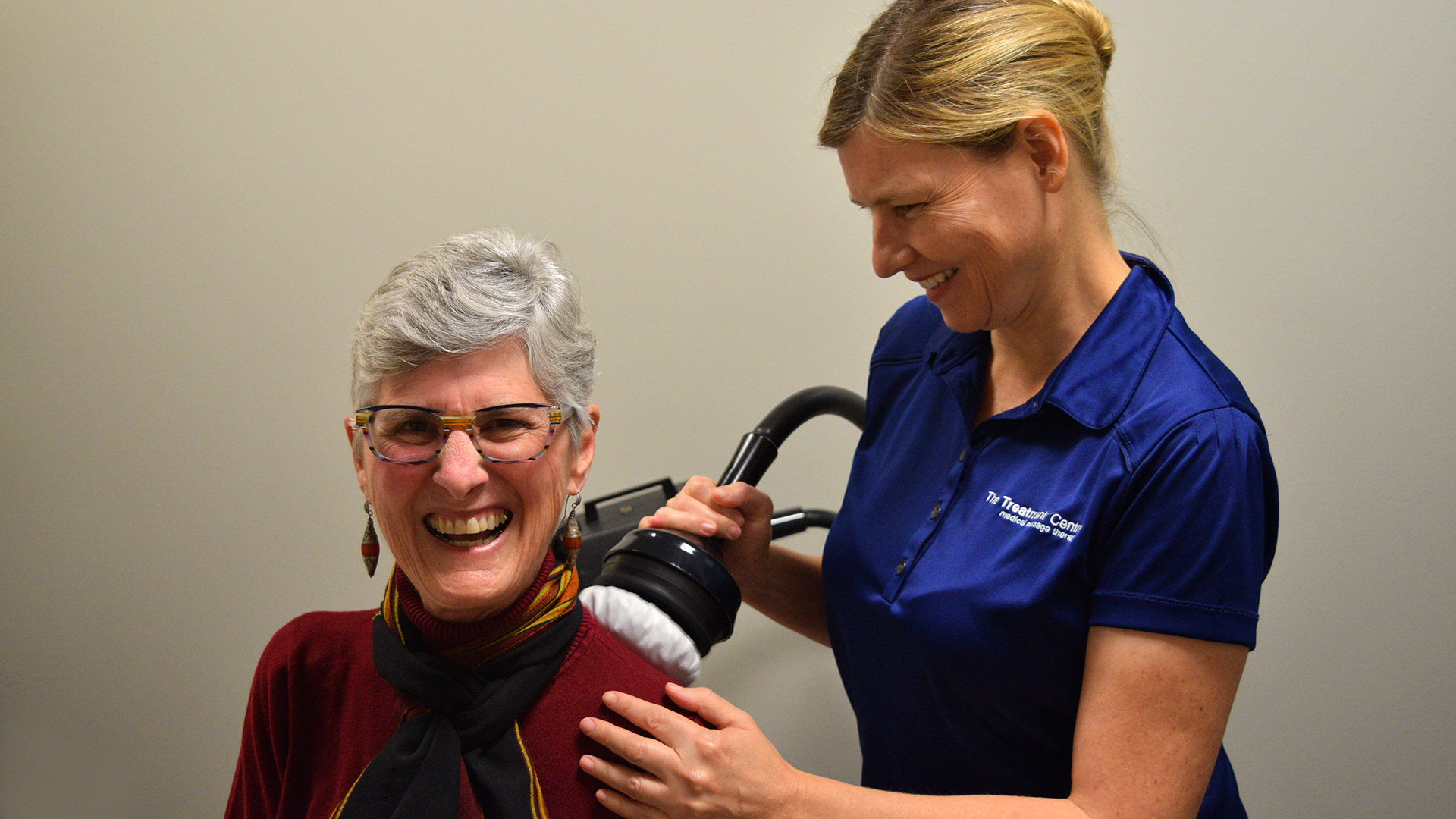 By lkidder - January 4, 2018
By Larry Kidder | It's more than a client-therapist relationship. Merrily Jantzi, seated, and Tanya Frederick, owner of The Treatment Centre, have been friends for more than a decade.
Merrily Jantzi's arm is literally dying from the inside out. She heard it first from her physiotherapist in Vancouver, British Columbia.
The news was particularly disheartening because Jantzi is right-handed and very active. She would not only need to learn to do everything left-handed, but she would have to decide what to do with her useless right arm.
"I know of people like me who have decided to have their arm amputated," Jantzi shares. "It actually makes some sense as opposed to having a useless appendage swinging at your side or strapped to your body."
Instead, Jantzi enjoys remarkable use of her right arm, thanks to regular massage sessions with Tanya Frederick, owner and head of The Treatment Centre, Loma Linda University Drayson Center's medical massage provider.
"When Tanya is working on me, I just sit back and relax," Jantzi describes. "That's unusual for me because I'm typically a go-getter and have difficulty letting go and relaxing."
Jantzi and her husband, Dennis, have been receiving massage therapy from Frederick since 2006. "My husband was diagnosed with prostate cancer and came to Loma Linda for proton treatment," Jantzi remembers. "That was a life-changer for both of us. We learned so much about better ways to live. And best of all, we met Tanya."
Since 2006, the Jantzi's have faithfully met with Frederick on a fairly regular basis—whether spending the summer at the family cottage in Vancouver, British Columbia, or at their condo in Palm Springs.
Frederick's approach to massage therapy is unique in the world of massage. "She has the ability to find the root cause of a problem," Jantzi explains. "Best of all, she starts every session with prayer, asking God to guide her hands to help me."
The spiritual connection is an essential component of treatment. "I feel both physically and spiritually renewed at the end of each session," Jantzi suggests.
Frederick and her staff at The Treatment Centre see tightness and pain in the muscles and joints as symptoms of deeper problems.
"If you go to see most massage therapists and you tell them you have a stiff neck, they work on your neck," Frederick elaborates. "When we work on you, we do spend time on your stiff neck, but we also determine the cause of your stiff neck and work on that too."
The root cause may be poor posture walking or sitting at work, or overtraining certain areas of the body and under-training others. Stress on joints, tendons, or muscles can lead to stiffness and soreness elsewhere in the body, as it seeks to compensate. To discover the underlying issue requires a thorough knowledge of body geometry.
"There's no reason to live with pain if we can find the source and treat it," Frederick suggests. "Pain is a clue that something is out of alignment or being strained." She asks, "Why not put things right?"