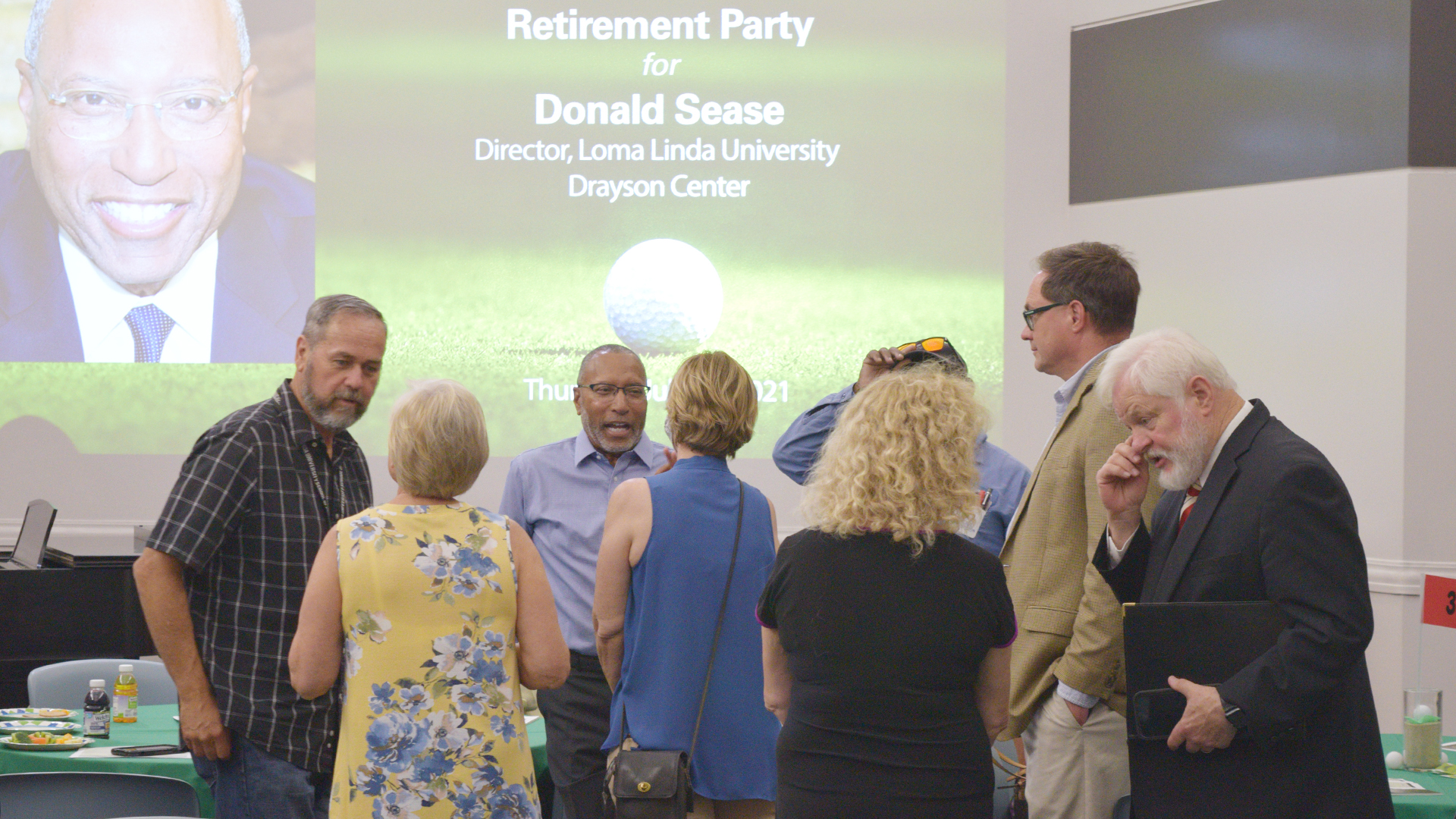 By lkidder - October 15, 2021
By Larry Kidder | Loma Linda University's longest-serving director, Donald Sease, speaks with friends and colleagues near the end of his retirement party, held on Thursday, July 15, 2021. Sease, who joined Drayson Center in 1996 as director of marketing and events, was named director of the entire facility in 2000, following the sudden and tragic death of his boss, Richard Hamilton.
As the Loma Linda University campus returns to a new school year, many individuals may not be aware that Donald Sease, MBA, director of LLU Drayson Center since 2000, officially retired at the beginning of August 2021. Family, friends, and colleagues gathered on Thursday, July 15, to celebrate his many years of service and substantial accomplishments.
With Sease's retirement, Richard Wysong, MBA, has been asked to serve as interim director.
Over more than two decades, Sease grew Drayson Center from a largely student-based recreation center to a community icon, serving more than 4,000 students, employees from all LLUH campuses, family members, and the community. While students remained the primary focus of the center, revenues from community memberships and a variety of activities enabled Drayson Center to not only cover its own expenses but supplement overall campus revenues most years.
With the COVID-19 pandemic, Drayson Center was closed for much of 2020 and its programs put on hold.
Pre-COVID, Drayson Center was supported by more than 120 full- and part-time employees, providing a full spectrum of programs, services, and activities for thousands of members. The Senior Wellness Program, formally organized in 2005, served more than 1,000 seniors from surrounding communities with social and fitness activities to keep them vibrant and independent. Prior to the Senior Wellness Program, Sease observed that the facility was largely deserted during the weekday hours and 7:00 a.m. and 3:00 p.m., and suggested a special senior membership rate for those hours.
Drayson Center grew in virtually every area of its operations during his tenure—as well as expanding into new ventures, becoming a major force for promoting health and longevity to the world. In fact, Drayson Center became the face of longevity for LLUH, serving as the place where national and international media giants like the BBC featured Loma Linda seniors because of both their vitality and longevity.
As Drayson Center—and the rest of LLUH—emerge from the COVID pandemic, it will take time to restore the facility to its former position on campus and in the community. Reduced hours continue until the facility is able to increase its employees to meet the fitness and recreational needs of the student body, as well as employees and the community. But usage of the facility is increasing on a daily basis.
Sease received the University Distinguished Service Award—first in 2020 and again in 2021 (since the 2020 graduation was cancelled). In retirement, we are fairly sure he is spending extra time with his grandchildren in particular, as well driving and putting around golf courses. We wish him nothing but the best in retirement.
Scroll down for more photos …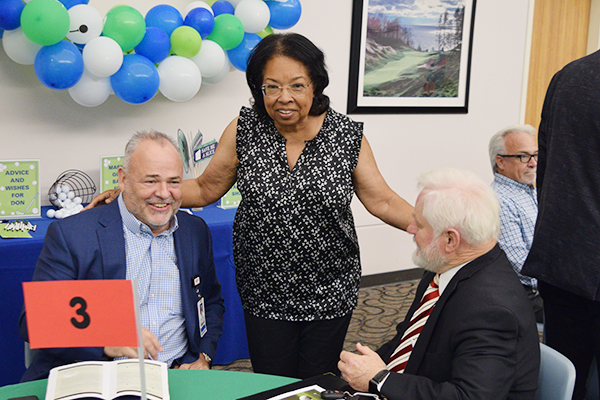 Alyse Sease (center), Don's wife, chats with his immediate boss, Rod Neal, MBA (left), and Ron Carter, PhD (right), LLU provost.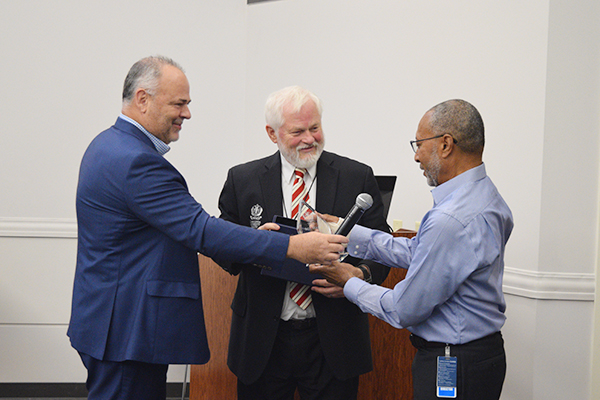 Ron Carter (center) presents Don Sease (right) with the University Distinguished Service Award—the first opportunity to do so in person. Rod Neal holds the microphone, since Don has his hands full.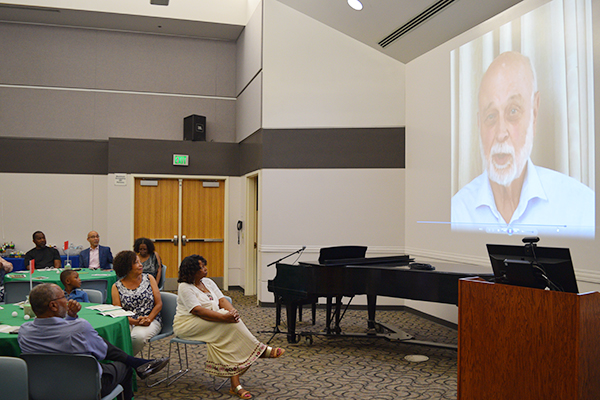 Richard Hart, MD, DrPH (screen), president of Loma Linda University Health, was unable to attend the party in person but joined online to thank Don for his years of service.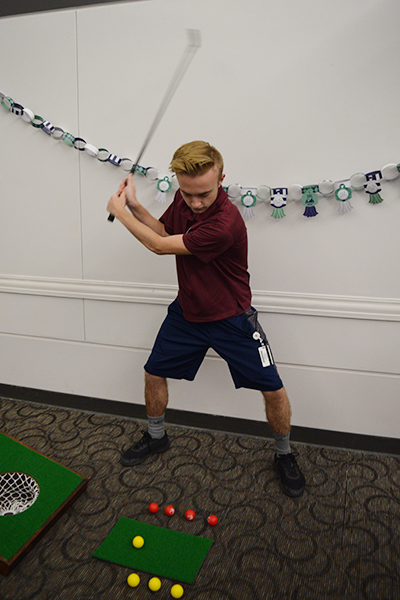 For reasons obvious to anyone who knows Don, the retirement party had a strong golfing theme. One option for attendees was to try their hand at putting. Here, Drayson employee Austin Klein pretends to tee off.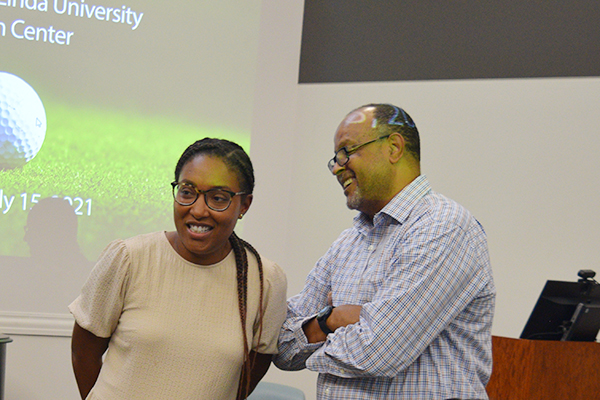 Don's daughter, Allison Sease-Sanders (left), visits with Blake DeShields, MBA, financial manager for Drayson Center.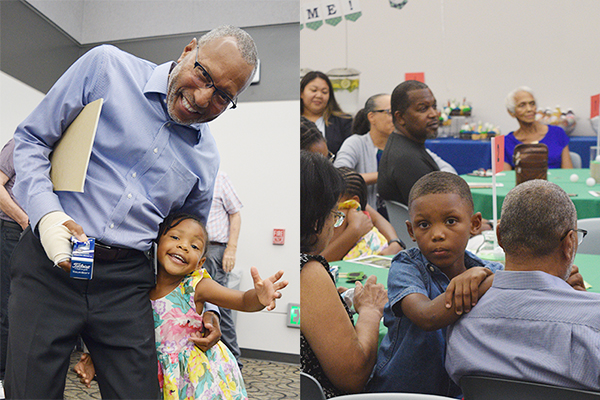 As much as Don loved his work, there is no competing with the reasons above for retiring: granddaughter Sophia (left photo) and grandson Stephen—better known as SJ (right photo).