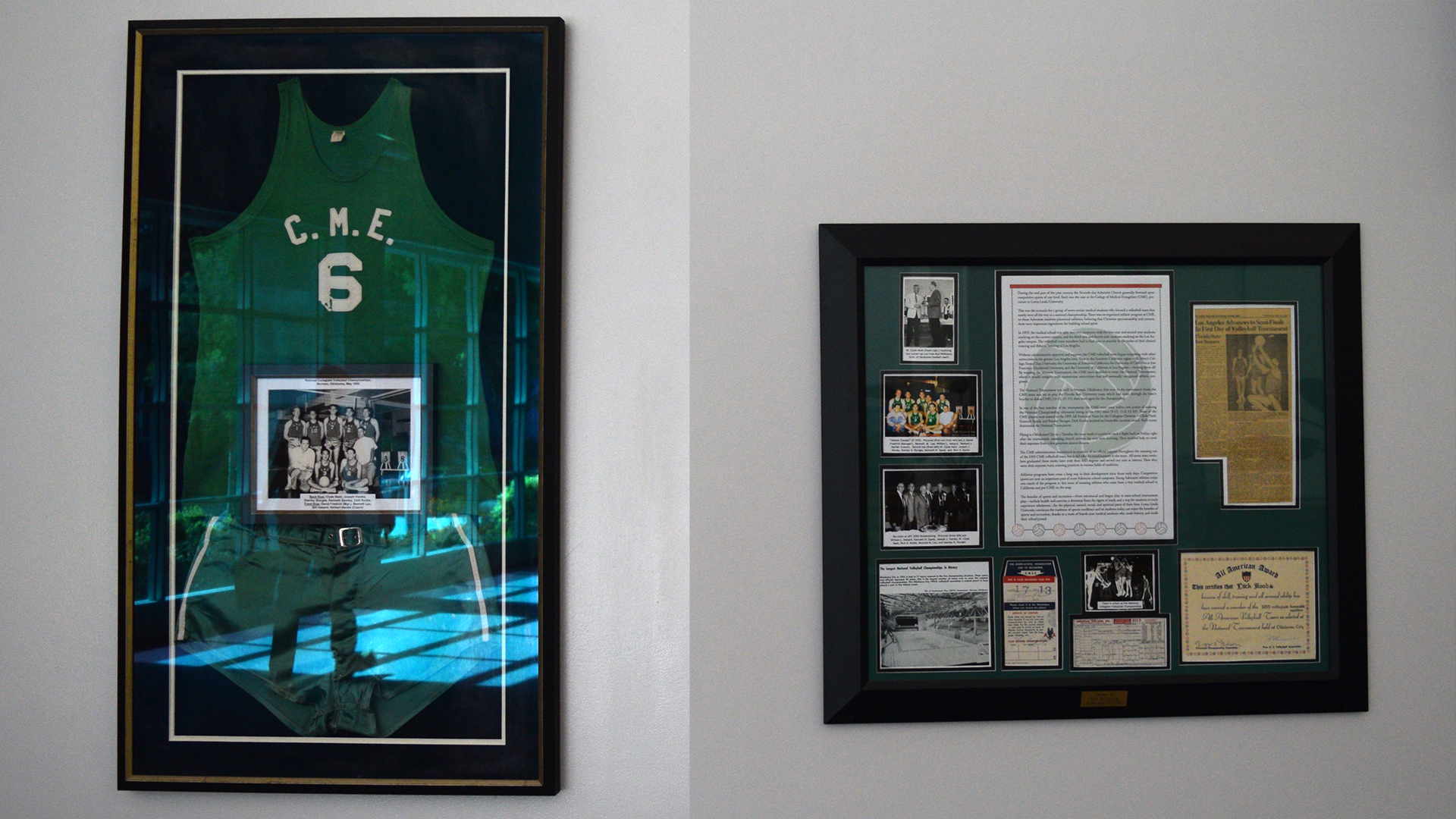 By lkidder - February 1, 2019
By Quinton Hamilton | Take a moment to read the story about the Loma Linda University (College of Medical Evangelists at the time) volleyball team that came one step from winning a national championship. These displays are just to the left of the Opsahl Gymnasium entrance.
If you exercise regularly here at Drayson Center, one question you'll hear a few times a week is, "Since Loma Linda is an actual university, why don't we have a sports team?"
Well, believe it not, we did.
Quite a few years ago.
For one season.
A Loma Linda University—known as College of Medical Evangelists (CME) at the time—volleyball team was the only organized sports program this nationally accredited university has ever had.
The CME team had the success many large NCAA Division I programs never get to experience and some can only hope to achieve.
And get this … its success was not even supposed to happen.
In 1955, CME—the precursor to what we now call Loma Linda University School of Medicine—was a divided campus—not in any bad way, of course, but probably just for convenience. First- and second-year medical students stayed on the campus here in Loma Linda, while third- and fourth-year students lived on the campus of White Memorial Medical Center in Los Angeles.
At the time, the idea of intramural or intercollegiate competition of any kind was met with harsh criticism.
Without administrative approval or support, seven fourth-year CME students looking for a way to spend their "free time" took it upon themselves to form a team and find time to practice in Los Angeles—all while immersing themselves in their clinical training.
Clyde Nash, Joseph Versak, Stanley Sturges, Kenneth Spady, Dick Koobs, Bennett Lau, and Bill Hebard were now full-fledged athletes.
The newly formed volleyball team took Head Coach Herbert Harder and their manager, David Fredrick, around the greater Los Angeles area, competing against and beating big-name universities such as St. Mary's College, Santa Clara University, the University of Southern California (USC), Occidental University, and University of California, Los Angeles (UCLA).
These victories meant that CME qualified to enter the National Tournament to be held in Norman, Oklahoma, competing against recognized athletic programs across the U.S.
The CME team landed in Oklahoma City on a Tuesday, its sights set on performing well.
The small team of fourth-year medical students not only held its own against some of the nation's top programs, but made it all the way to the tournament finals for a matchup against Florida State University.
Like any great team, CME played one of the best matches of tournament when it mattered most. The team came within just two points of winning the national championship against a very talented FSU opponent, taking the first game. The final score was
13-9, 6-11, and 10-12.
Though CME failed to bring home the trophy, Nash, Spady, and Sturges were named to the 1955 All-American Team for the Collegiate Division, and Koobs received an honorable mention.
During their athletic success, the group of nine representing CME never strayed from what mattered most: their faith in Jesus. Throughout the entire process, they remained grounded in their faith, which moved them to make special arrangements to fly back on Friday—right after the tournament ended—so they could attend church services the next morning.
Their faith and discipline pushed the team to unexpected heights, not only on the court but in the classroom. All seven team members graduated with their MD degrees just three weeks later, served their intern year together, and went their separate ways to enjoy success in the field of medicine.
The CME team spearheaded the steady growth and increasing support of athletics within the Adventist community that we enjoy today.
Adventist institutions across the U.S. have benefited from incorporating intramural leagues on campus, while some also compete in interscholastic leagues and conferences with varying levels of success.
As recent as 2017, Pacific Union College (Angwin, California) and Washington Adventist University (Takoma Park, Maryland) fielded teams in intercollegiate conferences.
The athletic success of Adventist universities today can be traced back to seven brave and hard-working fourth-year CME students in 1955 … who took the volleyball collegiate community by storm.
Bill Hebard's uniform is on display just beyond the Service Desk on the wall outside Opsahl Gym. In the photo at the top of the story, the memorabilia donated by team members was skillfully prepared for display by Ron Cronk, former Intramurals Manager at Drayson Center.