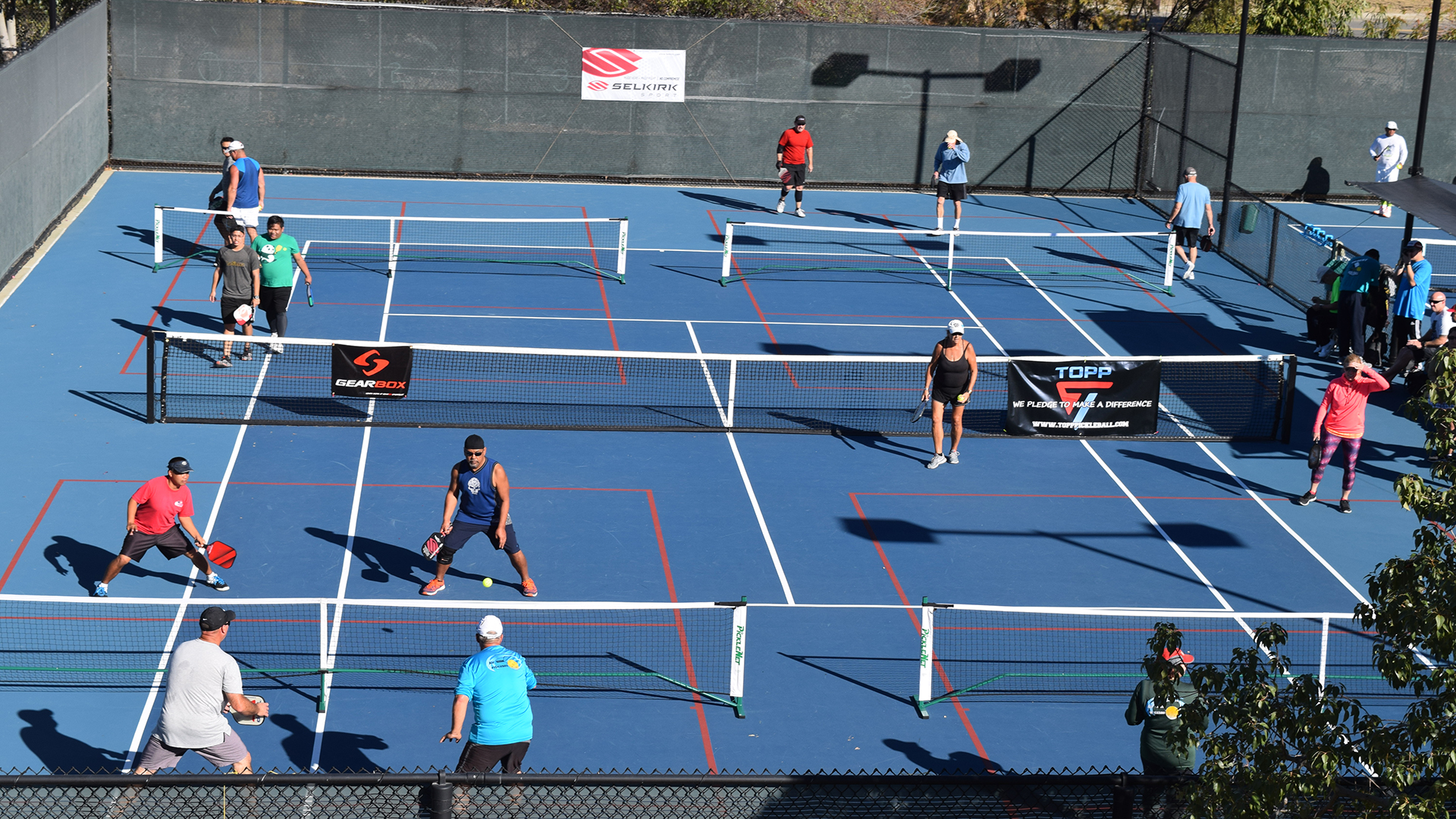 By lkidder - January 28, 2018
By Larry Kidder | Players in the rotating partners pickleball event rally on four of the 26 pickleball courts at Drayson Center. Scroll down for more photos.
More than 200 enthusiastic pickleball players battled to win their divisions in the inaugural Loma Linda Winter Games, which took place on Sunday, January 28, 2018. More than 300 were in attendance, including friends and family who came along to cheer them on, as well as take part in other fun activities.
Vendors were onsite ranging from manufacturers of pickleball equipment to proponents of health such as nutrition, physical therapy, and massage. A variety of foods and drinks were provided for participants and available to others for purchase. While the community came for pickleball, they left with information and ideas about improving their health.
Organized by the Loma Linda Pickleball Club and hosted by Drayson Center, the Loma Linda Winter Games attracted players from the Inland Empire and beyond for a day of competition and camaraderie.
Pickleball, which is now the fastest growing sport in the U.S., is a mix of other racquet sports—from table tennis, to badminton, to tennis itself—and is played on a badminton court with a net at ground level. The scoring is unique to pickleball. Because of the use of paddles and a smaller-sized court than tennis, the sport allows players of all ages and skill levels to mingle for fun and exercise.
The learning curve to begin participating is also much lower than tennis, allowing players to hold their own after only a few outings. But the benefits of exercise and fun are now available to many more individuals who are quickly becoming fans of the sport.
The day began at 8:00 a.m. with rotating partner doubles, where competitors switch partners for each round. Individual wins were recorded and tallied at the end of play, which happened around 11:00 a.m.
Fixed partner doubles kicked off at 11:00 a.m., where competitive teams of the same skill level stayed together for the entire time. Some individuals chose to play in both events.
Skill levels and age groups set apart the various competitors, divided into 2.5-3.0 (novice), 4.0 (intermediate), and 4.5-5.0 (advanced). Age groups included 18-59, and 60 and above.
Rusty Howes, a producer from the Pickleball Channel—yes, there is a pickleball channel—attended the event and hopes to feature Loma Linda pickleball players in some upcoming online videos (http://www.pickleballchannel.com/). Loma Linda University Drayson Center is the largest pickleball venue in Southern California, and those covering the sport in the media are taking note.
The next pickleball event is being planned for Loma Linda University Homecoming Weekend the first weekend of March.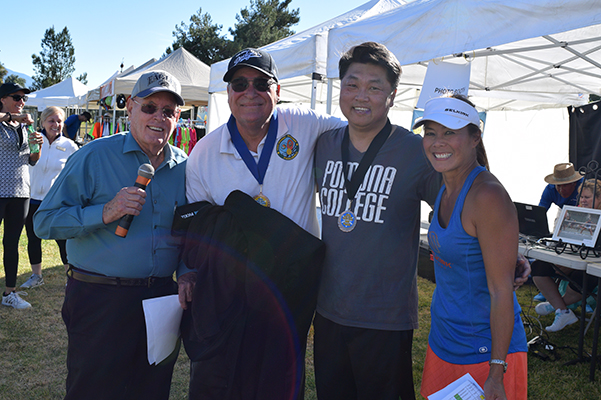 Richard Carrasco (second from left) and Frank Seo, DDS (third from left), are congratulated by tournament director Sue Wong (right) and announcer Don Carboneau (left) for being the top two finishers in the 2.5-3.0, 60-and-over division. Seo is an assistant professor in Loma Linda University School of Dentistry.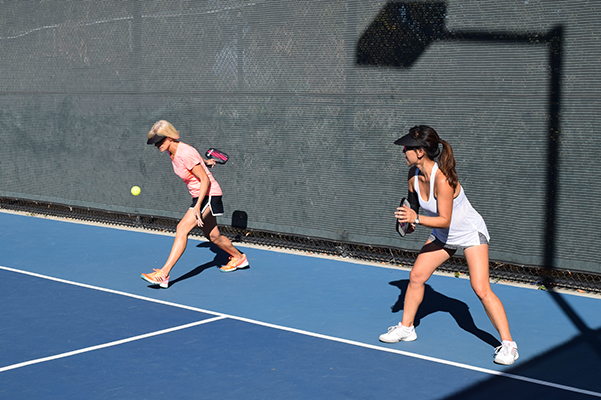 A member of an advanced women's team serves to the competition.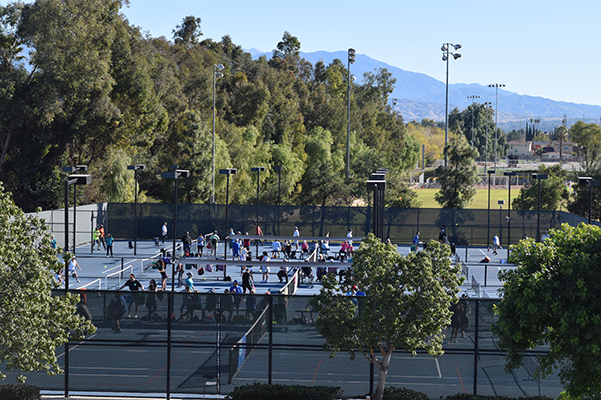 Tennis courts 3 to 6 magically became 16 pickleball courts for the day.
Following opening announcements and prayer, pickleball players of all ages and skill levels face the photographer before heading to the courts.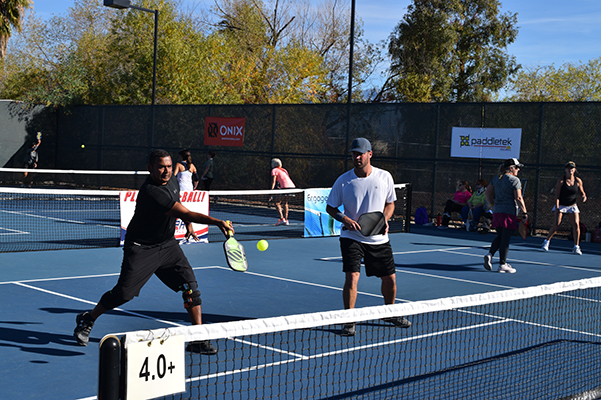 An advanced player rallies during a competitive point.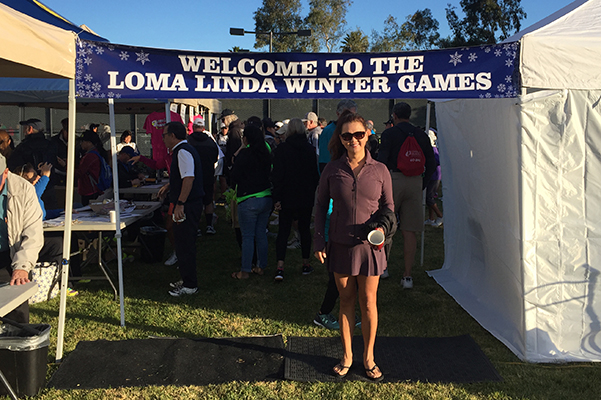 Eun-Hwi Cho, DDS, assistant professor of dental education in Loma Linda University School of Dentistry, is one of the original eight who joined Loma Linda Pickleball Club founder Ernie Medina Jr., DrPH, assistant professor of public health in LLU School of Public Health. Cho is now president of the club and was on hand to welcome the crowds to the Loma Linda Winter Games.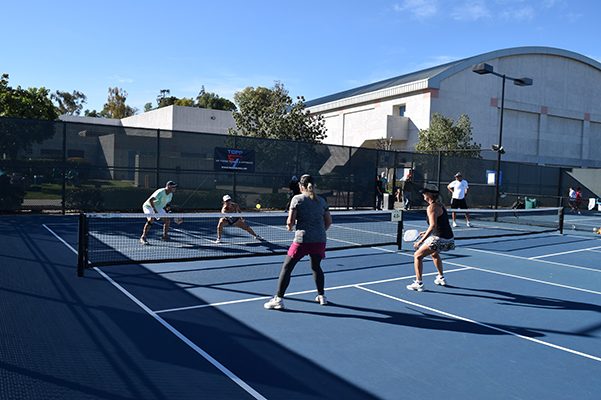 A player bends deep to retrieve a difficult shot in an advanced women's game.