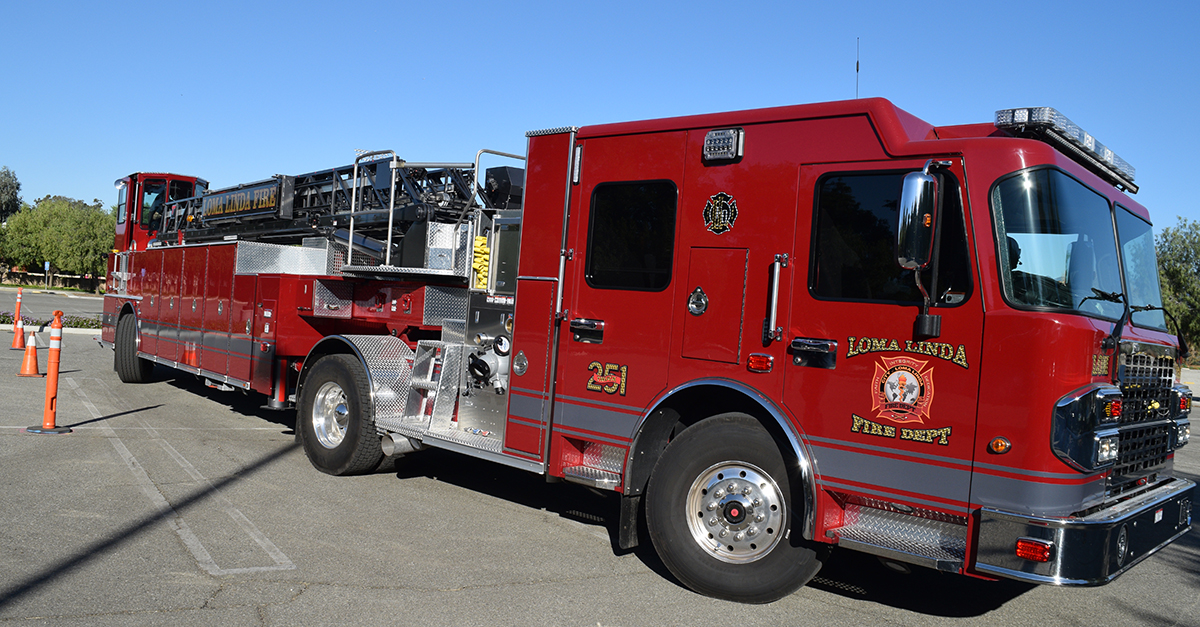 By lkidder - October 15, 2021
By Larry Kidder | The brand-new tiller firetruck, the latest acquisition by Loma Linda Fire Department to serve the new Loma Linda University Health towers, is getting a workout at a course set up in the Shepardson Parking Lot, located at the end of Benton and Shepardson streets. The local firefighters are regular members at Loma Linda University Drayson Center—making this one of the safest places to exercise and play sports.
Don't worry: the Loma Linda Fire Department is not branching out into the field of farming. The new "tiller" firetruck is actually two segments, with the rear ladder segment requiring its own driver.
This recent acquisition is in response to the changing fire defense needs of the two new LLUH towers. The tiller truck's ladder reaches 100 feet—high enough to service the fourth floor of the new hospitals—with the remaining floors above directly accessible by stairs.
According to Loma Linda firefighter and instructor Mike Sepulveda, the new tiller was custom-made for Loma Linda's unique needs by Smeal Fire Apparatus Company, headquartered in Snyder, Nebraska. Single-segment firetrucks, also known as "straight" trucks, also have longer ladders, but the decision to purchase the tiller truck was made because of both increased maneuverability and a wider base for the heavy weight typical of firetrucks.
A team of Loma Linda firefighters was sent to Ontario, California, for a training course and certification. That team will now train and certify additional Loma Linda firefighters—a total of 25 individuals—to drive the new tiller. "We hope to have training completed by the first of next year," says Sepulveda. Once the drivers pass the Shepardson training, they will move to a course on actual Loma Linda city streets.
Scroll down for more photos …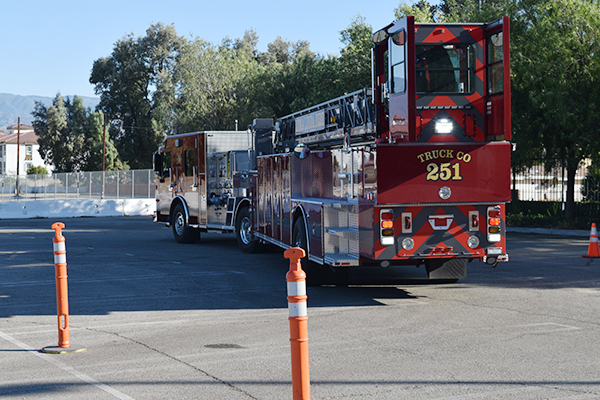 The new tiller truck maneuvers around the course set up at the Shepardson Lot, just down the street from Drayson Center.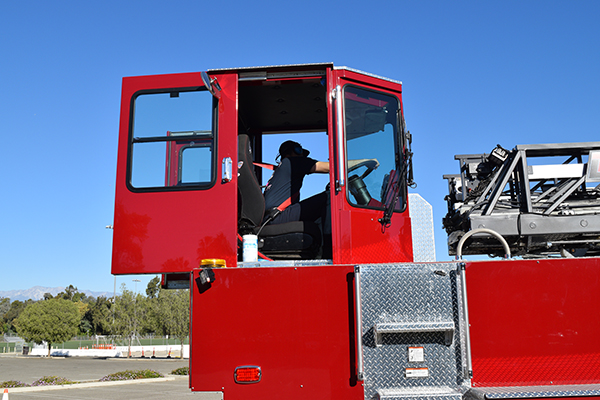 A second driver is responsible for the rear segment of the new tiller firetruck. Maneuverability on narrow city streets and parking lots will be greatly increased with the tiller, as well as better weight distribution to provide less wear and tear on road surfaces.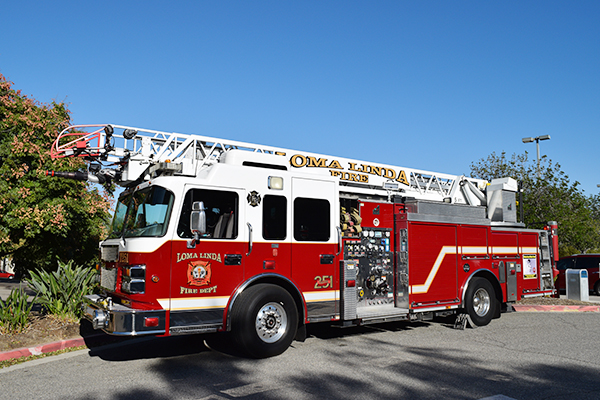 The "straight" firetruck, a familiar sight parked in front of Drayson Center, has a 75-foot ladder and currently serves the Loma Linda community. The addition of the tiller truck will greatly enhance the stellar firefighting services already in place.