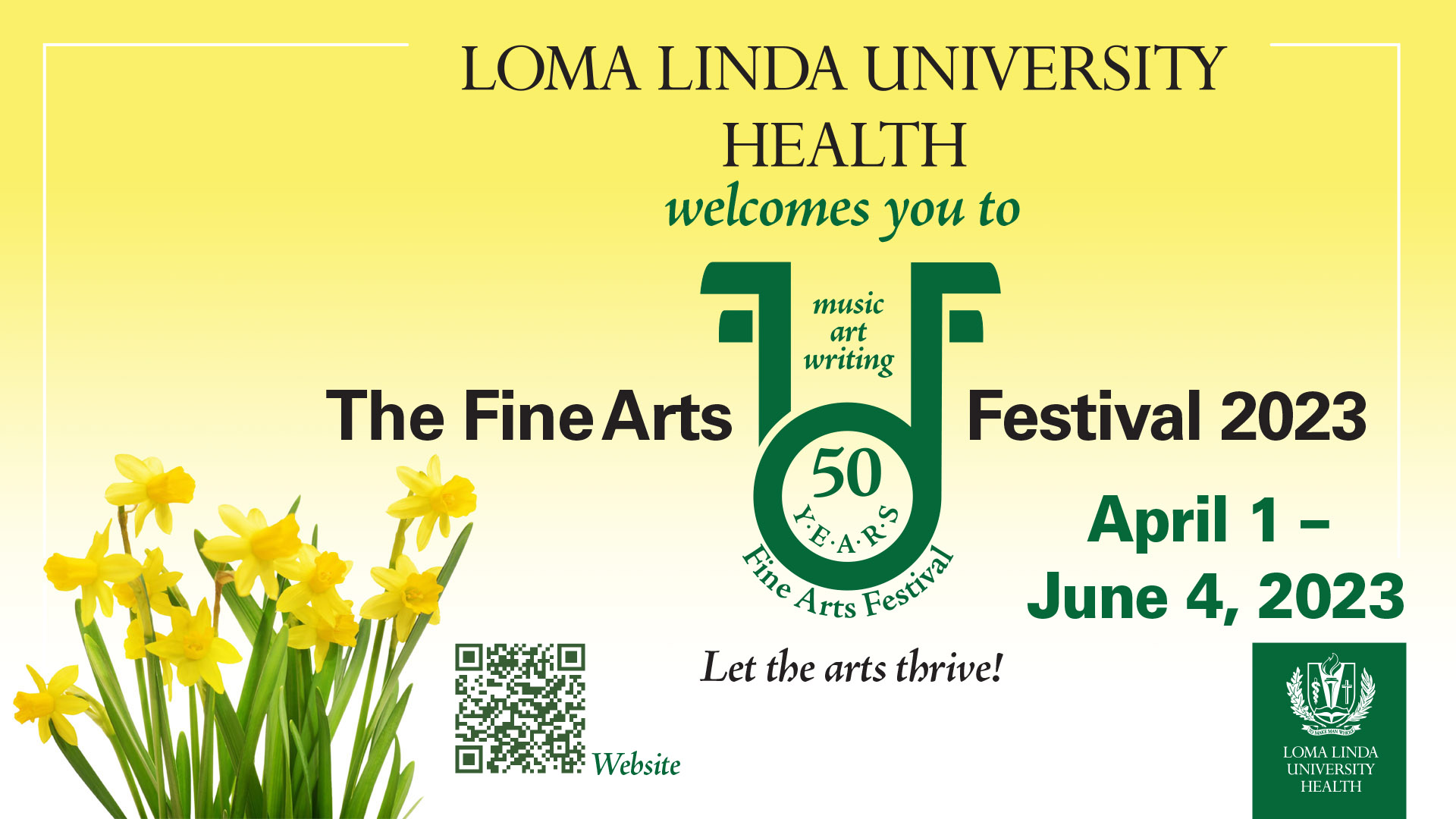 By lkidder - March 17, 2023
By Larry Kidder | Loma Linda University Health's Fine Arts Festival for 2023 will start soon. During April and May, a variety of programs will be offered that highlight the visual arts, performing arts, and dramatic arts. Click here for a full program of events.
LLU Drayson Center will host an art show of local artists and photographers, with their work displayed throughout the facility from mid-April through June. Musical performances and recitals will take place over the coming weeks at a variety of locations as well as religious theater.
Loma Linda University Health's Fine Arts Festival is celebrating its golden anniversary (1973–2023) in April and May. The event returns post-COVID with a full spectrum of art, music, and drama, featuring LLUH employees, LLU students and faculty, and members from surrounding communities.

Through the years, a number of local musicians in the community have taken the lead for the Fine Arts Festival, which is a joint effort between Loma Linda University Office of Student Experience and the local community—one of the more prominent being the Loma Linda Art Association.
Lily Diehl, DMA, long-time beloved piano teacher in the community as well as accomplished vocalist and pianist, has accepted leadership of the Fine Arts Festival for 2023. She has been working with Karl Haffner, DMin, vice president for student experience, and others on campus and in the community to organize the many events included in the Fine Arts Festival.
For a schedule of all FAF events, click here.
The 2023 Fine Arts Festival kicks off with the Loma Linda University Church service featuring senior pastor Randy Roberts, DMin, MFT, presenting "Sound Tracks: The Music of Your Life." Three major musical events will include the Golden Anniversary Sacred Choir Fest at Campus Hill Church (Saturday, April 22) with eight choirs and 200 voices, LLUC Music Department's Spring Concert in the LLUC sanctuary (Saturday, May 13), and the inaugural Loma Linda's Got Talent extravaganza (Saturday, May 6), featuring familiar musicians as well as discovering unknown talent.
Whether your interests are visual arts, performing arts, or dramatic arts—or all of the above, you won't want to miss a single 2023 Fine Arts Festival event.