By lkidder - November 21, 2019
By Larry Kidder | Three major activities are taking place in this photo: (to the right) The Students for International Mission Service (SIMS) "International Night," featuring students who have traveled with SIMS sharing their experiences with students interested in a mission experience; (background) in the Superfield beyond the fence, children of various ages practice soccer in preparation for the Sunday games; and (left) young people swim laps.
It's 6 p.m. on Thursday, November 14. The sun has already set and LLU Drayson Center is pooled in light—both inside and out.
There is nothing unusual going on. And yet close to 1,000 people will likely be using the facility for a variety of reasons this evening. One might call it fairly routine.
The Students for International Mission Service (SIMS) organization is holding its "International Night" to introduce incoming students to the experiences of traveling on a SIMS-sponsored mission trip.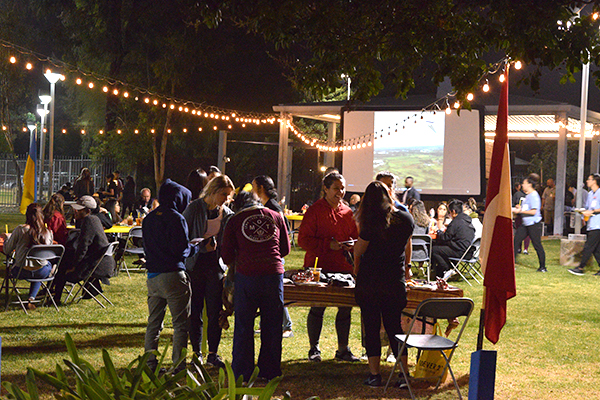 Loma Linda University students enjoy an evening of friends and food as part of SIMS "International Night," an event designed to introduce those interested to the opportunity of joining a SIMS mission trip.
Meanwhile, less than 50 yards away, young people are swimming laps in the leisure pool as part of a conditioning activity. The training pool is also being used by an adult group with a similar objective.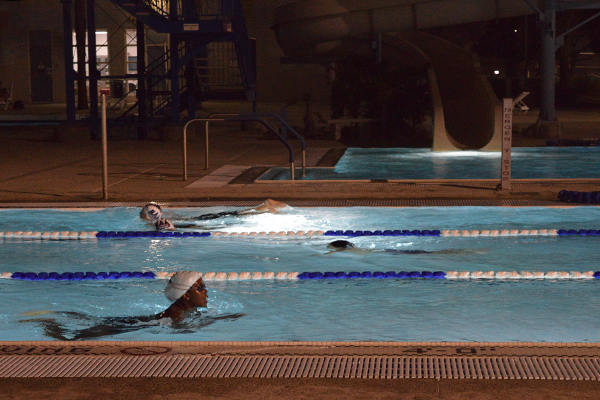 Young people swim laps, increasing their endurance and developing healthy habits that will serve them well for the rest of their lives.
The tennis and pickleball courts will be teeming with players by the time 7 p.m. rolls around. A robust round-robin for pickleball takes place several times a week, each serving specific skill and/or age groups. However, the opportunities for players of all ages and backgrounds to play together in a spirit of fun and friendship is one of the main aspects of pickleball that makes it so appealing.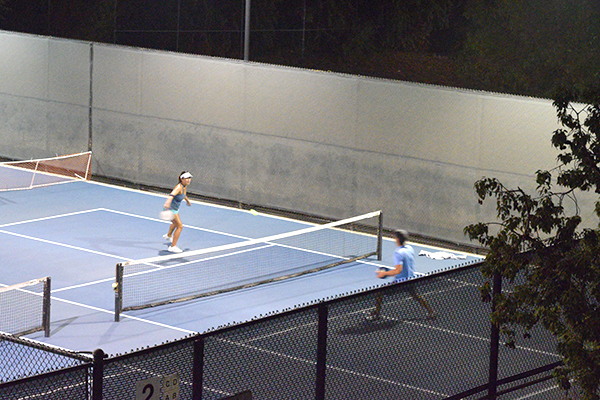 Two pickleball players warm up with a game of singles, awaiting the arrival of the rest of the regular Thursday night group.
Tennis, on the other hand, requires players to cover a much greater area, mixing aerobic bursts with moments of rest. The combination of skill, strategy, and physicality makes tennis one of the best sports for increasing health and fitness. In a recent article out of Great Britain, researchers discovered that tennis players received the most benefit in terms of longevity as compared to all other sports—up to eight years longer!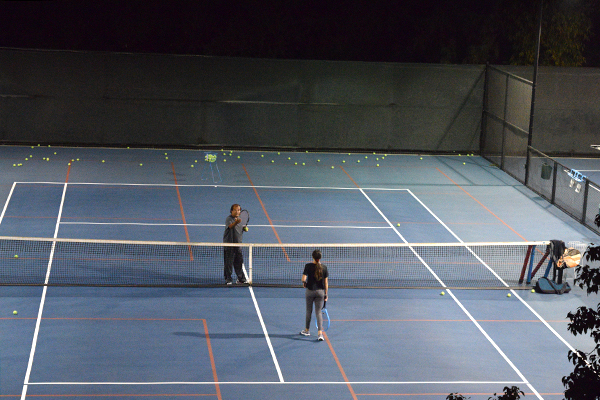 On the teaching court, tennis instructor Rich Jiminez provides a young up-and-coming tennis player with some helpful tips.
Meanwhile, a flurry of activity is taking place inside Drayson Center, both sports- and fitness-related. The facility shows it flexibility and adaptability every day, with the same areas serving as a recreational venue or event location. Drayson Center staff adapt to the changing needs of members and visitors, seeking to facilitate the activities and events in a seamless manner.

Ping pong provides these two with a diversion from study and work, balancing their lives while adding fun and friendship.
Regular pick-up basketball takes place every day that Drayson Center is open. Informal teams play each other in friendly games. Opsahl Gymnasium provides room for three full basketball courts, but can quickly change to volleyball, badminton, or other gym sports. A full intramural league schedule makes use of both indoor and outdoor facilities, based on the season and resulting weather.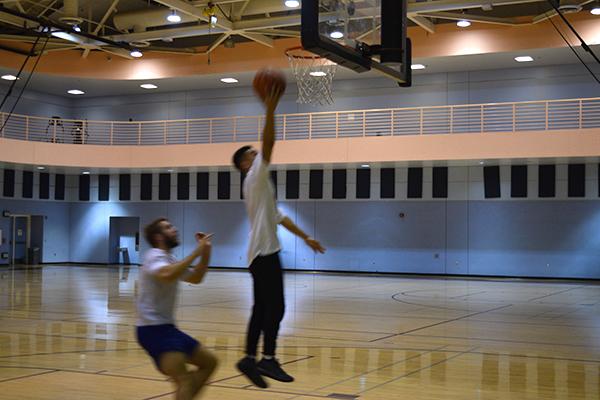 A defender loses the challenge as his opponent lays up the ball at the end of a fast break. What you don't see are the teammates who simply gave up the chase.
On certain magical evenings during the year, Opsahl transforms from a gym into a wonderland of lights and lavish decorations—a banquet hall fit for honored guests.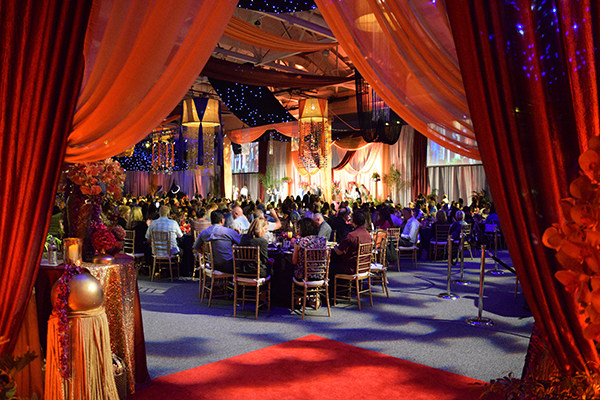 Yes, that's Opsahl Gymnasium on another night. This event was one of three recognition banquets for Loma Linda University Health employees, held this past spring.

Five enclosed racquetball courts contain the fast-spaced sport, with the little blue ball ricocheting off the walls and ceilings. Goggles are required.
While many enjoy the thrill of competitive sports, others prefer to exercise for the sheer joy of—well—fitness. But don't be fooled: each is fully aware of the number of reps or the weights the next person is doing. It's a different type of competition, but competitive just the same.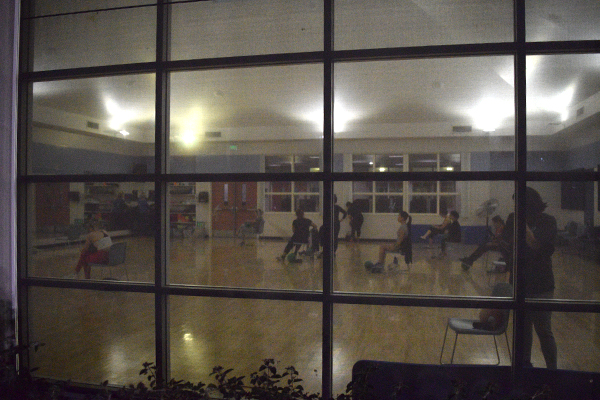 From outside looking in, a Group-X class is set to begin shortly. Through the sunshade, participants gather their equipment and chairs in preparation.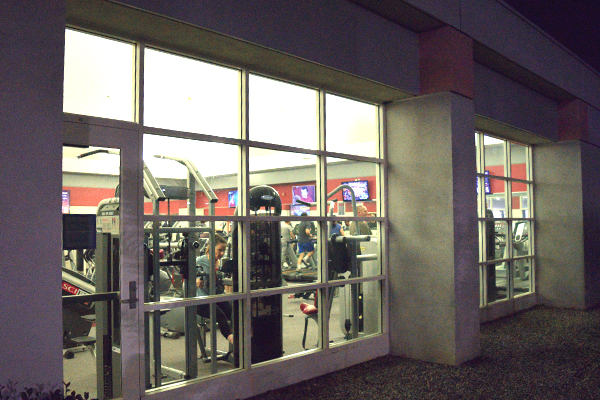 Machines bang, clank, and whir as members work out on a variety of machines, as well as lift weights. The weight and cardio rooms are two areas Drayson Center hopes to expand in the future, as usage continues to grow.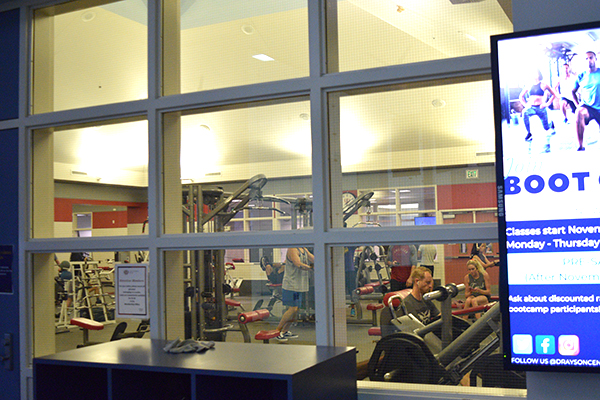 The weight room is full of individuals "bulking up," working on their "boulders" or "guns," or "beasting it up." Any of these terms will do.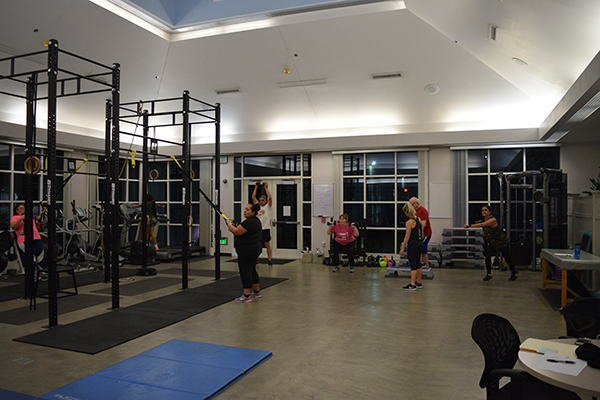 The specialized training gym provides unique machines used by Drayson Center's own team of personal trainers.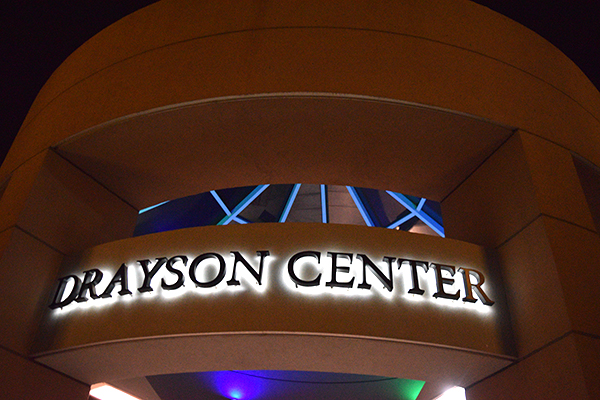 Thank you for taking the Thursday night tour. Please come in person and enjoy all that Drayson Center has to offer.