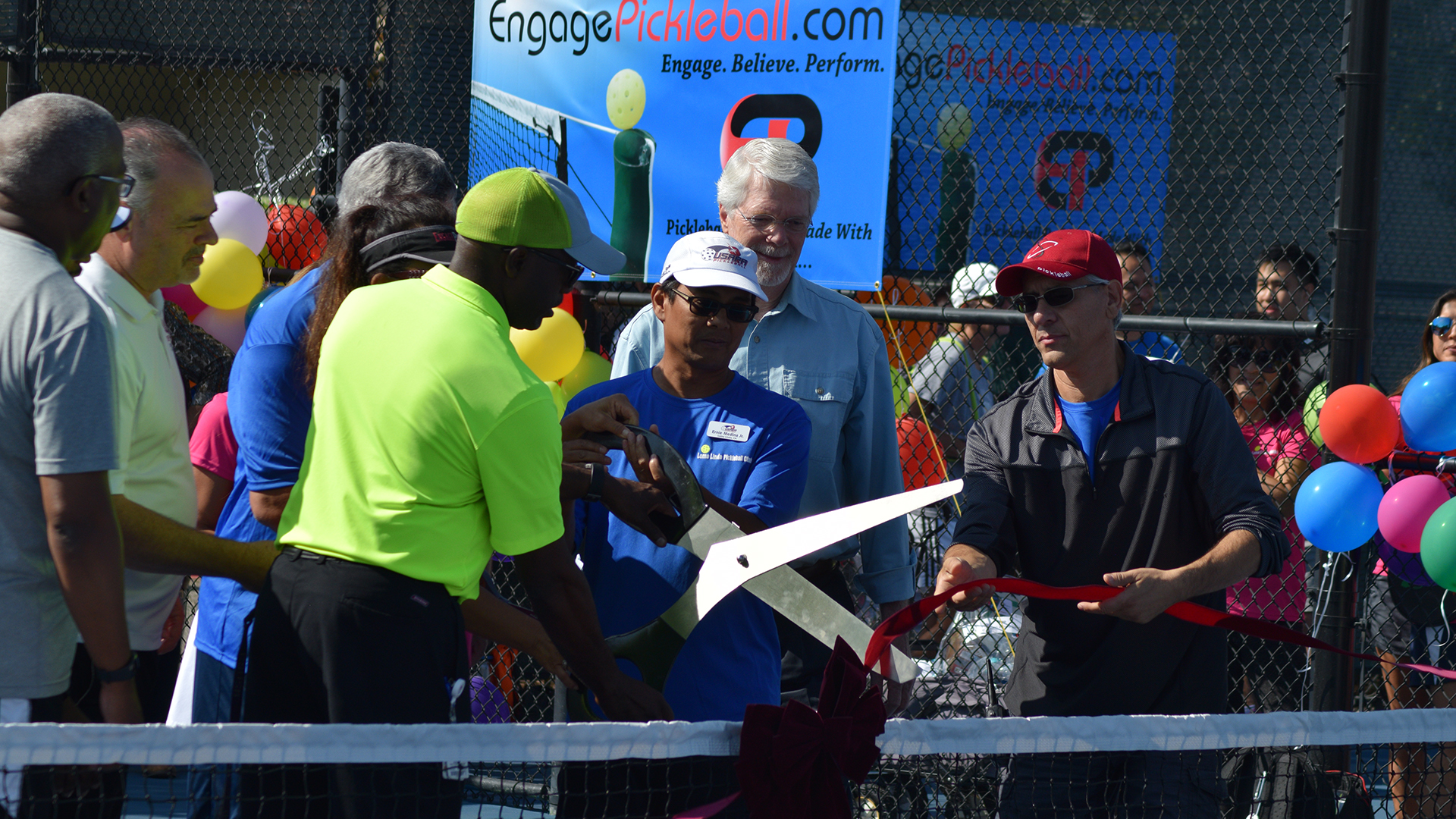 By lkidder - October 2, 2017
By Larry Kidder | Those who played a role in bringing pickleball to Drayson Center, as well as other special guests, ready the giant scissors to cut the ribbon, officially opening the new pickleball courts at Loma Linda University Drayson Center. For more photos, scroll down.
Close to 700 pickleball enthusiasts from surrounding communities and as far away as Arizona were on hand for the grand opening of Loma Linda University Drayson Center's pickleball courts on Sunday, October 1, 2017. Virtually all of them brought their own paddles and took the opportunity to test out Drayson Center's new courts.
With four dedicated permanent pickleball courts and five courts dual-lined for tennis and pickleball, as well as a practice court, Drayson Center is now the leading venue in the region for this new racquet sport craze. That translates to 104 people able to play pickleball at the same time. Four pickleball pros also took part in an exhibition match while fans looked on.
Drayson Center partnered with the Loma Linda Pickleball Club—now more than 200 strong—to launch the new venue. The club began in July 2016 with just eight players including founder Ernie Medina Jr., DrPH, assistant professor of public health. Eun-Hwi Cho, DDS, assistant professor of dental education, LLU School of Dentistry, was among the original eight and now serves as club president.
A number of vendors were present, including several leading paddle manufactures. Free refreshments were provided by Drayson Center. Representatives from a number of fellow clubs were on hand, as well as the USA Pickleball Association. The venue opened at 9:00 a.m. and festivities wrapped up around 2:00 p.m. Admission was free.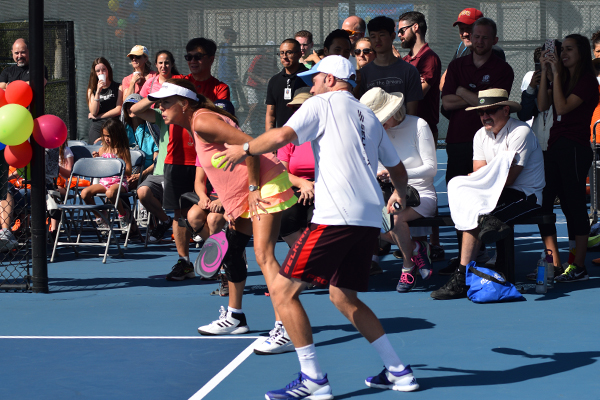 Pickleball pros Morgan Evans and Laura Kovanda paired up for the doubles exhibition match of the day. Evans was mic'd up for the event and provided a running commentary.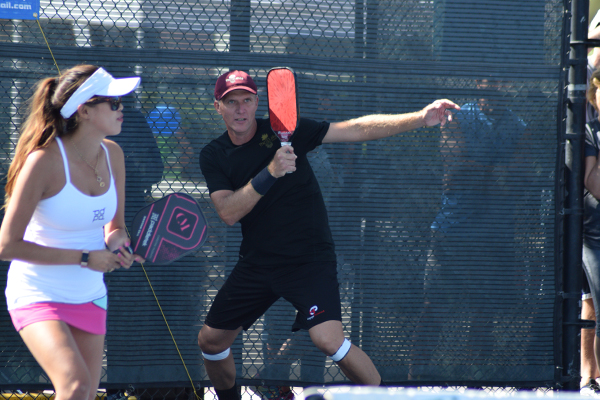 On the other side of the net, fellow pro Marcin Rozpedski follows through on a shot while pro Christine McGrath looks on.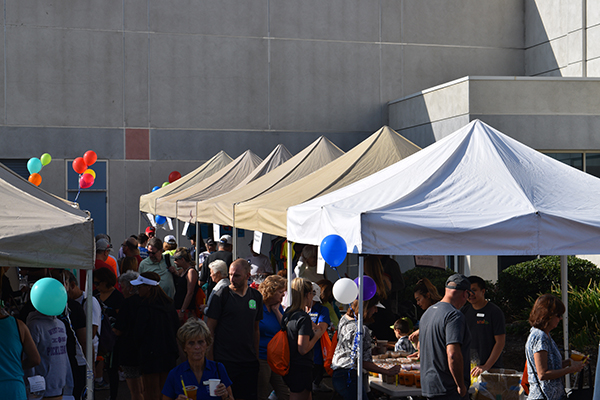 A number of vendors and other organizations were on hand, including some of the leading pickleball equipment manufacturers.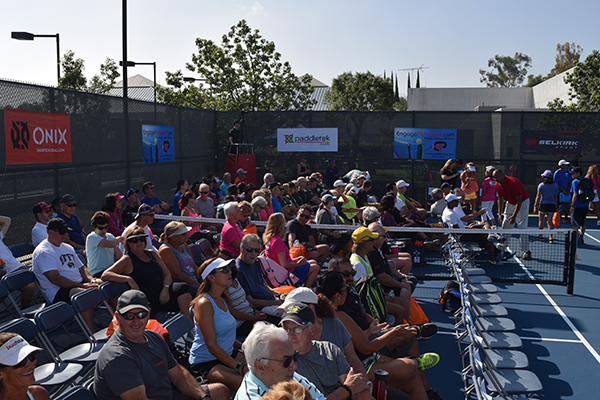 A crowd gathers as the time for the grand opening festivities and ribbon-cutting nears.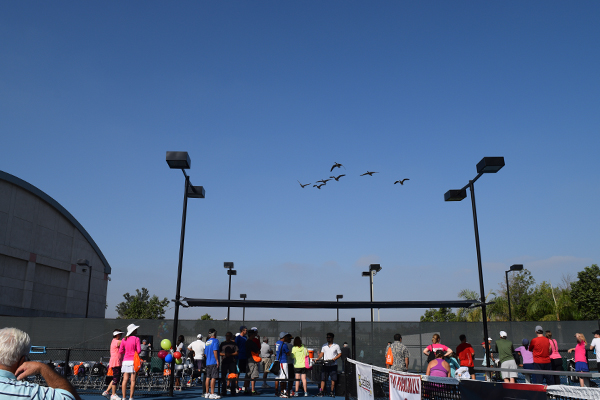 There was even a flyby—several flocks of Canadian Geese flew over the Drayson Center courts. Fortunately no one was hit!
Fans watch several of the pros warm up. All attendees were invited to bring their own paddles, and many had the opportunity to hit some pickleball themselves.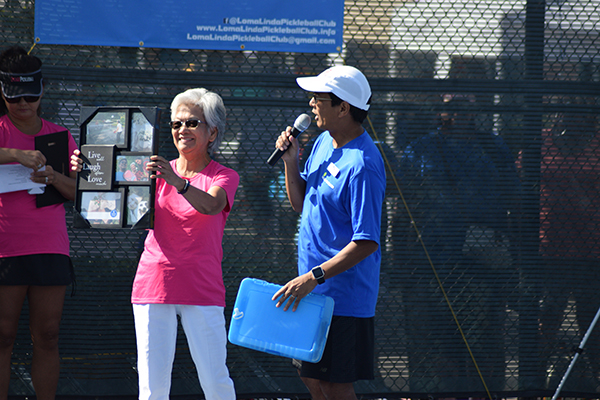 Ernie Medina honors his mother, Loida Medina, MD, who got him started with the game of pickleball.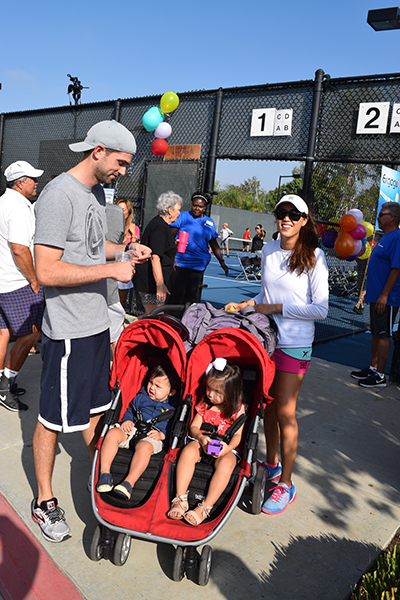 Pickleball pro Christine McGrath brought her family to the event with her. Her son, seated on the left in the stroller, was still two months away from being born when she won gold in doubles at the 2016 pickleball US Open.