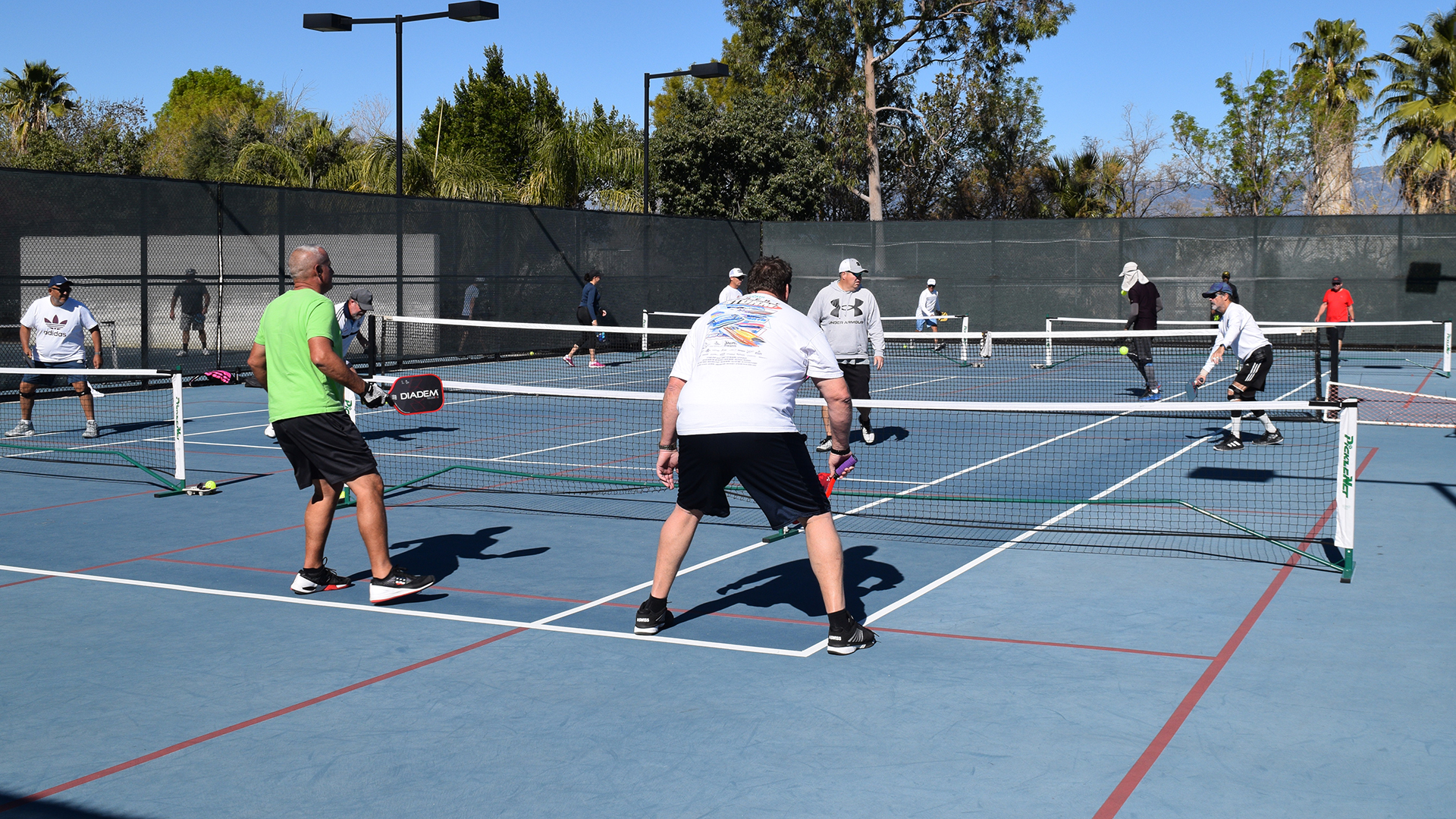 By lkidder - February 1, 2022
By Larry Kidder | The outdoor tennis and pickleball courts were filled to capacity with pickleball competitors from multiple states, as well as across California, on Sunday, January 30, 2022. (Scroll down for additional photos.)
Loma Linda University Drayson Center hosted the first pickleball tournament of 2022, organized by Loma Linda Pickleball Club, on Sunday, January 30, 2022. Players from multiple states, including Minnesota, Oregon, Utah, and Arizona, as well as from San Diego to Redding in California, made the trip to take part.
Nearly 280 registered for the event, ranging in age from 8 to 76. For the first time, Loma Linda Pickleball Club included a junior division during the day's matchups. An estimated 150 spectators also attended.
According to tournament coordinator Kimberly Waddell, who works for IS CareConnect–perioperative and ancillary services at Loma Linda University Health, each event was offered based on skill and age, and included junior, men's, and women's rotation partners, as well as fixed partners for men's, women's, and mixed teams.
"We started the first events at 7:00 a.m.," Waddell continues, "and ended with the last game around 3:30 p.m."
"For me, the highlight was the junior division," shares Ernie Medina Jr., DrPH, assistant professor in the Loma Linda University School of Public Health. Medina has provided the spark for pickleball in Loma Linda from the beginning.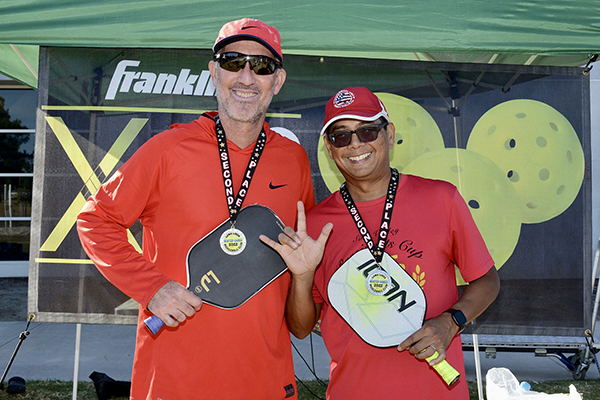 Ernie Medina (right) and his pickleball partner, Richard, sport the silver medals they won in their division.
Eun-Hwi Cho, DDS, assistant dean for education quality and outcomes in the LLU School of Dentistry, serves as president of Loma Linda Pickleball Club. "The tournament exceeded our expectations in terms of the number of players who signed up," Cho comments. "Many of our brackets sold out in a few weeks, and waiting lists had to be created."
Two participants in particular stood out. A father and his 8-year-old daughter—both deaf—took part in their respective divisions.
Medina, vice president of Loma Linda Pickleball Club, also serves as a USA Pickleball Ambassador for Loma Linda, representing USA Pickleball, the national governing body. Steve Waddell, treasurer for the club, is USA Pickleball Ambassador for Riverside, California.
Plans are already in the works for a May 2022 tournament. Please stay tuned for future announcements.
"It took a tremendous amount of planning and work," says tournament coordinator Kimberly Waddell, "but we are thankful to our volunteers—who did not play so they could help us instead, as well as those who volunteered impromptu to help out before and following their matches during the day."