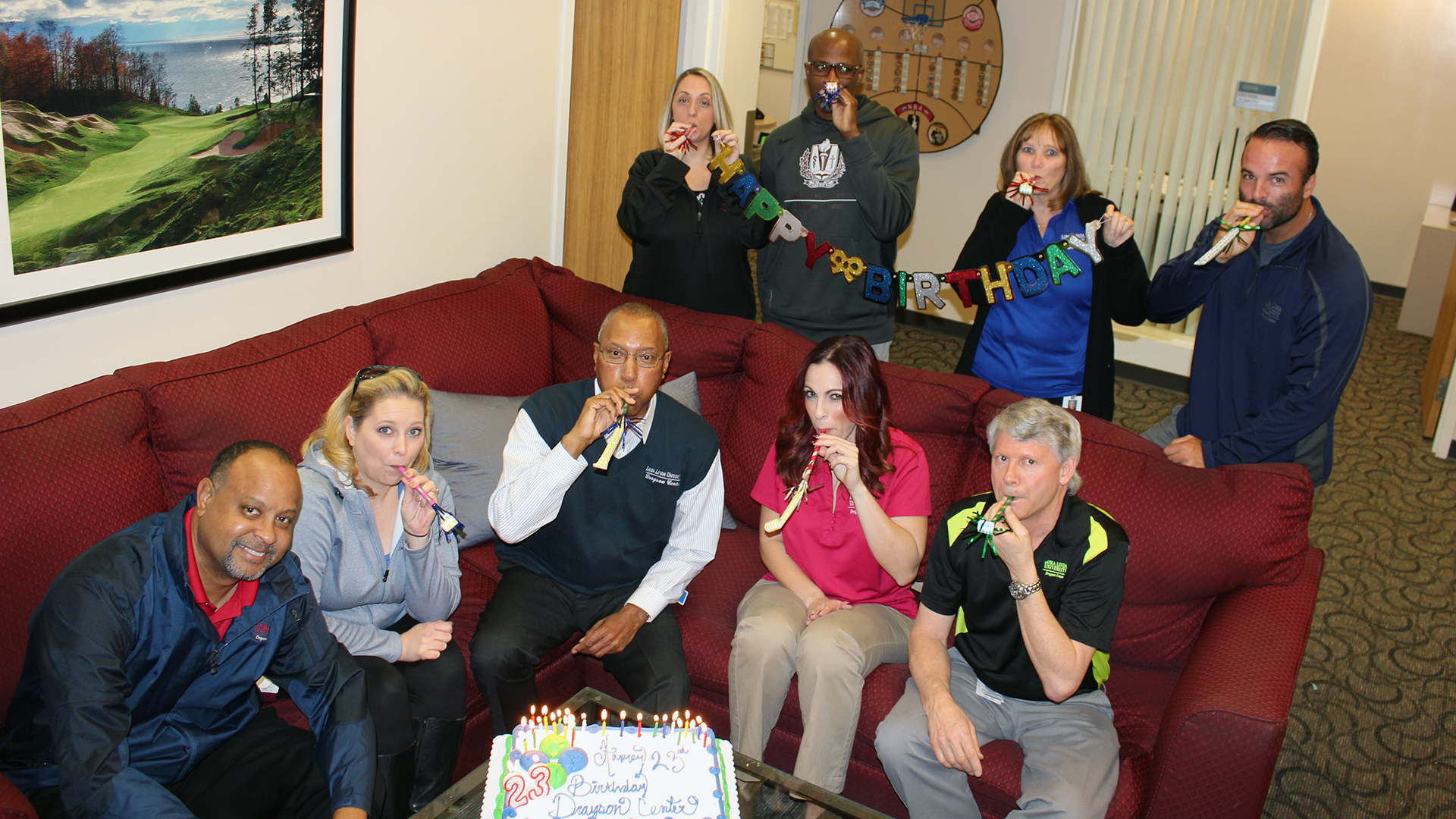 By lkidder - January 11, 2018
By Larry Kidder | Loma Linda University Drayson Center administrative staff celebrate the facility's 23rd birthday on January 11, 2018. For more photos, scroll down.
January 11, 1995, marked the open house for the brand-new Loma Linda University Drayson Center. The facility was largely funded through the generosity of philanthropists—including an $8 million gift from Ronald and Grace Drayson.
Hundreds of people walked through the facility, marveling at its layout and design. Architects of the new center actually received recognition for creating a recreational facility far ahead of its time in the world of higher education.
The creation of the new facility was the culmination of a vision by B. Lyn Behrens, MBBS, then president of Loma Linda University Health, and Donald Pursley, DBA, then senior vice president for financial administration. They had set out to build a centralized facility on a campus with multiple professional schools, where students could gather to study, socialize, work out, and take part in sports and recreational activities.
With the help of Donald Prior, then vice president for advancement, and his team, the funds were raised and the facility took the place of an empty field. To this day, the names of major contributors adorn the various spaces around the facility, and many individuals are honored or remembered by plaques found throughout the grounds.
Twenty-three years later, Drayson Center has grown to serve not only the more than 4,000 students, but approximately 18,000 Loma Linda University Health employees, family members of students and employees, and numerous community members. On its busiest day—which is typically Commencement Sunday in June—the facility has hosted close to 12,000 people.
On a more typical day, more than 1,500 people on average enter the facility for sports, fitness, recreational, and other wellness activities—which doesn't account for the individuals meeting in the conference areas for programs and classes.
For more information, feel free to peruse this website to see the full array of programs, activities, and services available.
Donald Sease, MBA, director of LLU Drayson Center, prepares to blow out the birthday candles on behalf of the facility, cheered on by administrative staff members.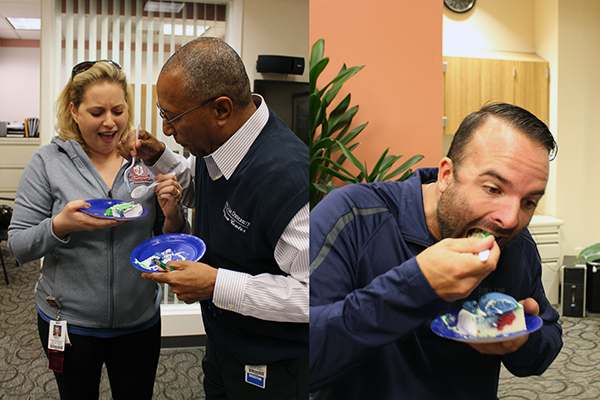 All kinds of bad table manners were on display during the birthday celebration! In the left photo, Drayson Center's director, Don Sease, threatens to help himself to membership manager Jennifer DeWitt's piece of birthday cake. On the right, aquatics manager Michael Rister takes a giant-sized bite of cake.