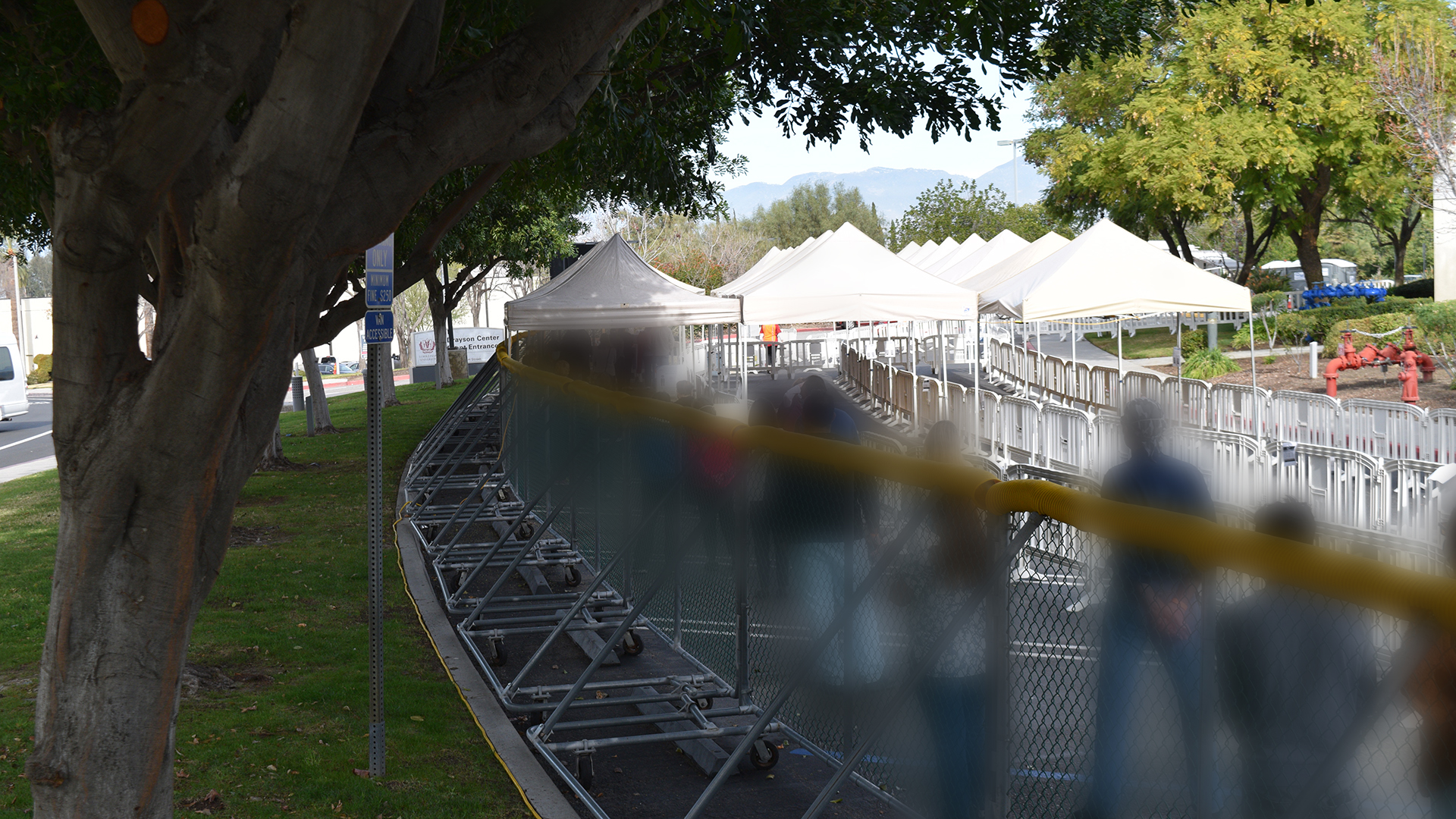 By lkidder - March 9, 2021
By Larry Kidder | Patients (blurred to protect privacy) wait in line for their turn to receive a COVID-19 vaccination at Loma Linda University Drayson Center.
While Loma Linda University Drayson Center has drastically reduced its role as a recreation and fitness center, it has become one of the largest sites operated by a private organization in California.
To recognize the vaccination of more than 15,000 San Bernardino County residents by mid-February, the LLUH site at Drayson Center received a visit from California Governor Gavin Newsome, State Assemblyman James Ramos (representing San Bernardino), and U.S. Representative Pete Aguilar (California's 31st district), and State Ass.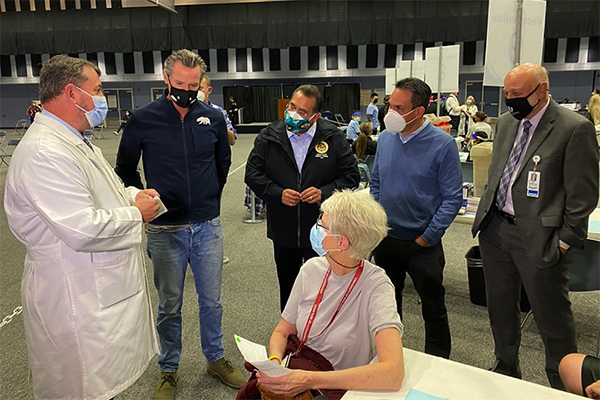 The LLUH vaccination clinic was visited by California Gov. Gavin Newsom (second from left), State Assemblyman James Ramos (center), and U.S. Representative Pete Aguilar (second from right) in mid-February. The visit was due, in part, to Loma Linda University Health serving as one of the largest private sites dispensing vaccinations in California. Speaking to them is Michael Hogue, PharmD (far left), dean of the LLU School of Pharmacy, while Richard Hart, MD, DrPH (far right), president of Loma Linda University Health, looks on.
The clinic site first opened on Wednesday, February 3, and has been running every day since (except for one day when the vaccine shipment was delayed). Staffed by Loma Linda University Health, as well as a host of volunteers, the clinic is serving up to 2,000 patients in a day. The Moderna, Pfizer, and Johnson & Johnson vaccines are being administered. The clinic is supported in part through federal funding from the Federal Emergency Management Agency (FEMA).
LLU Drayson Center has served as the location for many historical events and celebrations during its 25-plus year history, but transforming into a major vaccination site has stretched the facility in new ways.
The clinic will remain open as long as San Bernardino County and the state of California require. The hospitals comprising Loma Linda University Health have already treated hundreds of COVID-19 patients, and providing these life-saving vaccines are but one more avenue of serving our neighbors.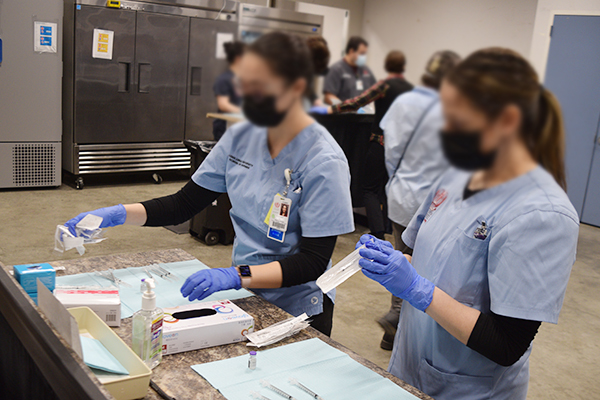 The COVID-19 clinic at Drayson Center has provided a number of opportunities for students and staff to practice their skills at drawing up vaccines, as well as administering them to patients. Two clinic staff (above, blurred to protect privacy) prepare vaccines for waiting patients.