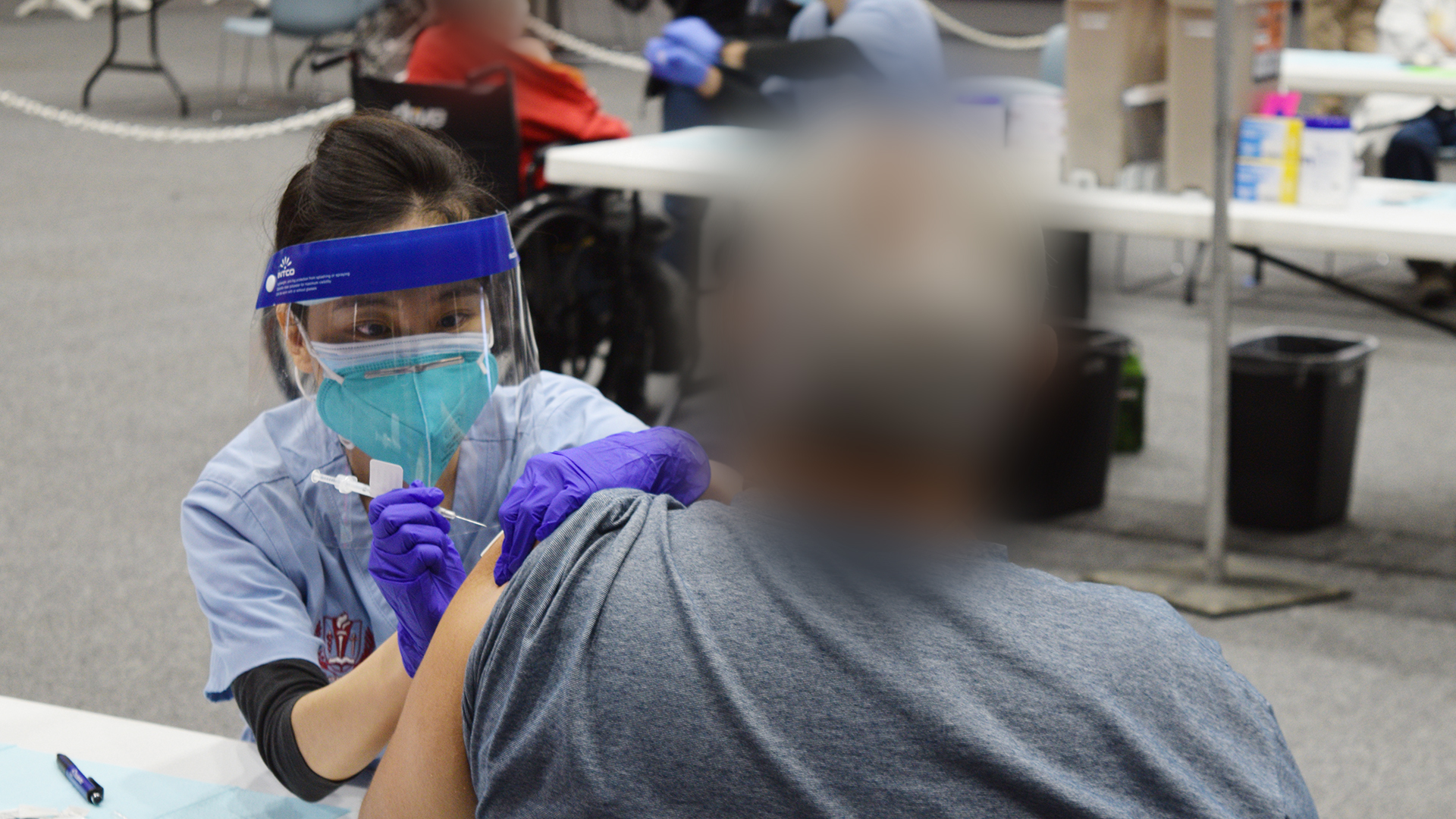 By lkidder - June 3, 2021
By Larry Kidder | A patient receives his vaccine on opening day, January 28, 2021, administered by an LLU School of Nursing student.
On Saturday, March 8, 2020, Opsahl Gym hosted church services for Loma Linda University Homecoming 2020, with full orchestra and choir, and a giant tent stood in the Superfield for other alumni events. Little did anyone suspect that the world would shut down the following week, due to a growing coronavirus pandemic—dubbed COVID-19 because it was first discovered in late 2019 in Wuhan, China.
In fact, Drayson Center remained closed with a skeleton crew of five to keep the facility functioning just enough to be ready to reopen at any time. At that point, no one had any idea what the future would bring—only that it was bleak and uncertain.
During part of that closure, Drayson Center became host for LLU School of Medicine students, as well as a daycare center for health-care workers at Loma Linda University Health, who were spending long days (and nights) battling COVID in the hospital wards.
With restrictions lifting slightly, Drayson Center reopened in a limited way on Wednesday, October 21, 2020, allowing students and staff to use outdoor areas for fitness activities, masked and at social distance. Some fitness machines were actually moved to the turf field, where an impromptu fitness "room" was created. Students, employees, and spouses could make online reservations, with controlled numbers and limited social contact.
Meanwhile, Operation Warp Speed—the name given to the Trump administration's efforts to develop COVID vaccines in record time—was in full swing. The administration promised and delivered the first vaccines in December 2020 for health-care workers on the front lines battling COVID-19.
In December 2020, Loma Linda University Health began administering the vaccine to its own health-care workers, then widened the circle as the tiered system of eligibility expanded. During a discussion among Loma Linda University school deans, Robert Handysides, DDS, MS, dean of the LLU School of Dentistry, first floated the idea of creating a mass vaccination clinic on campus. Michael Hogue, PharmD, dean of the School of Pharmacy, was part of the conversation and later met with Richard Hart, MD, DrPH, president of LLUH, to pitch the idea.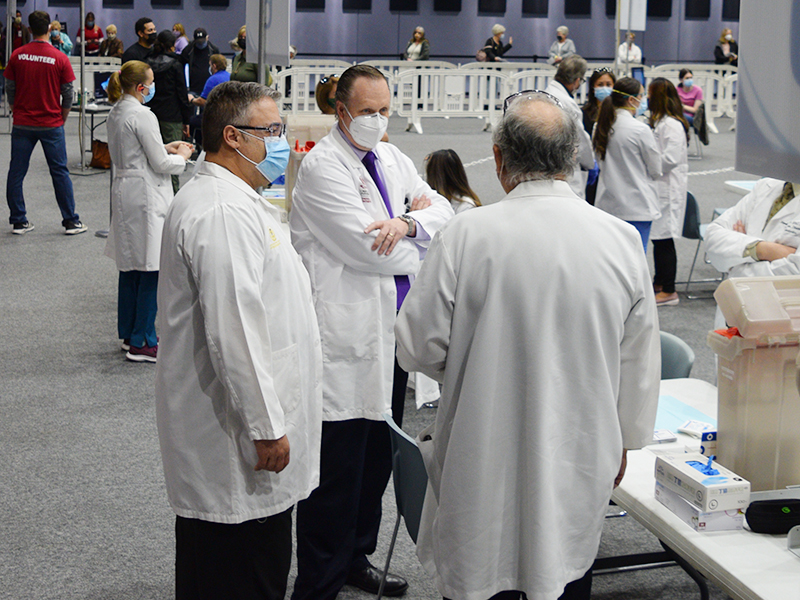 Rob Handysides, DDS, MS (center), dean of the LLU School of Dentistry, is credited with first suggesting the idea of creating a mass vaccination clinic on campus. He chats with colleagues on January 28, just prior to the clinic opening.
When presented to both educational and clinical leaders, the idea quickly received overwhelming support, and soon plans were being made to create such a site.
Dr. Hogue volunteered to oversee LLUH vaccination efforts, including the mass clinic. He was uniquely prepared to manage such an enterprise. He had previous experience operating vaccine clinics as well as serving as a member of the Centers for Disease Control (CDC) Advisory Committee on Immunization Practices work group on the COVID-19 vaccine, comprising 45 health-care and public health professionals. He was the only pharmacist among the group.
In addition, Dr. Hogue had become acquainted with San Bernardino County Health Officer Michael Sequiera, MD, a local emergency medicine physician. Drayson Center was already listed as a county disaster preparedness site, making it the natural choice of venue for a clinic of this size.
Originally, Dr. Sequiera assumed the county would staff the clinic, but he was "pleasantly surprised, pleased, and somewhat relieved" when Dr. Hogue suggested that Loma Linda University Health would be willing to also run the clinic, with the county supplying vaccines.
In December 2020, San Bernardino County formally invited LLUH to set up a clinic network for the general county population, with Drayson Center as the major hub. Funding by the Federal Emergency Management Agency (FEMA) was now made available to operate the clinic, allowing LLUH to cover costs for staffing as well as clinic operations and supplies. LLUH employees, previously furloughed due to the shutdowns and layoffs related to the pandemic, were able to return to work sooner as employees of the clinic.
"These discussions were taking place in mid-December," Dr. Hogue recalls. "We were hoping to open the clinic in mid-January—just four weeks away."
It was an organized scramble to open in January 2021. The "one Loma Linda" concept truly came into play, with the University schools working closely with the health-care system to design and operate a safe and efficient clinic. On Thursday, January 28, 2021, the clinic opened its doors to the first patients lined up in the front parking lot under the trees.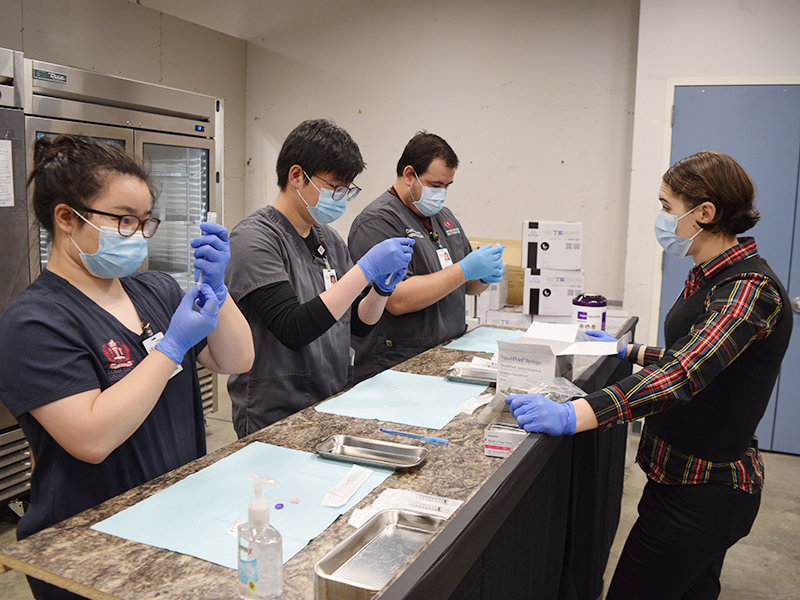 Amy Reese, PharmD (right), logistics section chief, instructs three students on the finer details for drawing vaccine. During the time the clinic was open, thousands of doses of the Moderna®, Pfizer®, and Johnson & Johnson® vaccines were administered.
The first two days were soft openings, with less than 1,000 vaccines administered each day. But the community was ready and eager, and in the coming days the lines stretched down the block and around the corner at times. Most patients parked in the Shepardson Parking Lot, shuttled back and forth. The parking lot on the corner of Stewart and Shepardson streets was reserved for the disabled.
Systems for moving the crowds through the clinic evolved over time, being continuously improved. The weather provided additional complications. Drayson Center staff worked closely with clinic coordinators to make the necessary adjustments as needed—primarily due to rain and cold temperatures.
County guidelines required that all administered vaccines be documented within 24 hours. A team of more than two dozen permanent clinic employees was organized to handle the documentation process within HIPPA guidelines—from online appointments to certifying that the vaccine had indeed been given, then scheduling follow-up appointments.
In addition, 780 community volunteers donated more than 16,000 hours of their time, playing key roles in handling the crowds that were estimated at nearly 2,000 on heavier days. Over and over, community members described the staff and volunteers as steadfastly kind, helpful, friendly, and cheerful.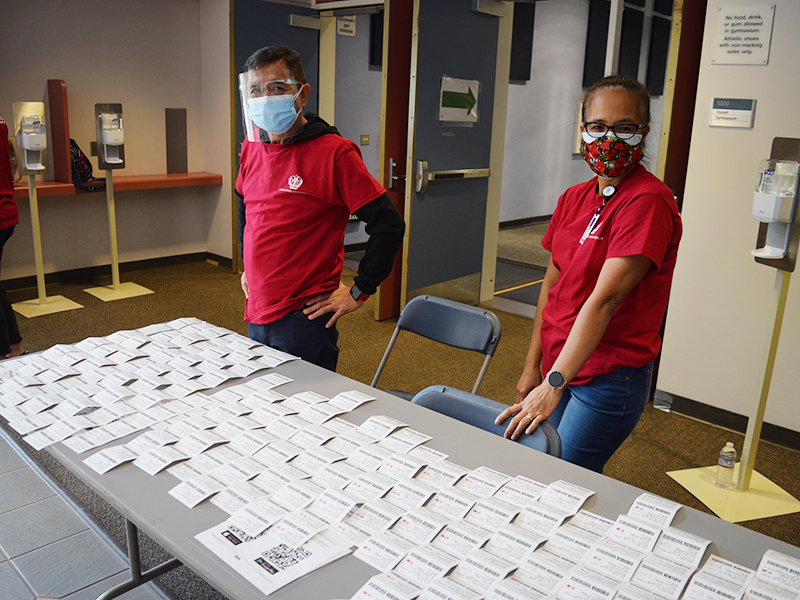 Each clinic day, labels for patients who had registered online were printed and waiting for their owners to arrive. Patients were guided through the entire process—from checking in to checking out—by a dedicated team of volunteers. One individual, Don Gamundoy, singlehandedly gave 330 hours of volunteer time to the clinic.
Student, faculty, and clinical volunteers showed up to assist the clinic, giving vaccines and working at other posts as needed. Students training for a future in health care had the opportunity to interact with the community as well as gain valuable experience administering the vaccines.
The Drayson Center Clinic served as the single largest privately operated site for vaccinations in the entire state of California. Governor Gavin Newsom visited the clinic on two different occasions, and the massive clinic was also visited by U.S. Congressman Pete Aguilar and the Inland Empire region's state representative James Ramos (see related story).
On Thursday, May 27, 2021, the final patient was vaccinated, and the clinic officially closed its doors for the last time at 6:00 p.m. In total, 79,528 vaccines were administered at Drayson. During the celebration that followed, clinic staff were addressed by Drs. Hogue and Hart, as well Ronald Carter, PhD, provost of the University.

Ronald Carter, LLU provost (left); Richard Hart, LLUH president (center); and Michael Hogue, School of Pharmacy dean (right), address the celebrants following the 6:00 p.m. closing of the Drayson Center Clinic on Thursday, May 27, 2021.
Dr. Carter began with a paraphrase of a quote by Saint Francis of Assissi: "Preach the gospel at all times," he said, "and if you have to, use words." He continued, "You have lived [those words] the last four months."
Dr. Hart added his thoughts. "As we walked the gym that day, it was clear that this was the place," he remembered. "It had to be here for the size and scope we expected to happen."
During his remarks, Dr. Hogue had nothing but praise for the team's accomplishments. "We don't yet know how many people need to be vaccinated to save one life," he suggested, "but I can tell you we saved lives at this clinic—there's no question about it."
The clinic network is expected to continue at least through summer 2021 at several area locations, as well as at mobile clinics. As of May 27, the entire network had administered more than 130,000 vaccines, helping a significant number of San Bernardino County's 2.18 million residents become immune to this deadly pandemic.
"One Loma Linda" is well illustrated by the wide range of individuals who stepped up to lead and take part in this historic effort to "serve our neighbors."
"And the clock struck 6 … " As the last day of clinic ended and the final individual—ironically one of the clinic staff—received his second vaccine, there was both a sense of relief and sadness, as well as a number of other emotions in all likelihood.
The COVID-19 pandemic is considered a disaster, and incident protocols were used to organize Loma Linda University Health's response. Dr. Hogue served as the incident commander.
The following individuals played key roles in the success of the Drayson Center Clinic: Safety Officers – Brett McPherson (disaster preparedness), John Marshall (security), and Whitney Henderson (parking), LLU Shared Services; Medical Specialists – Tammi Thomas, Lynda Daniel-Underwood, and Richard Peverini, School of Medicine and LLUH administration; Technical Specialists – Mark Zirkelbach (LLU Medical Center), and DP Harris (LLU); Public Information Officer – Heather Valentine (marketing), LLU Shared Services; Operations Section Chiefs (rotating) – Norma Maynez (School of Pharmacy), Nikki Nicholas (LLU Provost's Office), and Erin Richards (School of Dentistry); Planning Section Chief – Norma Maynez; Logistics Section Chief – Amy Reese (School of Pharmacy); and Finance/Administration Section Chief – Alan Connelly (LLUH administration).
Operations: Staging Manager – Randy Stevens (campus engineering), LLU Shared Services; Medical Branch Director – Lynda Daniel Underwood; Infrastructure Branch Director – Donald Sease, LLU Drayson Center; Volunteer Management Branch Director – JC Belliard, LLU School of Public Health; Traffic/Transport Branch Director – Whitney Henderson; and Security Branch Director – John Marshall.
Logistics: Equipment/Supply Branch Director – Norma Maynez; Vaccine Supply Branch Director – Michael Hogue.
Finance/administration: Time Unit Leader – Nikki Nicholas; Cost Unit Leader – Emily Ndlela, LLUH administration; Documentation, Compliance, and Billing Unit Leaders – Mike Mahoney, Richard Peverini, and Anthony Hilliard, LLUH administration.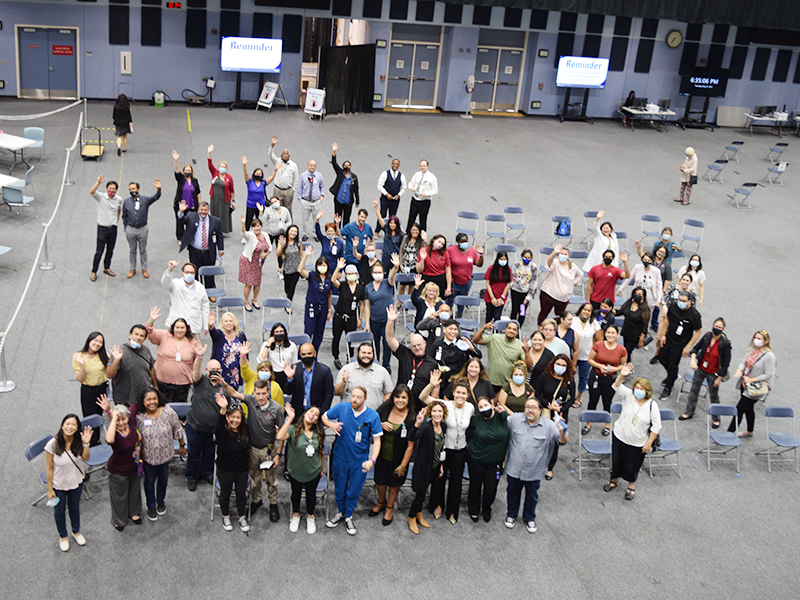 Clinic staff and campus volunteers give a final wave following the decommissioning ceremony on Thursday, May 27, 2021. Many of these individuals had worked together from day one, and colleagues became more like family members.