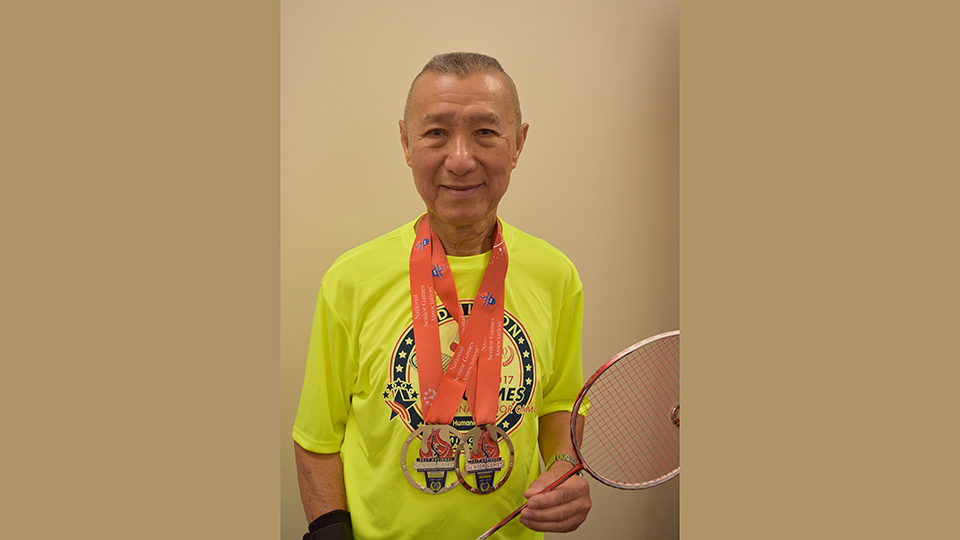 By lkidder - July 26, 2017
By Larry Kidder | James Ho, a well-known face at Drayson Center, recently won silver medals in both singles and doubles at the U.S. National Senior Games.
Badminton is a popular sport at Drayson Center. A dedicated group of aficionados meets regularly in Opsahl Gym to test fitness and skill—and have great time in the process. Among them is a recent winner of two silver medals for his age group.
James Ho, age 78, came home from Birmingham, Alabama, with two silver medals in badminton from the U.S. National Senior Games, held there June 12-17. He medaled in singles and doubles after driving three days from Loma Linda to Birmingham (and three days back).
"I played in the 75-to-79 bracket," Ho explains. "I won silver in singles. My usual doubles partner broke his ankle a few weeks before the games and couldn't make the trip, so I met a new partner who had never competed at the Nationals. We also won silver."
Ho has been playing badminton since he was 6 years old. Growing up in Singapore, he was junior champion at age 14. When he was 16, he became national singles champion, and a year later shared the national doubles title with his cousin.
In 1966, Ho moved with his family to Toronto, Canada. Soon after arriving, he was given the opportunity to play the Canadian badminton champion. "I beat him," Ho remembers.
For 10 years, Ho served as club pro at a private club in Toronto. In 2001, he moved to the United States. A certified badminton teaching pro, he has coached young people for 35 years. More recently, he took over as badminton coach for Loma Linda Academy, helping the team become co-champions in the San Andreas League this past school year.
The U.S. National Senior Games are held every other year. Ho has medaled in badminton singles consistently since 1999. "Badminton has been my life," he shares. "I'm so glad I can still play at Drayson Center with my friends."