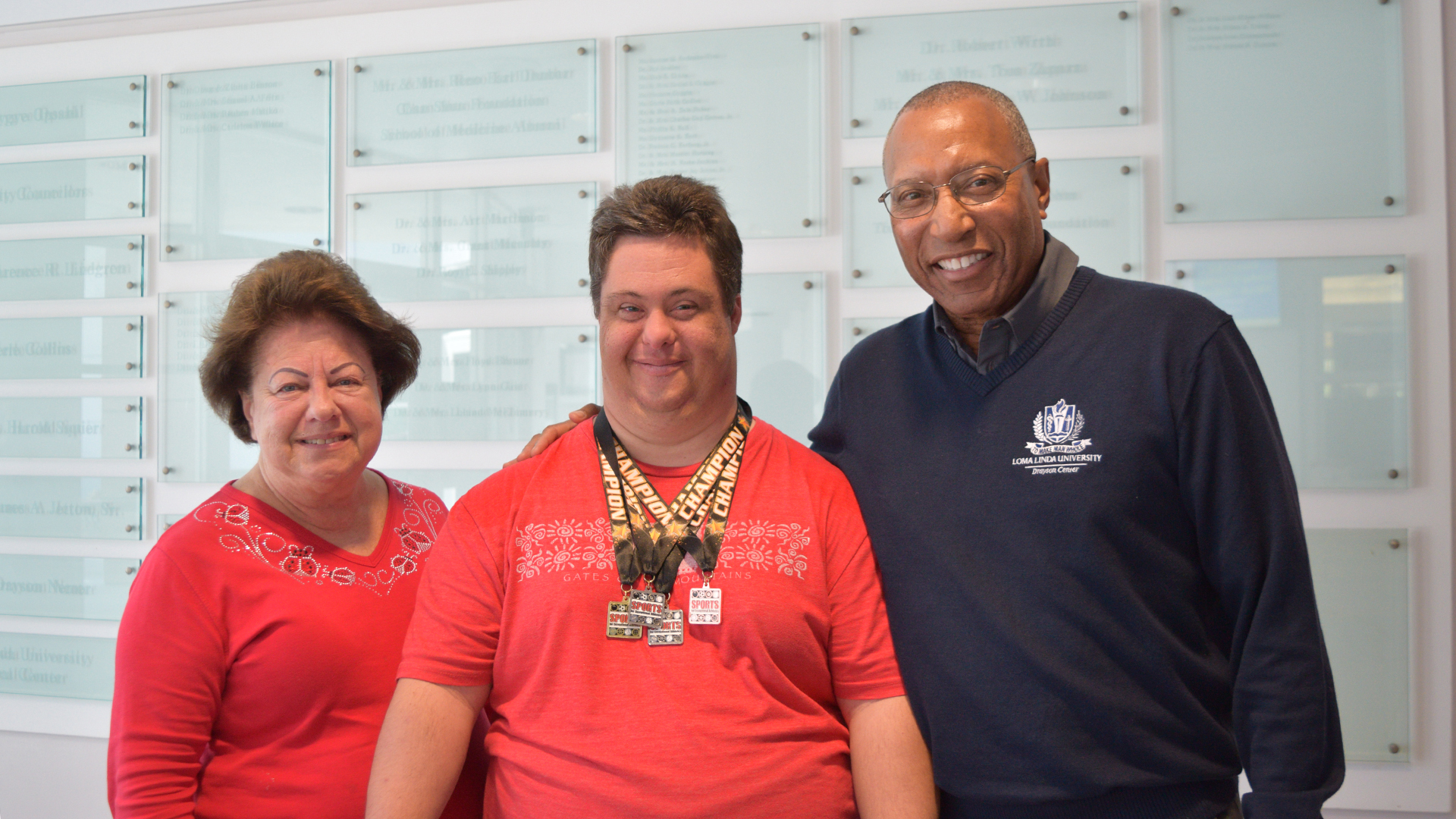 By lkidder - February 13, 2018
By Larry Kidder | Jared Wareham (center) proudly wears the four medals he earned during the Sports 4 Exceptional Athletes of Southern California games. He is congratulated by Don Sease, MBA (right), director of Drayson Center, and Dorothy Wareham (left), his mother, taxi driver, and biggest fan. For an additional photo, scroll down.
Loma Linda University Drayson Center is home to a number of accomplished athletes. One of them is Jared Wareham, who has distinguished himself as a world-class archer, swimmer, tennis player, water skier, and now a snow ski medalist.
On Wednesday and Thursday, February 7 and 8, Jared took home four medals—a gold, two silvers, and a bronze—at winter special olympic games held at nearby Snow Valley and sponsored by Sports 4 Exceptional Athletes of Southern California.
His gold medal was earned in the intermediate division for Giant Slalom; his two silvers were received for Downhill and Regular Slalom; and his bronze was awarded for placing third in the Super G Downhill Race.
Jared's parents, radiologist Gerald Wareham, MD, and piano teacher/composer/arranger Dorothy Wareham, have chosen to expect more of him his entire life, pushing him to excel in a number of sports.
He has competed with able-bodied archers in local and regional events, standing on the podium a number of times. Jared graduated from high school and has completed junior lifeguard training. He is also a pianist and public speaker.
"Jared always rises to the challenge," says Dorothy Wareham, his mother. "We will never stop pushing him to achieve more in whatever he takes on."
His celebrity status has not impacted Jared in a negative way. He remains humble and always ready to share a hug. Jared's life story has been detailed in a book titled "Jared's Story … Living a Challenged Life" (lulu.com).
Jared's four recent medals include a gold, two silvers, and a bronze.