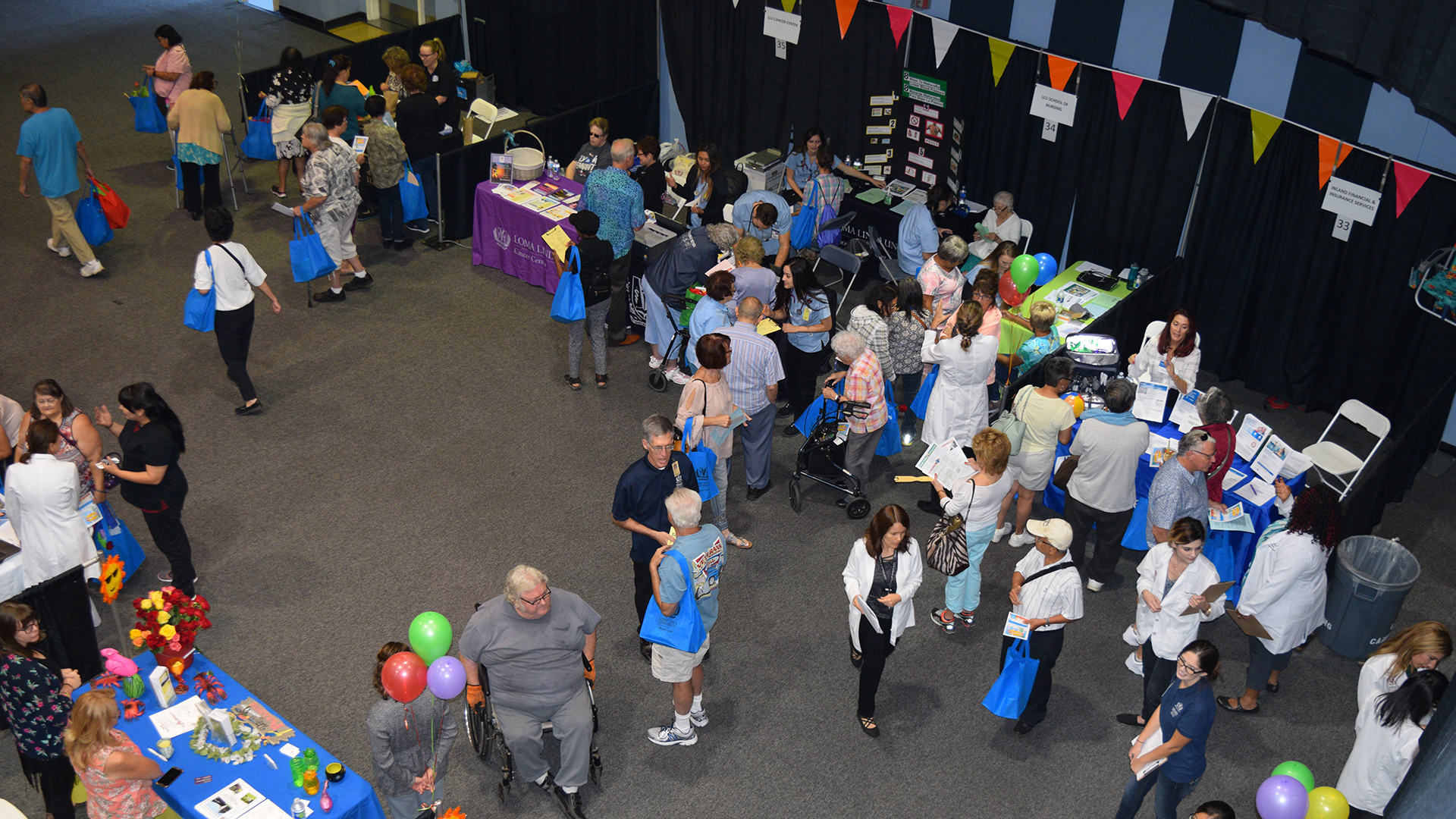 By lkidder - October 26, 2017
By Larry Kidder | Seniors interact with exhibitors during the Senior Health & Fitness Fair. Products, services, and screenings were among the attractions for nearly 900 seniors who signed in for the event. For more photos, scroll down.
The 13th Annual Senior Health & Fitness Fair, held on Wednesday, October 25, was attended by nearly 900 seniors. Total attendance was estimated to be well over 1,000. The Lifestyle Fair, organized by the Preventive Medicine Clinic headquartered in Drayson Center, was visited by approximately 500 people.
More than 80 exhibitors shared their products and services with senior attendees. "I had a number of the exhibitors tell me they were really able to connect with the seniors," says Bess Getman, senior coordinator and events manager at Drayson Center. "Not only were they pleased, but they told me they are ready to come back next year."
The lively event, which opened at 9:00 a.m. and finished around 12:30 p.m., featured demonstrations for chair and senior aerobics, yoga, pickleball, and more. The theme, "Beach Party," required popcorn and balloons, which were both plentiful. Free massages and flu shots were also available, as were a number of screenings ranging from dental to blood pressure. More than 100 seniors took advantage of the free flu shots.
The annual event is organized by the Senior Advisory and Planning Committee, which has been serving Drayson Center since 2006. Some of the original members are still active on the committee.
Door prizes and other announcements were made by Master of Ceremonies Jeff DeWitt. Just outside the main venue, vintage car enthusiasts displayed their pristinely restored antique cars. The mobile dental clinic was parked on site and available for dental screenings.
A number of service dogs needed petting by fairgoers, and included three full-size poodles and a friendly retriever. The dogs are being trained to serve blind individuals and others with disabilities.
Drayson Center's Senior Wellness Program has a membership approaching 1,000. Of those, more than 300 are 80 years old or better, which qualifies them for complimentary membership status. Discounted rates, available only in person on the day of the fair, resulted in long lines waiting for the membership office to open. The normal monthly rate of $20 allows seniors to access the full facility from 7:00 a.m. to 3:00 p.m. Monday through Friday, and all day on Sundays. The best deal on fair day offered a $40 dollar savings for an annual membership, combined with a free month for signing up for a full year.
Drayson Center seniors enjoy a number of social events, as well as senior-focused fitness classes ranging from water, chair, and senior aerobics to senior yoga. "Our goal has always been to keep our seniors fit and engaged," comments Getman, "and they have many opportunities to participate and become involved."
On the heels of the Senior Health & Fitness Fair followed a major job fair on Friday, October 27, and the annual Family Health Day and 5K, sponsored by Loma Linda University Health, which took place on Sunday, October 29.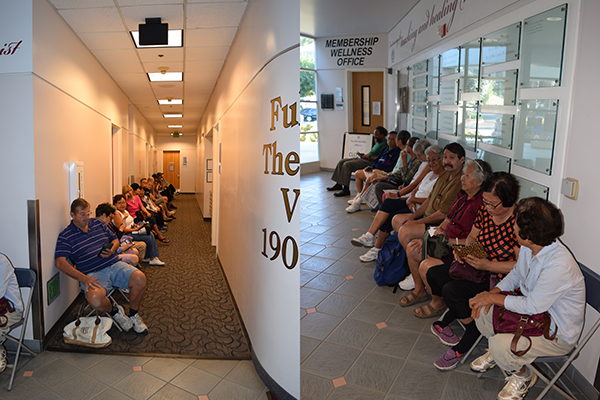 Seniors wait patiently for Drayson Center's membership office to open. Their reward will be fair-day-only discounted membership rates.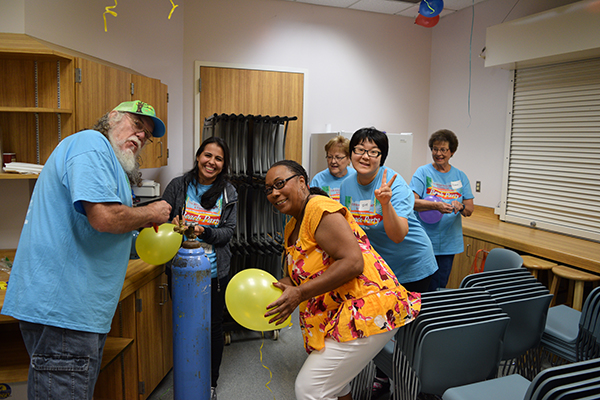 Volunteers prepare the essential ingredient of balloons for the already festive atmosphere inside Drayson Center's Opsahl Gym.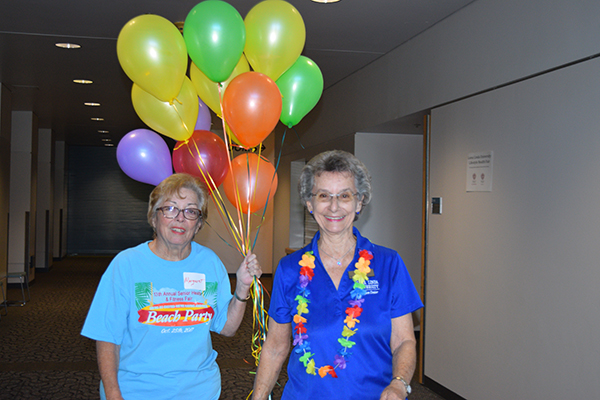 Margaret, left, a fair volunteer, took balloons to the gym, accompanied by Judy Benson, a charter member of the Senior Advisory and Planning Committee.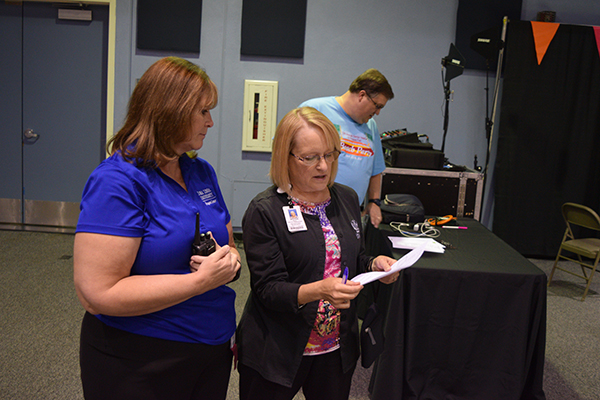 Bess Getman, left, senior coordinator and events manager at Drayson Center, assists Karen Westphal, MBA, director of student affairs and recruitment in the LLU School of Allied Health Professions, with a logistical question for an upcoming fair.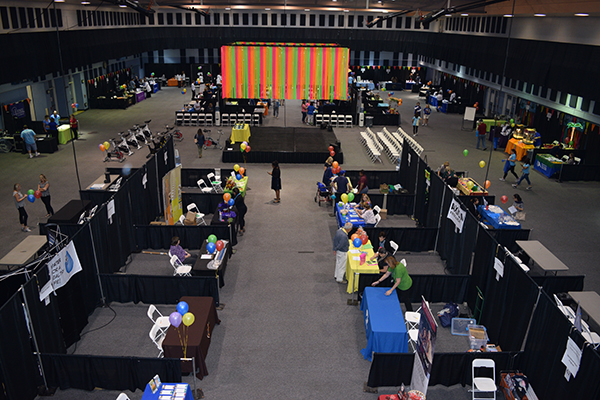 In the spirit of before and after, the gym is prepared for the attendees lined up outside.
Decibels and excitement rise as the gym fills with seniors from surrounding communities. The crowds swelled even more as the day progressed.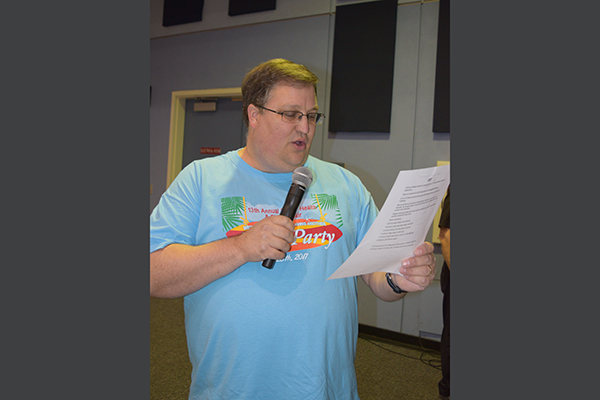 Jeff DeWitt provides the booming announcer's voice that keeps the day's events on schedule. He is husband of Drayson Center's Jennifer DeWitt, membership manager.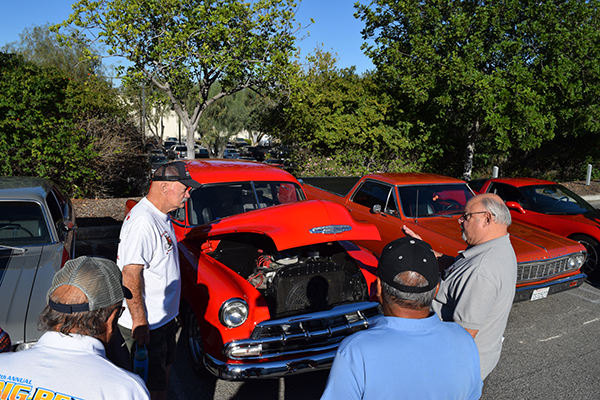 Vintage cars were on display in the parking lot just outside Opsahl Gym. Here, a group of enthusiasts and owners compare notes and stories.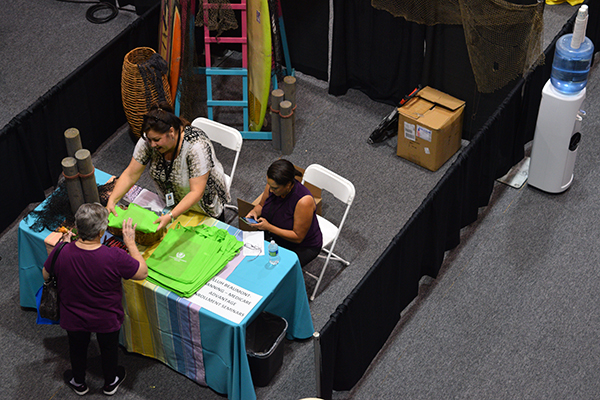 Leaving empty-handed would have been difficult to accomplish. Most seniors left with a bag full of goodies.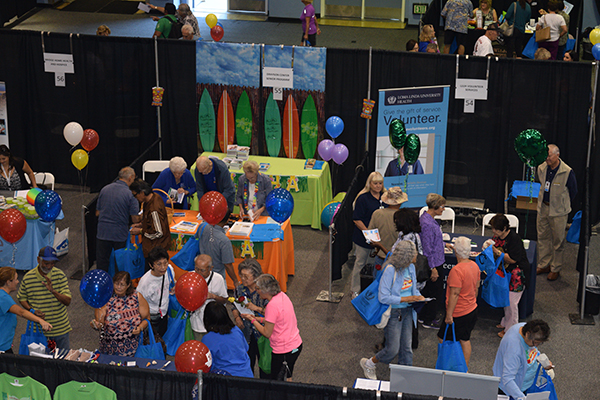 The Senior Wellness Program booth assists seniors who are interested in Drayson Center's senior offerings.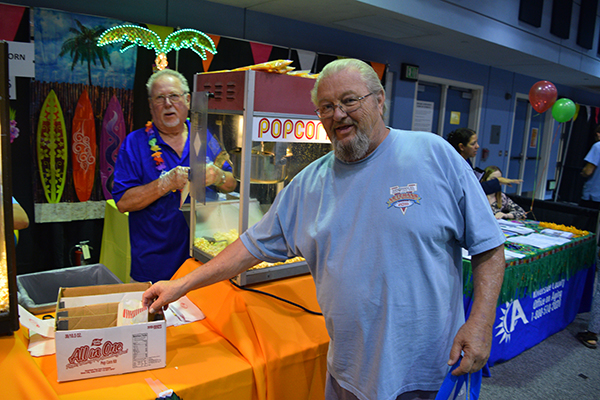 The popcorn was warm and fresh all morning. The aroma was hard to miss or resist.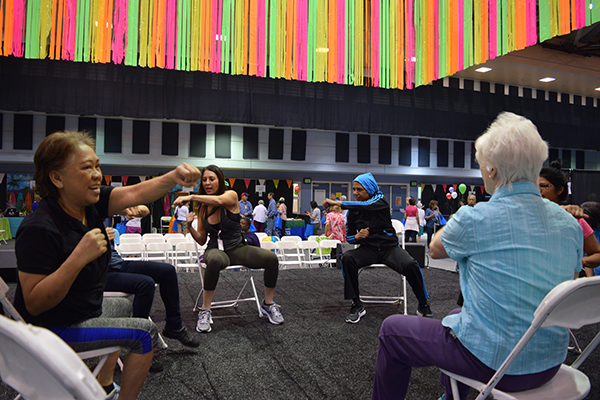 Ali Yankofsky, second from left, leads a group of volunteers in a chair aerobics routine.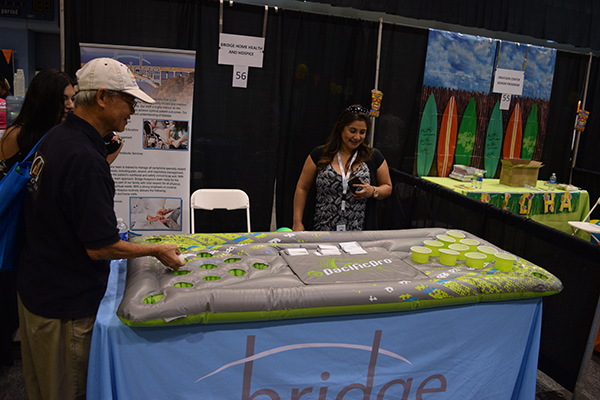 A fair attendee tries his hand at putting the ping pong ball into one of the cups—and by the way, winning a prize in the process.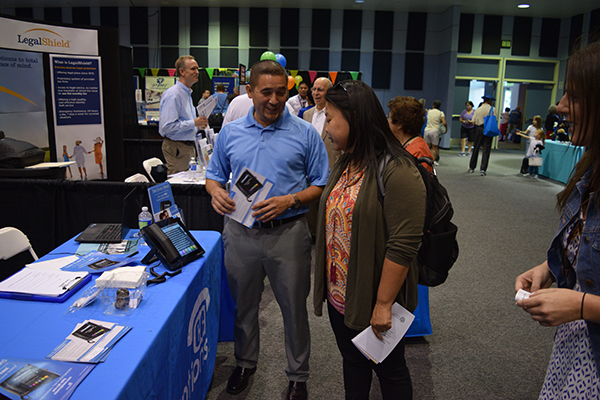 Senior-focused products were displayed and explained to fair attendees.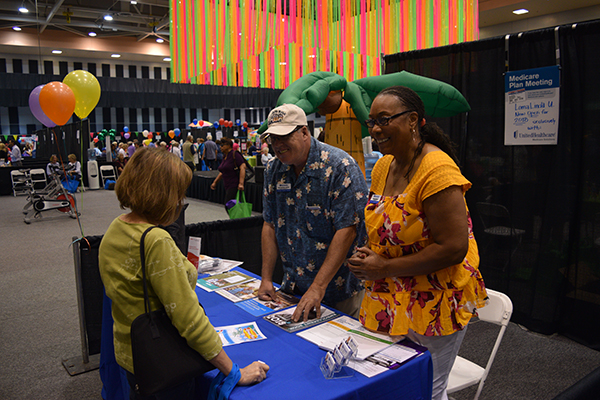 Exhibitors were happy to chat with attendees and connect with them.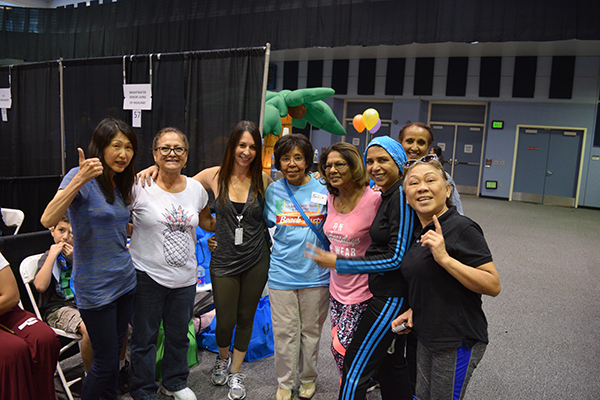 Aerobics instructor Ali Yankofsky, third from left (black outfit), takes a photo with some of her senior aerobics fans.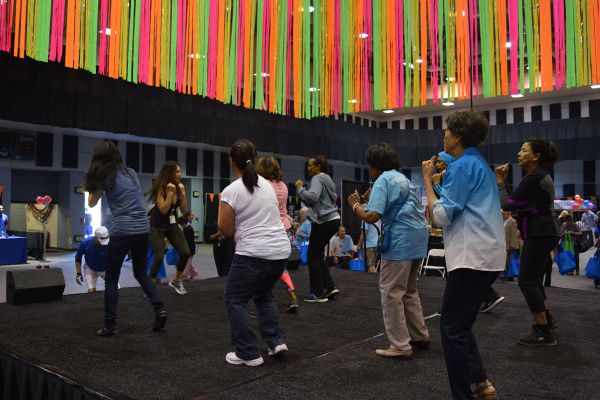 Yankofsky takes her aerobics understudies through a rigorous workout routine.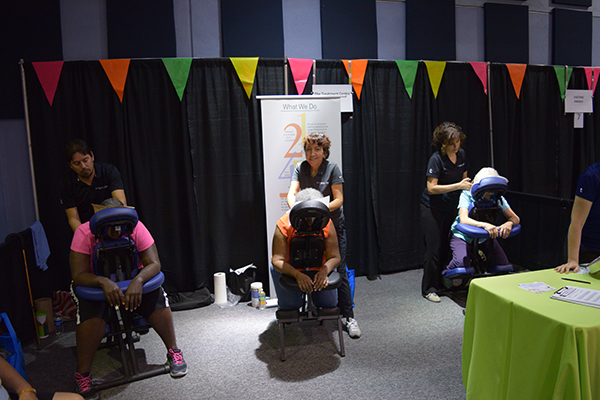 The Treatment Centre massage therapists work on sore necks, backs, and stiff muscles.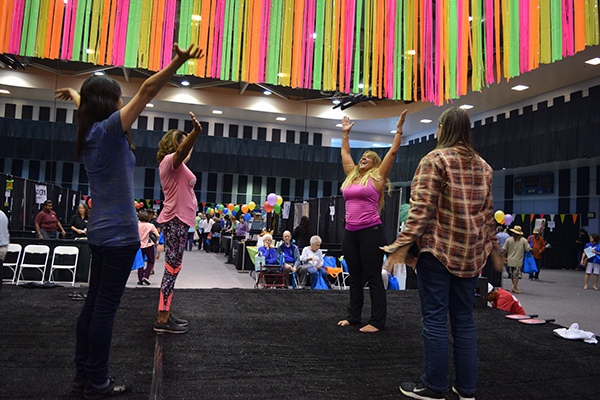 Yoga instructor Lisa Verran, second from right, has participants reaching for the sky.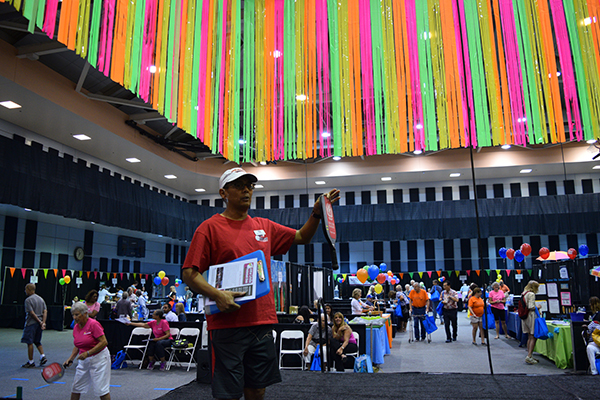 Ernie Medina Jr., DrPH, assistant professor in LLU School of Public Health, explains some of the basics for the newest racquet craze, pickleball.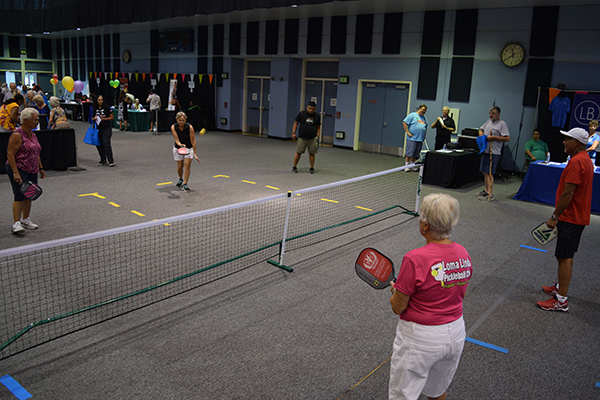 Four players demonstrate pickleball. The individual hitting the ball had never played before but quickly mastered the game enough to rally.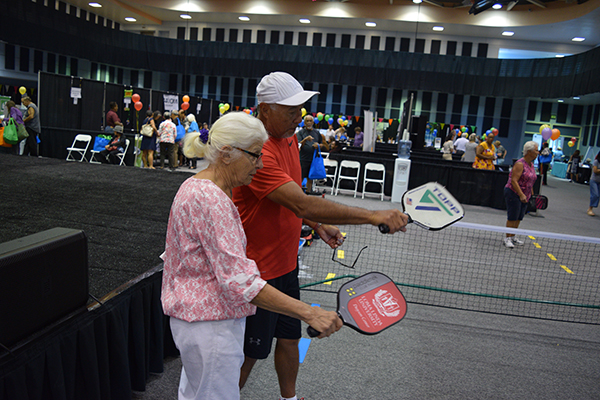 This senior receives some pointers before she gives pickleball a try.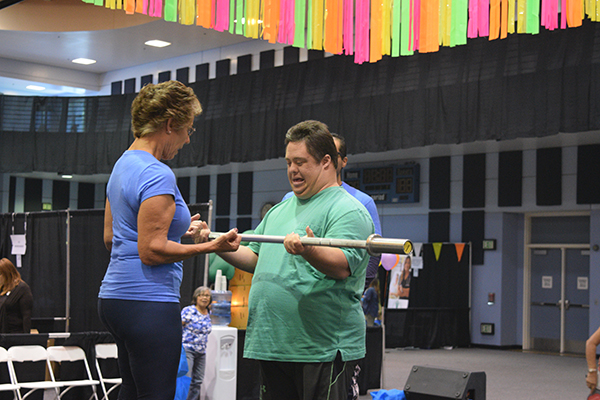 LB Fitness instructor Lyn Berlingeri guides Jared Wareham through a personal training routine.
LB Fitness personal trainer Al Sierra, left, leads a volunteer and Berlingeri through a stretching routine.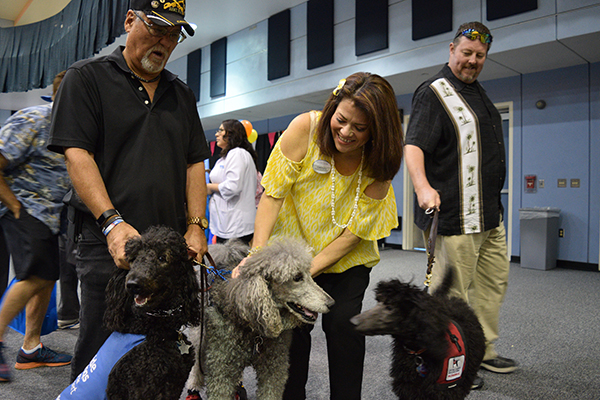 Who let the dogs in? This attendee gives some pet therapy to three full-size poodles who are also service dogs.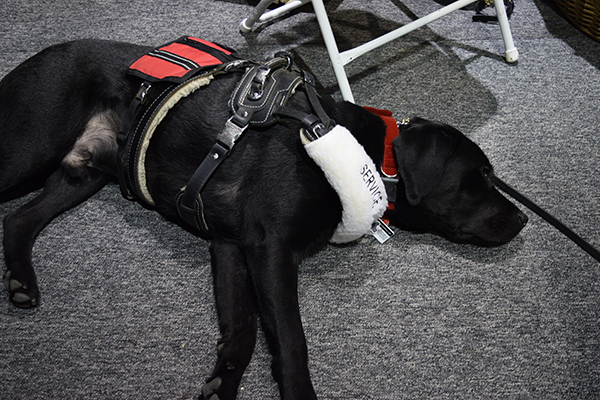 Apparently wagging one's tail all morning and looking cute is hard work.