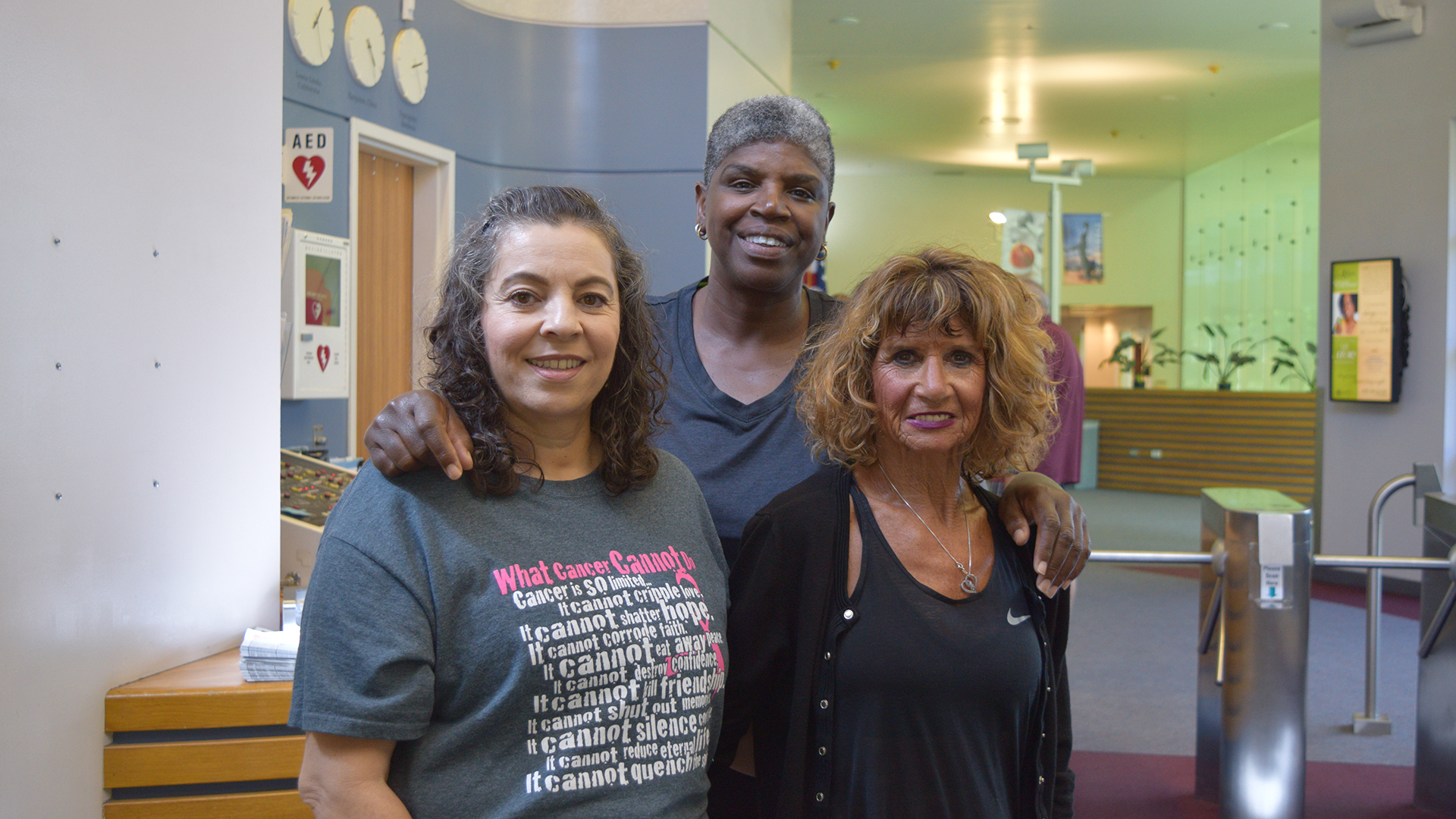 By lkidder - October 9, 2017
By Larry Kidder | Bertha Medina, left, found her water aerobics class at Drayson Center to be life-changing. After just one week in the water, she already noticed a difference in her mobility and strength. She is joined here by Karla Simmons, center, a friend who has benefitted from water aerobics for her knee—actually being able to postpone knee surgery, and their favorite water aerobics instructor Sandra Bernier, right.
Bertha Medina, a resident of the Reche Canyon area southwest of Loma Linda, is no stranger to Loma Linda University Health. She is recovering from her eleventh surgery, which has kept her out of the water for a few weeks. But she noticed a major difference in her ability to recover quickly from her recent 8.5-hour surgery. "I was up and walking within 24 hours," she shares.
This past July, Medina discovered Loma Linda University Drayson Center. "I'd been looking for a place to exercise for a long time," she explains. "I tried two gyms and a country club before I found Drayson Center."
Medina is a breast cancer survivor, undergoing months of chemotherapy. She knew that she needed to exercise and regain her strength to help her fight the cancer. Following rehabilitation, she'd tried massage and walking, and had actually hurt her back in the process of the latter.
Neuropathies and other side-effects came with the chemo. Ironically, she'd asked both her primary physician and oncologist for suggestions of where she could exercise. "They never mentioned Drayson Center," she marvels. Now she is telling everyone she knows about her life-changing experience with aerobics.
"I started coming to Drayson Center six days a week for water aerobics," she details. "I did that for a month and felt a major difference in my ability to move. Then I changed to five days of water aerobics and two days of chair aerobics. What a difference!"
Bernier, her water aerobics instructor, is particularly mindful of those working through injuries. "She keeps reminding us not to push too hard—especially if we feel any pain from our injuries," Medina points out. "I'm so thankful for Drayson Center. I'll be back at water aerobics as soon as my doctor gives me the 'all clear.'"